Launch of CAXA Solid 2021 with Full Support from TraceParts 3D Library
---
10-11-2020
Krunoslav Rašić
Use CAXA Solid 2021 Software to Visit TraceParts.com 3D Library
Saint-Romain, France, November 10th, 2020. TraceParts — one of the world's leading 3D digital content provider for Engineering — created a collaboration project with CAXA, a renowned CAD/PLM software supplier in China, to provide its users with more than 110 million standard and supplier-certified 3D models. 
CAXA CAD design software is the first CAD technology and software developed independently in China, and it has created a series of CAD/CAM/CAE/CAPP products. Typical users include Huawei, Foton Motor, Zhuhai Gree, Chongqing Chuanyi, and Heyuan Lung Kee Group etc. CAXA CAD products provide companies with comprehensive design, process, simulation, and manufacturing data for their R&D, and helps companies achieve product innovation, shorten product lifecycle, and increase product competitiveness. The software has been widely adopted in aerospace, equipment, automobile parts, electronic appliances, and education.
Engineers and designers in the manufacturing sector can directly use CAXA Solid 2021 to visit the TraceParts 3D library, browse and download 3D product catalogs of more than one thousand renowned domestic and foreign suppliers, free of charge. As users do not have to draw parts from scratch, the access can greatly increase design efficiency. CAXA wants to use a simple user interface to incorporate innovative solutions into its CAD software, so designers can integrate hundreds of millions of CAD models provided by certified industrial parts suppliers into their own projects.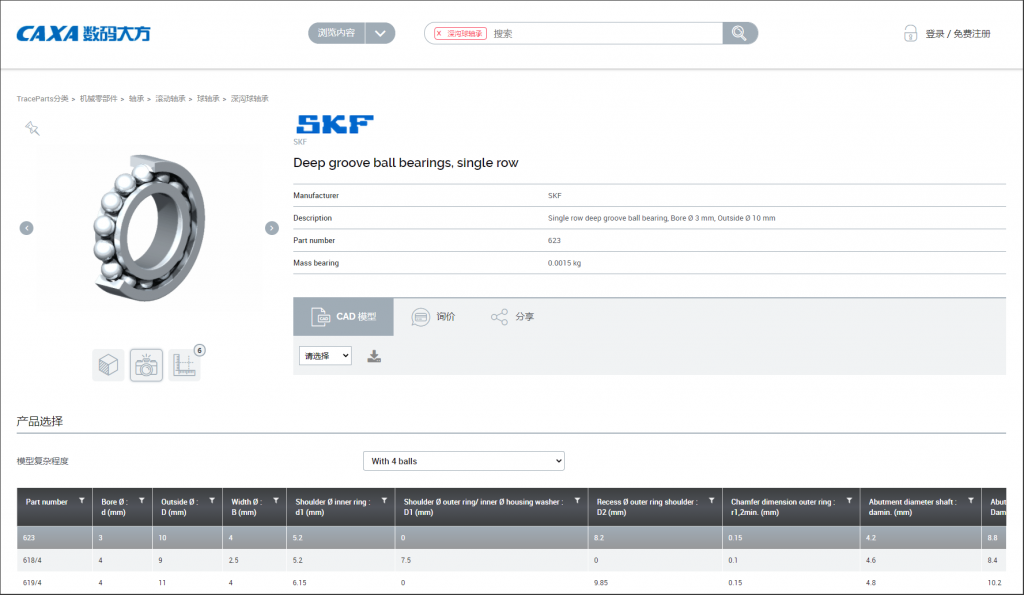 Link for CAXA's online library www.traceparts.com/els/caxa/en/
When choosing collaborators, CAXA naturally sought for top industry experts. TraceParts has provided innovative services for the publication and download of 3D CAD models since 2001. It has focused on industrial parts suppliers and CAD software publishers. The brand new collaboration will help TraceParts enhance its technical data and 3D model publication network, which already covers 29 million CAD users across the world.
It is worth mentioning that the close collaboration will allow TraceParts customers, manufacturers, industrial suppliers, and distributors that publish content on TraceParts.cn to expand the scope of their 3D product catalog publication to CAXA's CAD users.
For more information about TraceParts 3D catalog publishing networks, please visit: https://info.traceparts.com/pcs/publishing-3d-catalogs/publish-your-cad-models/traceparts-publishing-network/.
About CAXA
CAXA Technology Co., Ltd. (CAXA) is a leading industrial software and service company in China. It is the largest CAD and PLM software vendor in China, and an advocate and leader for China's cloud industry. CAXA mainly provides computer-aided design (CAD), manufacturing execution system (MES), product lifecycle management (PLM), and industrial cloud services. It is the founder and main operator of the "China Industry Cloud Service Platform".
For more information, please visit: www.caxa.com
About TraceParts
TraceParts is one of the world's leading providers of 3D digital content for engineering. As part of the Trace Group founded in 1990, the company provides powerful web-based solutions, such as CAD part libraries, electronic catalogs and product configurators.
TraceParts offers digital marketing services to help part vendors, 3D printing suppliers, software and computer hardware vendors promote their products and services and generate high-quality B2B sales leads.
The
TraceParts
portal is available free-of-charge to millions of CAD users worldwide. It provides access to hundreds of supplier catalogs and more than 100 million CAD models and product data-sheets that perfectly meet the specific needs of design, purchasing, manufacturing and maintenance processes and operations.
Categories