"Cool New Products" newsletter: Reach out to engineers and designers while satisfying their appetite for new products!
---
Promote your new products and services in a newsletter specially designed to showcase the latest products from the CAD world.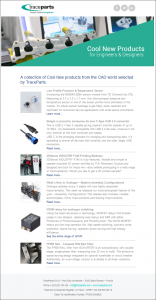 Every two months, over 700,000 engineers and designers who have registered with the CAD content platform and opted to receive correspondence from TraceParts receive the Cool New Products newsletter featuring the latest products and services.
Engineers and designers love discovering new products for their projects, so this newsletter has proved a tremendous hit, since it provides them with actionable and relevant information about the latest CAD products that concern them directly.
Five to six spaces are available for each language for disseminating your ads. Each space contains an image, a heading, a sub-heading, a short description and a link to your website.
The newsletter is sent out in three different languages: English (North America & EMEA), French and German.
Check out all the "Cool New Products" newsletters published by TraceParts
Specifications
Title: 30 characters max
Subtitle: 40 characters max
Description: 250 characters max
CTA: 30 caracteres maximum
Image width: 110px
Image height: 110px
Image format: PNG, JPEG or GIF
Contact your Digital Marketing expert

Laëtitia Rimbert
+33 2 32 79 44 26
sales@traceparts.com