Benteler Distribution France and TraceParts – the perfect connection
---
The expert in precision tubes and connectors enlists the support of TraceParts to create its component library

Normydro, founded in 1976, started in business by selling tubes and connectors for the hydraulic and pneumatic industries. The company was taken over in 2007 by the Benteler Group, employing over 20,000 people around the world in three divisions: Automotive, Steel Products and Distribution. Normydro subsequently became Benteler Distribution France.
Based in La Madeleine de Nonancourt, in France's Eure region, the firm employs 30 people and generates revenues of approximately 12 million euros in France, neighboring countries and North Africa.
In addition to steel and stainless steel tubes, Benteler Distribution France has maintained its expertise in manufacturing connectors (steel, stainless steel, polymers and brass). Its products are mainly geared towards the mechanical engineering industry (motor vehicles, trucks, agricultural and construction machinery, and so on), as well as the food & drink and energy sectors. Some products are designed to withstand harsh solvents. Normydro connectors are used both in vehicles and the automated lines that produce them. They can even be found in coffee vending machines!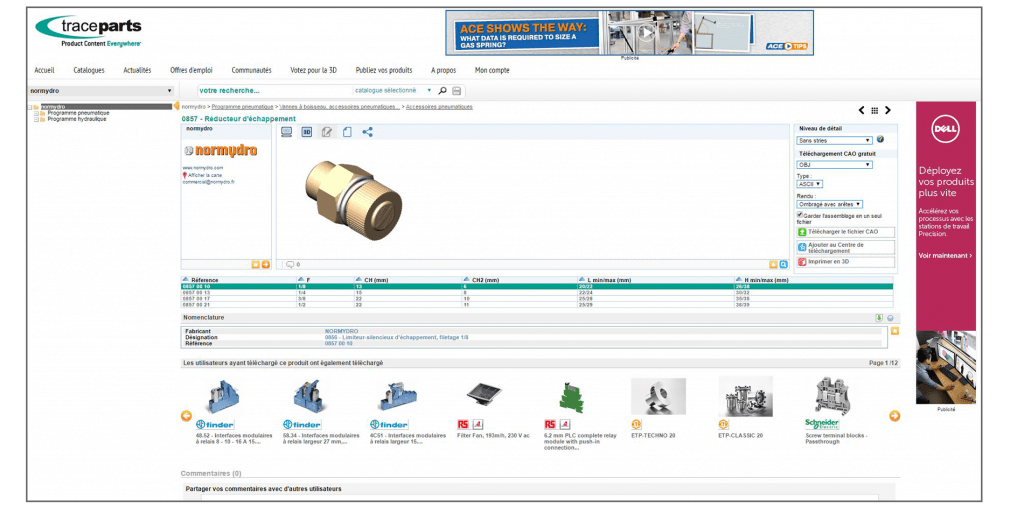 Although part of the Normydro product range is presently manufactured offsite, Benteler Distribution France has the necessary production facilities to respond to any given request.
From a customer-specific response to an open service
The idea of offering 2D component plans and models was inspired by an inquiry from a major customer. A vehicle manufacturer had required all its vendors to make the information on their listed products freely available, such as alphanumeric data, 2D plans and 3D files. Finally, the manufacturer decided not to push ahead with the project, but Normydro picked up on a service opportunity and source for competitive advantage.
Sébastien Villemy is Managing Director of Benteler Division France:
« We started by creating the database for our connectors, and when the manufacturer abandoned the project, we kept the idea of modeling our parts. In terms of the products that we distribute, we realized that design consulting firms influence purchases and even make purchasing decisions ».
In 2006, Normydro launched a tendering process for the creation of a 3D model library and chose TraceParts from the bidding companies.
 « Right from the beginning, we hit it off with TraceParts, when it came to both listening to our needs and discussing the technical aspects », adds Sébastien VILLEMY.
« Of the 15,000 items in our catalog, we focused the component library on our ranges of pneumatic and hydraulic connectors. In just a few months, TraceParts created the models from our catalogs and 2D plans in all the main formats on the market.»
Getting our name in the bill of materials
« It has to be said that project managers and designers leave it fairly late into their projects before they start worrying about connectors », admits Sébastien VILLEMY.
« As such, they are not overly enthusiastic about creating the parts themselves which, although essential, are not deemed strategically important. Thanks to TraceParts, we provide them with a technical service, while increasing our presence in their bills of materials and therefore getting our name known by their purchasing departments! »
Benteler Division France produced a DVD of its library for its customers and in response to occasional inquiries. The DVD is currently less distributed and the catalog content remains largely unchanged. Today, 3D models are primarily downloaded from the tracepartsonline.net portal, with over 75,000 downloads since the parts were made available!
Sébastien Villemy concludes:
« TraceParts has clearly put our products on the radar of our customers and even companies that were unfamiliar with our firm. Satisfaction is all the higher, since we still maintain excellent relations with TraceParts, which is always available and quick to respond.»
For further information:
Benteler Distribution : www.benteler-distribution.fr
Normydro CAD data on tracepartsonline.net: www.tracepartsonline.net
Contact us: info@traceparts.com