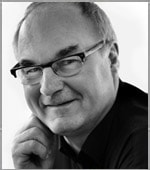 What's your name? What's your position within the company?
My name is Antoine Pigeon. I'm in charge of all the sales activities at TraceParts France. I'm also responsible for coordinating e-marketing services for all TraceParts subsidiaries around the world.
How long have you been working for TraceParts for?
I joined Trace Software in June 1998 as sales director. When Trace Software's new subsidiary, TraceParts, was created in 2001, I took over responsibility for sales. My goal was to ramp up the wide range of manufacturers and products published on traceparts.com.
What is your job about?
We have built our business model upon three interdependent activities:
– Creation and distribution of CAD catalogs for part manufacturers.
– CAD libraries for design companies.
– Direct marketing services for advertisers looking to communicate to our users.
With the support of our awesome sales team, my job involves contacting, informing and then convincing manufacturers how TraceParts could be the strongest asset in their marketing chain. Need convincing? Check out our customer testimonials by clicking on this link.
What do you want to achieve for TraceParts in the next years?
Promoting the TraceParts services among manufacturers is a long and difficult path. Despite 1.1 million registered users around the world, millions of CAD downloads every month and fine-grained statistics available for our customers, that is not always enough to persuade manufacturers to distribute their products over traceparts.com.
But we are starting to reverse the trend with manufacturers calling on our services in ever greater numbers, since their own customers have asked them to incorporate our library. They are also increasingly aware that the return on investment from our 3D marketing services is clearly superior to certain traditional channels, such as trade shows and the print media. For some time now, I've been thinking that I'm not very far from achieving my initial goal.
What do you do after work, during your free time?
I've always enjoyed sports. Depending on the season and the particular moment, I play different sports, such as tennis, swimming, scuba diving, jogging, cycling and walking. I love cooking, because I find it relaxing and it allows my imagination to run free.
How can the readers contact you and why is this important to you?
I can be reached by email or by telephone, as well as through my LinkedIn account.
If you are a components manufacturer, I'll give you a tour of our www.traceparts.com portal, which can be leveraged to generate a high number of sales leads and win over new customers around the world.
If you already use the portal, feel free to notify me of any improvements that you would like to see. If you are in charge of an engineering or design firm, I'll show you our customized CAD library solutions for the small and medium industries, as well as key accounts.