The Brioche Pasquier Group slims down its supplier component database thanks to the "Pasquier Parts Library"
---
In just a few months, TraceParts' Supplier Management Software has enabled the Group to streamline its numerous spare­ parts references.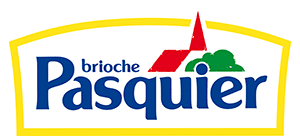 The Brioche Pasquier Group is the leading French manufacturer of Viennese pastries. A little over forty years ago, the company was a local "family bakery store" in the town of Cerqueux, near Cholet (Pays de la Loire, France). In 1974, the little Pasquier bakery decided to specialize in the production and sale of Viennese pastries. Eighteen years later, the company had four other production sites in France.
In the 1990s the company diversified into the patisserie market (cakes, tarts, sweet pastries) through the acquisition of three new factories, and opened sales offices in Europe. Since 2011, the Group has developed an additional branch specializing in "melba toasts and special breads", through successive acquisitions in Spain and France. Today, thanks to its reputation and the success of its products, the company employs nearly 3,200 staff in Europe and the United States.
Hundreds of machines
The Brioche Pasquier Group has 17 sites with a total of 60 production lines. These lines include equipment purchased from external equipment manufacturers ­ such as ovens ­but the majority of the machines (shaping, demolding, etc.), molds and conveyors used for the production process are designed internally.
Each factory is specialized in a specific product and generally has its own design office responsible for designing and upgrading the production lines. Since certain machines are used in several factories, sites frequently deploy portions of production lines designed in other design offices, which leads to a form of geographical specialization.
All the design offices are coordinated at the head office of the Pasquier Group.
A big appetite for parts
The Brioche Pasquier Group decided to implement 3D design using Autodesk Inventor in 2005. New production lines are designed and others modified on a regular basis in the company's 14 design offices, in order to meet the requirements of the sales departments or the specifications of the Group's laboratory, in a sector where hygiene is paramount.
Some forty designers design custom parts ­ machined parts, sheet metal and machine-welded parts, etc. ­ but obviously also integrate a large number of supplier components in the 3D design of machines, such as screws and bolts, chains, handles, bearings, motors and cylinders.
"We quickly realized we needed to streamline the components used in our machines, to facilitate maintenance, reduce costs and stock," explains Pascal Le Maignan, the Group's CAD Manager. "A few years ago, we started working with a CAD component library provider in order to have a customized application. But the solution was based on a specific library located on a server and did not meet the needs of our design offices, which are spread around the country. It was extremely time­consuming to make sure each site had access to up­to­date content."
As such, if designers could not find components on the server, they looked for them elsewhere and the spare parts database kept growing at an alarming rate.
"After using this solution for a few years and noting that the number of references kept increasing, we decided to consult TraceParts, who had implemented the Supplier Parts Management software at Michelin. We even had the opportunity to talk with the Michelin managers in Clermont­Ferrand before making our decision."
Pasquier Parts Library , an integral part of Product Lifecycle Management at Pasquier
Today, all the sites can access the same information on the Group's component database in real time.
"Our component database is open and has real added value for users," explains Mickaël Denis, a Studies and CAD technician on the Cerqueux site who is in charge of coordinating the library for all the design offices. " A menu, that provides a link to the part library, is displayed in the Inventor interface. The application gives priority to the catalogs that we recommend. Color codes are used to highlight preferred parts, for example green for those that are in our spare parts database. The models are inserted directly in the native Inventor format. The Paquier Pasquier Parts Library database provides a view of the renowned TraceParts.com international library and can be accessed by all our sites via the internet, with around 200 different catalogs."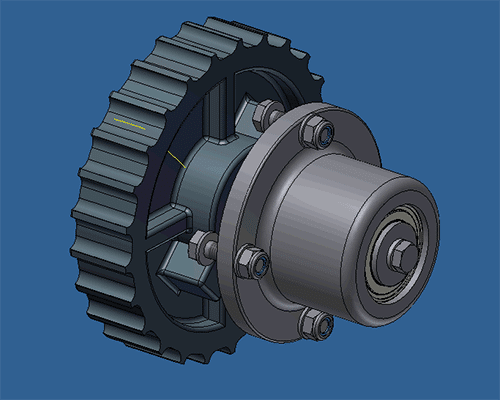 Inventor assembly taken from a production machine, with a few custom parts and some commercial supplier parts.
The application is connected to Autodesk Vault Professional (the vault integrated in Inventor), and limits creations of new 3D models. As such, a new CAD model of the selected component is only generated if it did not already exist in the vault.
The Brioche Pasquier Group has given some of its subcontractors access to this library. A user­management menu enables the administrator to control users' access and authorization rights, whether they belong to the company or not.
The spare part file is synchronized with the Pasquier Parts Library database every evening. The synchronization process enables TraceParts to update and reconcile changes. For example, this is the case if the Purchasing Department reports that a component is no longer available (end of life) or if a reference or title has changed.
Control over the number of references
Less than two years after the commissioning of Pasquier Parts Library , the number of references and suppliers has been stabilized. Ultimately, this is also beneficial for the spare parts stock volumes required for maintenance.
The Brioche Pasquier Group wanted to give users a certain degree of flexibility. "There is no lock­out if users need a component that is not recommended or registered under a part number. The user's request will translate into a new reference in our spare parts database that the Purchasing Department will then decide to approve or not. However, it is much easier for designers to select a reference that is already reconciled with our PLM, since the Pasquier Parts Library search engine gives priority to parts with registered part numbers."
The "ball of dough" component
The next stage is to create what is known as "non­branded" component catalogs.
"When we design our machines, we use various items that are not really industrial components: models of brioche buns or balls of dough, as well as reels of packing films or trays," says Mickaël Denis. "These items will soon be included in our Pasquier Parts Library database, just like screws and bolts or cylinders, as soon as we have developed a specific classification in our spare parts data base."
An application which benefits from TraceParts' international success
"Our initial business contacts with the TraceParts team were in September 2012 and the application was up and running on all our sites just ten months later," says Pascal Le Maignan. "We decided to carry out the IT developments required for exchanging information with Pasquier Parts Library internally. We really appreciate the fact that up-to­date databases are rapidly available for all our sites and we are pleased how users have bought into the system, since it is never easy to impose changes in working habits. Above all, we benefit from real­time updates as well as all the new catalogs in the TraceParts database, if they interest us. As such, our database can grow thanks to TraceParts' success with component manufacturers around the world; this is an added asset for a fruitful, long­term partnership."
About TraceParts Software solutions
The Pasquier Parts Library is based on TraceParts Enterprise, the Supplier Parts Management Software specially designed by TraceParts to manage and streamline suppliers' 3D content. TraceParts Enterprise gives an organization total control over CAD models and technical information that its design team can use or re­use.
The technical content which is managed within TraceParts Enterprise, is based on TraceParts.com, one of the most extensive CAD libraries in the world.
The open architecture of TraceParts Enterprise provides standard functionality, which can be fully customized to meet individual needs.