Update of Parts Catalogs
---
Welcome to the download area for TraceParts DVD part catalogs updates.
To login, please fill out the following form and then click on the "Next step …" button.
To check if you need any update of parts catalogs :
Click on the menu "? | Catalogs | Installed catalogues" of TraceParts DVD.
If the version displayed inside this TraceParts DVD window matches the current version of the catalog you wanted to download, it means that the update is not necessary.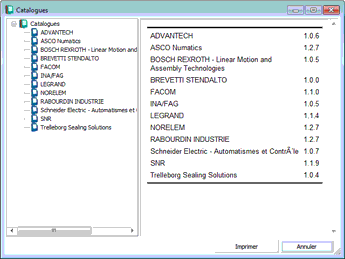 WARNING !
The available catalogs will only work with TraceParts DVD 2013 (2.6.3) and higher. 
See the extensive list of TraceParts catalogs with the version number of the latest release
 A.C.C.&S. v1.0.0
 ADVANTECH v1.0.8
 Aerotécnica S.A v1.0.5
 ALEX v1.0.1
 ALPHA AUTOMATISMES v1.0.4
 AMECA v1.0.3
 AMES v1.0.4
 ANSI/ASME/ASTM Inch (Standard) v1.2.0
 ANSI/ASME/ASTM Metric (Standard) v1.1.7
 ARGUS FLUIDTECHNIK v1.0.1
 ASCO Numatics v1.2.9
 ASME (Standard) v1.1.4
 ASSMANN WSW components v1.0.2
 Atlas Copco v1.0.4
 AVO v1.0.3
 BLICKLE v1.0.3
 BOSCH REXROTH v1.0.7
 BOUTET v1.2.2
 BREVETTI STENDALTO v1.0.1
 BS (Standard) v1.1.5
 BÜLTE v1.0.6
 BURSTER v1.0.4
 C2G Soudage Innovation v1.0.1
 CAMOZZI v1.0.1
 Carr Lane v1.0.8
 CCB Composants S.A. v1.0.6
 celduc relais v1.0.1
 CEPEX v1.1.3
 CGI, Inc. v1.0.6
 CHAMBRELAN v1.1.9
 Clippard Minimatic v1.0.3
 CODIPRO v1.1.0
 Compagnie DEUTSCH v1.0.4
 CONTRINEX v1.0.6
 CORDERIE DOR v1.0.5
 COVAL v1.0.4
 CROSBY v1.0.7
 CSR v1.2.0
 DECRIL v1.0.7
 DIN (Standard) v1.3.1
 DINEL v1.0.5
 DMS v1.0.8
 ELAN v1.0.3
 ELCOM v1.0.9
 ELITEC TECHNIQUES  LINEAIRES v1.0.8
 ENERPAC v1.0.2
 ENOMAX Groupe Supratec v1.0.8
 EPIDOR v1.0.4
 EUCHNER v1.0.5
 FACOM v1.1.0
 FINDER v1.0.4
 FIP v1.0.3
 FLI v1.0.4
 Franke v1.0.6
 FUKUTA v1.0.0
 GANTER-Normteile v1.1.1
 GENUSTECH v1.1.5
 GMT v1.0.5
 HALDER-Aviation Products v1.0.5
 HALDER-Modular Jig and Fixture Systemsv1.0.8
 HALDER-Standard Parts v1.0.6
 HELICAL v1.0.1
 HERVIEU v1.1.4
 HIMEL v1.0.7
 HP SYSTEMS v1.2.0
 IDE v1.0.3
 IGUS v1.0.5
 INA/FAG v1.0.5
 INOXPA v1.0.1
 ISO (Standard) v1.2.4
 ITEM v1.0.8
 JIS (Standard) v1.0.1
 KABELSCHLEPP v1.0.5
 KBK Coupling Systems v1.0.0

 KINETIC SYSTEMS v1.1.0
 LA CLUSIENNE – CLUFIX v1.0.4
 LE JOINT FRANCAIS v1.0.8
 LEGRAND v1.1.6
 LEGRIS – High pressure v1.0.8
 LEGRIS – Low pressure v1.2.7
 LEGRIS – TRANSAIR v1.0.1
 LEMO v1.0.0
 L'ETOILE v1.1.0
 LMC v1.0.1
 mayr v1.0.4
 MDL v1.0.7
 MECABOR v1.0.2
 MECALECTRO v1.0.6
 midi ingénierie v1.0.0
 NAAMS (Standard) v1.1.1
 NF (Standard) v1.2.3
 NORELEM v1.2.9
 NORGREN v1.0.8
 NORMYDRO v1.0.5
 NOZAG v1.0.7
 OLAER v1.0.8
 PARVEX v1.0.6
 PAULSTRA v1.1.6
 PINET v1.1.6
 POGGI v1.0.2
 PROGRESSUS v1.0.4
 QAMA quincaillerie v1.0.1
 QUIRI HYDROMECANIQUE v1.2.7
 RABOURDIN INDUSTRIE v1.2.7
 relpol v1.0.0
 RICHCO v1.0.1
 RINGSPANN v1.0.3
 ROCKWELL v1.0.7
 ROEMHELD v1.1.5
 ROTAREX v1.0.4
 RÖTELMANN v1.0.5
 Sandvik Mining and Construction v1.0.1
 SAPELEM v1.0.9
 SAREL v1.0.8
 SAVIGNY v1.0.1
 SCHMALZ Vakuumtechnik v1.0.7
 SCHMERSAL v1.0.5
 Schneider Electric – Automation and Control v1.0.8
 Schneider Electric – Electrical Distribution v1.0.2
 Schneider Electric – Multi-purpose enclosuresv1.0.4
 SCHWEIZER Federntechnik v1.0.1
 SEDIS v1.1.1
 SERMAX v1.0.1
 SFA v1.0.8
 SHEREX v1.0.4
 SIAM RINGSPANN v1.2.2
 SITI v1.1.1
 SKF v1.2.1
 SMAC v1.0.4
 SNR v1.2.2
 SOCAFLUID v1.1.1
 SONCEBOZ v1.0.2
 SPEEDY BLOCK v1.0.8
 STÜWE v1.0.4
 SUHNER v1.0.3
 SUMER v1.0.8
 Techné v1.0.3
 TECMECA PACQUET v1.0.1
 TECNODIN v1.0.3
 TENTE v1.0.1
 TME v1.0.3
 T-race v1.0.3
 Trelleborg Sealing Solutions v1.0.7
 UNI (Standard) v1.1.9
 VACHETTE v1.0.1
 VANEL v1.1.1
 VISHAY v1.0.7
 ZIMM v1.0.4