Success thanks to a personalized CAD library that is universal & unique
---

In 2006, Michelin produced 190 million tires. Its Technology Centers are located in France, the United States and Japan, however the Group counts 69 production sites in Europe, North and South America, Asia and Africa, in order to meet the needs of the consumer market for replacement parts that accounts for 70% of sales.
Thus, several sites could manufacture and implement a production machine. In order to reduce development, manufacture and maintenance cost for production, the Michelin Group has used a standardization policy for several years now for both technical and sales standards with industrial parts suppliers.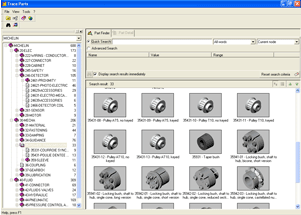 Models were developed by TraceParts according to Michelin's specifications
Jean-Claude AVRILLON, a member of the Group's Standardization Department, explains the origin of the procedure: "In the early 90's, Computer Aided Design was used mainly for designing special machines, with software for 3D designing. We quickly realized that our designers would be tempted to use libraries containing blueprints or models provided by manufacturers via electronic platforms. Although their use might have saved time for designing or creating models, it also may have worked against our objectives for standardization and cost control. Yet, there was a real potential for saving time in research. Therefore, we had to go along with the procedure of using libraries while providing a framework. Better yet, libraries would serve as platforms for our standardization procedures."
Michelin launched a bid to two component library providers and retained TraceParts in 1995. In particular, specifications stated that the Group should have its own library using specific methods of representation enabling easy consultation and sales with suppliers. The library had to be one of the components of standardization based on standardization work in terms of:
 Parts description
 In-house codes
 Classification (see insert about Michelin's involvement in PFI)
However, Michelin was not to be in charge of handling the library's design for both graphic modeling and programming.
"TraceParts was able to prove its skills in providing quality models – even the most complex – as well as its ability to personalize its product according to our requirements", recalls Jean-Claude AVRILLON.
One representation for several suppliers
Manufactured machines use some components on the market that have standard representations (an example: jacks). Therefore, the program generates one representation for these components. For other parts, the Standardization Department led a meticulous research study to define a graphic envelope "with the maximum amount of space" enabling definition of a single generic component to be applied to several manufacturers.
The machine's designer does not have to worry about which supplier to choose because he only has access to a set of "compatible" parts in terms of technical space and characteristics. A unique Michelin item code is associated with this component. The code is used to generate nomenclature.
This meticulous study is completed by a sales research study of suppliers. The "sales" platform enables finding components for each item code that were included in contracts.

For standardized components (sections, joints, fastenings, etc…) the library has them all, "under control". In fact, standardized dimensions are not always "carried" by suppliers and Michelin has limited the use to only those that are available on the market.
Models are developed by TraceParts according to Michelin's specifications and following two types of graphic representation. That is because although many machines are designed in 3D using SOLIDWORKS, older machines that need to be maintained were designed in 2D using AutoCAD. In the first case, the imported model is a volume component; the user can also select the context for use, for example, a cylinder rod guide. In the second case, the user can select one or several views of the part.
A homogenous work interface was implemented to facilitate model selection and placement.
More than a graphic representation
In addition to the item code and 2D and 3D representations, various technical documents and guides are provided for each part to help designers select component placement. TraceParts ensures links between the library and documents that are created by Michelin's Standardization Department.
Emphasis has been put on assisted part searching. The library takes advantage of the Group's work on classification and suggests relevant criteria for selection, including advanced technical characteristics. These criteria accelerate the selection process as well as guarantee their validity.
The library may be accessed directly from each designer's workstation in the Engineering Department, as well as in the customer service department, sales and spare parts department and in general, by all people who work in manufacturing operations.
"Sub-contractors make machines for our factories", specifies Jean-Claude AVRILLON. "They have access to a specific Trace-Michelin portal. The Group informs TraceParts of certified sub-contractors and they are given access to the portal that provides access to our libraries and associated documents and guides for online consultation or downloading. Sub-contractors also have access to the purchase platform that enables them to order required parts from our suppliers. For one item code, sub-contractors have the choice between up to four items on the market. For standardized components, sub-contractors can also select a local supplier in order to reduce supply costs."
Rigorous controls before deployment
The Standardization Department has 20 employees. One of its roles is to define standardized representations that are sent to TraceParts (with the objective of reducing maximum weight of models), to receive and verify libraries and finally, to provide help to designers. A "library work group" periodically brings together department members and designers in order to take into account designers' needs and wishes.
It also has the mission to develop all reference systems that are associated with components (specifications, guides, instructions). Finally, its mission is to make available all entities that work on machines that are included in the manufacturing process, including sub-contractors who design equipment.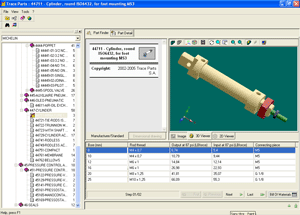 A unique, universal library to ensure success
The library is unique and universal, however data can be removed using two languages, the choice is made when extracting nomenclature. In the same manner, some local measurement units (dimension, power…) specified during selection.
95% economy on design alone
The Michelin Group carried out an in-house survey with 80 machine designers. Although reduced engineering time was not the main objective, economy during this stage is very significant: a designer that did not have access to the library when designing a model spent an average of 2 hours and 30 minutes (specification research and information, modeling, identification). Using the TraceParts library, the average time was reduced to 3 minutes!
"The economy is impressive but it is only one portion of total economies", recalls Jean-Claude AVRILLON."We also have to take into account the increase in modeling quality, decrease in errors, increase in reliability of exchange and naturally, the economies further down the line for purchases and machine park management."
Tracing components
Built-in tools also enable tracing components in equipment. When opening a file for a particular machine, component updates can be set to automatic if the original reference library was too old. In addition, the codification that is used immediately displays standardization status for every part on the market that is used in the machine: elements are labeled "standardized", in "warehouse for maintenance" or "obsolete" (that means that it is no longer on the market or is no longer certified by Michelin). The list of obsolete parts can be edited in order to define replacement parts.
A partnership choice confirmed by experience
"Our experience with TraceParts since 1995 reassured us in our initial decision", concludes Jean-Claude AVRILLON. "The continuous addition of catalogues and associated tools as well as TraceParts' rigorous attentiveness to our specifications makes TraceParts a key element in our standardization policy and its success."
Striving for Standardization instigated by Industries in the Automobile Sector
Jean-Claude Avrillon represents Michelin at the PFI Authority (Products for Industrial Operations), a project for Grouping and Improving Liaisons in the Automobile Industry (GALIA). The PFI workgroup addresses issues for standardized identification in component catalogues and covers codification, description, classification (e-cl@ss) of these products, using international tools or standards. It especially strives to put pressure on industrial component manufacturers in order to incite them to adopt these standards that represent economic challenges that are altogether beyond the only needs of the automobile sector.
For further information:
Michelin website: www.michelin.com
Contact us: info@traceparts.com