This first event since recent TraceParts acquisition of web2CAD/PowerParts European business will demonstrate huge productivity benefits in the design process of machinery, tooling, automotive and aerospace industries.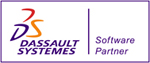 Saint Romain (France) – September 27, 2004 – TraceParts S.A. will be offering 30-day evaluation licenses of its parts library seamlessly integrated to CATIA V5 at the ECF 2004 Conference and TechniFair (booth #49), taking place October 12-14, 2004, at Disneyland Paris, France.
TraceParts was the first Parts Library to join the DASSAULT SYSTEMES' Software Community Program (SCP) as a Partner in October 2001. Through this development partnership TraceParts is still the only CAA V5 Partner to complement native parts catalogs by delivering to CATIA V5 users more than 25 million parts directly accessible from DS 3d PLM solutions. TraceParts' commitment to CATIA customers and business partners is also being reinforced through this 4th consecutive participation to the ECF event.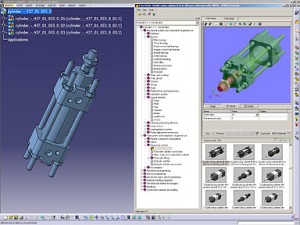 TraceParts leverages the V5 architecture to develop an extensive library of international standard CATIA-native 3D parts. Customers from all industries, and especially Industrial Machinery, Tooling, Automotive and Aerospace will benefit from all the most commonly used components in mechanical design from the largest names of the mechanical industry: ASCO/JOUCOMATIC, BOUTET, CHAMBRELAN, CSR, GENUSTECH, HERVIEU, HP SYSTEMS, INA, LEGRIS, NORELEM, NSK, PARVEX, PAULSTRA, QUIRI, RABOURDIN, SIAM-RINGSPANN, SNR, SUMER, SUPRATEC, TELEMECANIQUE, …
TraceParts completely eliminates the time consuming process of finding and modeling international standard and manufacturers' components. The time saved in this way allows the designer to spend more time on the more critical stages of the design process.
About TraceParts
TraceParts S.A. is a leading software company which belongs to the Trace Software Group, founded in 1989 to develop and market original solutions to help CAD users to increase their productivity through both Online and CD-based Parts Libraries, e-catalogs and product configurations.
TraceParts develops a very innovative technology which relies on strong and long term partnerships with all the main CAD vendors in the world: DASSAULT SYSTEMES (CATIA, SOLIDWORKS and Spatial), AUTODESK (AutoCAD, Inventor, Mechanical Desktop), PTC (Pro/ENGINEER), THINK3 (thindkesign), MISSLER SOFTWARE (TopSolid), UGS (Unigraphics, Solid Edge). TraceParts was the first and is still the only Parts Library in the world to get the CAA V5 Software Partner label from DASSAULT SYSTEMES, therefore delivering a seamless integration with CATIA V5.
TraceParts is the number one Parts Library in France, Italy, Spain, UK, Benelux and Turkey, with more than 20,000 commercial seats sold in 35 countries to companies such as MICHELIN, NORTHROP GRUMMAN, SCHNEIDER, AIRBUS, DYSON, COMAU, DELPHI KOREA, ALCATEL, ABB, ALSTOM, NESTLE, BOBST, TECHNIP, OLIVETTI, …
TraceParts catalogs come from partnerships with many major parts manufacturers and distributors including ASCO/JOUCOMATIC, BOUTET, CHAMBRELAN, CSR, GENUSTECH, HERVIEU, HP SYSTEMS, INA, LEGRIS, NORELEM, NSK, PARVEX, PAULSTRA, QUIRI, RABOURDIN, SIAM-RINGSPANN, SNR, SUMER, SUPRATEC, TELEMECANIQUE …
web2CAD TraceParts GmbH is a subsidiary of TraceParts S.A., founded in 2004 in Germany to support the many PowerParts customers and to massively extend the business of Parts Libraries.
The combination of both TraceParts and PowerParts European content forms the most extensive and most widely used CAD Parts Library in the world, with more than 170 parts catalogs and 80 million CAD drawings which can be accessed by the 200,000 registered users of the Internet portals PowerParts on Web and tracepartsonline.net.
More details about TraceParts and web2CAD can be found on the Web: www.traceparts.com
TraceParts is a trademark of TraceParts S.A.
All other products and company names are trademarks or registered trademarks of their respective owners