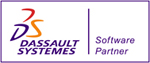 Paris (France), October 30, 2001– Dassault Systemes (Nasdaq: DASTY; Euronext Paris: #13065, DSY.PA) announced today that TraceParts has joined the Software Community Program (SCP) as a Partner. Through this development partnership TraceParts will be the first Partner to complement native CATIA V5 standard parts catalogs by delivering to CATIA V5 users more than 200 000 standards V5 parts directly accessible from DS 3d PLM solutions.
TraceParts will leverage the V5 architecture to develop an extensive library of international standard CATIA-native 3D parts. Customers from all industries, and especially Industrial Machinery, will benefit from more than 200 000 of the most commonly used components in mechanical design from the largest names of the mechanical industry: ASCO-JOUCOMATIC, BOSCH, FESTO, INA, LEGRIS, NADELLA, NORELEM, PARKER, RABOURDIN, SIAM-RINGSPANN, SKF, SMC, SNR, This product called "TraceParts CAA V5 based", will offer an easy-to-use and visual user interface (including a powerful search engine) as a seamless integration into CATIA V5: 3D components are just a mouse click away from the CATIA session.
"We are very pleased by this partnership with TraceParts because they have a unique expertise in managing the component information provided by standard parts manufacturers. 'TraceParts CAA V5 based' offers to the CATIA V5 designers, a productivity-driven content made up of international standard parts that can be easily accessed and inserted into the assembly: it will result in a negligible learning curve and result in users being immediately proficient in the use of the product" said Jacques Leveillé-Nizerolle Vice-President, R&D CATIA – Dassault Systemes.
About the Software Community Program
The Software Community Program is dedicated to companies willing to develop, market and sell applications expanding Dassault Systèmes solutions to cover the SME and Digital Enterprise (DE) entire product life cycle. Software Partners benefit from Dassault Systèmes' Next Generation V5 Component Application Architecture (CAA V5) as well technical and marketing support to offer products directly interfaced to CATIA V5. As a result, our mutual customers take advantage of a larger set of products to answer their industrial needs
About TraceParts
TraceParts is the ideal link between parts manufacturers and drawing offices. It offers a unique software solution for the distribution of CAD models and component information. TraceParts CD is a very extensive parts library seamlessly integrated within all the main CAD software on the market: SOLIDWORKS, Solid Edge, Inventor, Mechanical Desktop, thinkdesign, TopSolid, CATIA V5 and soon Pro/Engineer. tracepartsonline.net is a powerful online internet portal that delivers CAD models coming from the same parts database as TraceParts CD. TraceParts is a new and fantastic means of communication for all manufacturers, which brings major productivity benefits to drawing offices, whether they are specialised in the mechanical, electro-mechanical, tooling, aeronautical or automotive sector. More information about TraceParts is available at www.traceparts.com
About Dassault Systemes
Dassault Systemes (Nasdaq: DASTY; Euronext Paris: #13065, DSY.PA) is the premier global software developer for the CAD/CAM/CAE/PLM market, providing companies with e-business solutions to implement their digital enterprise, thus creating and simulating the entire product life cycle from initial concept to product in service. CATIA, ENOVIA and DELMIA solutions support industry-specific business processes to help unleash creativity and innovation, reduce development cycle time, improve quality, competitiveness and shareholder value: CATIA supports the digital product definition and simulation, DELMIA provides solutions to define and simulate lean digital manufacturing processes and ENOVIA delivers enterprise solutions that manage a comprehensive, collaborative and distributed model of the digital product, processes and resources. The combined integration creates the Digital Product life cycle Pipeline, supporting reuse of corporate knowledge. SOLIDWORKS and SmarTeam, as Dassault Systemes companies, offer respectively 3D design-centric and TeamPDM software solutions based on Windows. Spatial, also part of Dassault Systemes family, is a market-leading provider of world-class 3D software components and services (for 3D modelling, visualization, and interoperability) to meet the requirements of 3D in Internet-based e-commerce and B2B applications. Information about Dassault Systemes is available at www.dsweb.com
CATIA® is registered in the US Patent and Trade Mark Office by Dassault Systemes.
DELMIA® is owned-by Dassault Systèmes
ENOVIA® is owned-by Dassault Systèmes and used uner license
All other company product or service names mentioned may be trademarks or service marks of others.