CAD Download Service: a real more for their customers
---
Offer more to more customers

Rabourdin Industrie designs, manufactures and sells precision mechanical parts for the moulded components, cutting and stamping sector. Its designs (standard moulds, guiding and centering parts, punches, hot runners…) are well known in the plastic, smelting and sheet metal industries. Rabourdin Industrie also supplies special threaded fasteners and other precision parts adapted to particular markets such as the aeronautic, space and automobile industries.

The family business, founded in 1926, is located in Marne La Vallée. It has a second production site in Picardie and employs about 270 people in France.
At the end of the 90's, Rabourdin Industrie's engineers wanted to have an application that would automatically generate 2D models (in DXF and DWG formats) using alphanumerical data organized in a database.
Olivier Musseau, the company's technical documentation manager, told us the reasons why:
"The application had to allow us to suggest designs to our customers. Working with a database would also permit data to be used for other operations, for example for creating our hard copy catalogues."
Therefore, the company started looking for software tools that were adapted to our needs.
In 1999, TraceParts, still called Trace Software at the time, offered Parabase that generated 2D static or parametric format models and exactly met our needs.
"We adopted the software and were able to design our own parameters for our products," continues Olivier Musseau. "However, over the years, we noticed that our customers' needs were changing and that they preferred 3D models. Mould assemblies and evolving tools rapidly become very complex and a three-dimensional digital model is usually necessary. We were faced with a new problem for our designs: that of providing models for all of the different CAD formats used in the industry."
Going to a higher dimension
For Olivier Musseau, choosing a partner for this new step was not a problem:
"We were completely satisfied with TraceParts' products and service for generating 2D models and there was an excellent relationship between our two companies. In addition, since we began working with TraceParts, they had acquired a notoriety that increased visibility for our products. Not only were we able to meet our customers' needs, we were also able to gain new ones."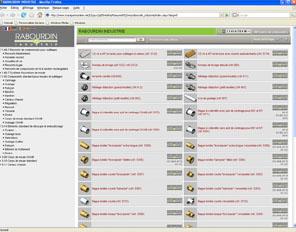 Now our roles have changed somewhat: Rabourdin Industrie continues to program geometric generation – this time in 3D – using TraceParts' software tools. Then we transfer our "digital models", the dimensional and textual database (in particular the tree-structured classification, product names and descriptions) and the catalogue's PDF pages that are linked to each product. TraceParts ensures the availability of parts for all CAD formats on the market, putting them online, and the selection logic for its own website as well as on the company's website.
A smooth-running partnership
Olivier Musseau justifies these shared tasks: "Although many of our parts are quite simple geometric shapes, assemblies take into account many other parameters such as guide dimensions according to the thickness of moulds. We wanted to maintain the control of initial model programming because it allows us to validate technical parameters in-house. However, CAD is not our profession and we could not ensure generation of all 3D formats nor could we keep up with their evolution."
This way of working calls for a close partnership because it is at a very high technical level. Since Rabourdin Industrie is involved in the modeling process, the company is attentive to respecting deadlines, rapid reactivity and the pertinence of technical data that it receives.
According to Olivier Musseau,"Technical exchanges run very smoothly and in an atmosphere of partnership."
CD-ROM and Internet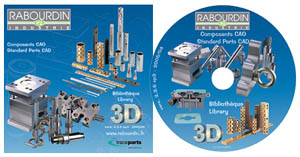 Rabourdin Industrie's parts libraries are available at the company's website (www.rabourdin.fr) and naturally at TraceParts' website (www.tracepartsonline.net), as well as through all distribution portals belonging to TraceParts' partners (SOLIDWORKS 3DContentCentral, Autodesk Manufacturing Community, Google SketchUp 3D Warehouse, Pro/Engineer Catalog Portal, TopSolid, etc.).
The complete library is also available on CD-ROM. There will soon be a complete update available for downloading on the Rabourdin Industrie website. The manufacturer thought that this would be helpful for engineering departments who cannot provide online access to all of its designers and drafters.
This is not the only "extra" service that the industry offers to its customers: for three years now, the CD-ROM includes an assistant for creating order forms. It considerably speeds up exchange while guaranteeing data reliability.
Special customer relations maintained
"Europe remains our main market. Today, nearly one-third of all downloads from the TraceParts website is for models. 3D models alone represent 85% of the demand. Our decision to go to the 3D level and to do it with TraceParts was a wise decision," concludes Olivier Musseau.
Rabourdin Industrie's special relationship with its customers and product users does not stop at the limit of the Internet. On the contrary, Internet opens the way to new customers and allows the company to offer a high quality extra service.
For further information:
Rabourdin website: www.rabourdin.fr
Rabourdin CAD data on tracepartsonline.net: www.tracepartsonline.net
Contact us: info@traceparts.com