TENTE: a smooth ride with TraceParts
---
The caster manufacturer uploads the 3D models from its range

The "Bergisches Land" is a mountainous region within the Rhineland, one of the birthplaces of Neanderthal man. Although it has lost none of its rural qualities along the edge of the Ruhr, the "Bergisches Land" is renowned for its rich industrial fabric and famous for Müngsten Bridge, the largest railroad bridge in Germany.
TENTE-ROLLEN was founded in this very setting back in 1923, in Wermelskirchen to be precise. The firm's core business was selling ball bearing casters and wheels for sliding cabinet doors. Just a few years later, the company started its own production line. TENTE may be headquartered in Cologne, but the main production plant is still based in Wermelskirchen.
Today, TENTE has carved a leading position in the international caster market, delivering products to the corporate sector (casters for chairs, furniture, aircraft trolleys and caddies), the healthcare sector (casters for hospital beds, stretchers, and so on) and industry (casters for lift trucks, containers and heavy-duty applications).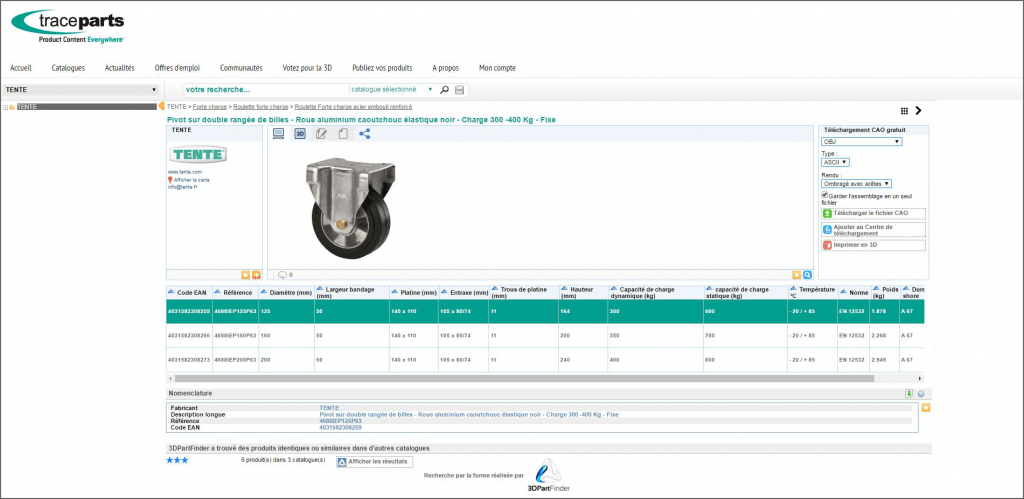 TENTE has operations in over 100 countries through a network of distributors and boasts over 22 subsidiaries with around 1 000 employees in Europe, North America, Asia and South Africa. The European production sites are located in Germany, Ireland and France, with an assembly site in Pringy on the outskirts of Paris.
Reinventing the wheel
The R&D department is responsible for designing custom wheels, heavy-duty casters and wheels for specific types of application or mounting procedures. For example, some casters are designed to withstand high temperatures. The heavy-duty range includes models capable of bearing dynamic loads in excess of six tons!
Meeting customer demands for 3D models
The TENTE France subsidiary was behind the initial plan to upload CAD components to the TraceParts website. Isabelle Margerie, chief marketing officer for the French subsidiary, explains the reason for the approach:
"Some of our industrial customers were regularly asking for 3D CAD files. So we gave them access to our models on our website. Furthermore, we noticed that many customers were using the TraceParts component libraries to speed up their design process. Meeting customers' expectations is a company tradition, and in this particular case we were guaranteed to have the right partner on board!"

Over 5,000 parts are now available as CAD models on the TENTE website (www.tente.fr). The www.tracepartsonline.net website currently offers heavy-duty casters in the main 2D and 3D CAD standards and formats. The choice for this range stems from the fact that these products are often used by external engineering firms when designing custom-made equipment.
Based solely on the STEP standard format supplied by the company's design office and a few tables of alphanumeric data, TraceParts generated all the CAD formats on the market.
"The ease with which our catalogs can be integrated and translated is an incentive to increasing our presence on the tracepartsonline.net website by adding more products from our range, but this time creating a technical and business partnership with our parent company, which has all the CAD models," explains Isabelle Margerie, who adds, "by keeping track of the number of downloads, we know that these models are used in France and overseas by customers already on our radar as well as by other manufacturers that we can subsequently approach."
Making a name for the range around the world
Uploading CAD data was not the only service asked of TraceParts. In a bid to promote its casters to over 400,000 prospects around the world, TENTE-ROLLEN GmbH is using TraceParts' direct marketing services to raise its profile.
By leveraging TraceParts' technical and marketing expertise, TENTE is satisfying customers and increasing product visibility to achieve an even wider customer base… to satisfy.
For further information:
Tente website: www.tente.com
Tente CAD data on tracepartsonline.net: www.tracepartsonline.net
Contact us: info@traceparts.com