RS Components develops a partnership with Trace Group to release its new electrical CAD software
---
The global distributor for engineers has launched DesignSpark Electrical, free software for electrical design engineers that integrates a smart electrical component library powered by Trace Software and TraceParts
Saint-Romain, France, 8 September 2015 – RS Components (RS), the trading brand of Electrocomponents plc (LSE:ECM), has selected Group Trace (Trace Software and TraceParts), as the exclusive partner to develop a new CAD software and to seamlessly integrate an electrical component library of over 250,000 part numbers. DesignSpark Electrical is now available for free download and targets electrical design engineers, especially those not already using electrical CAD tools.
One of the most important criteria when selecting an electrical CAD software is how long it takes to get the most out of it. The intuitive and user-friendly interface of DesignSpark Electrical really allows any electrical design professional to become familiar with the software in a very short period of time,
explains Glenn Jarrett, Global Head of Product Marketing at RS.
With DesignSpark PCB (launched in 2010) and DesignSpark Mechanical (released in 2013), RS, along with US trading arm Allied Electronics, already provides free professional design software tools to its customers and wanted to add a CAD tool for customers involved in electrical design projects to the existing DesignSpark suite.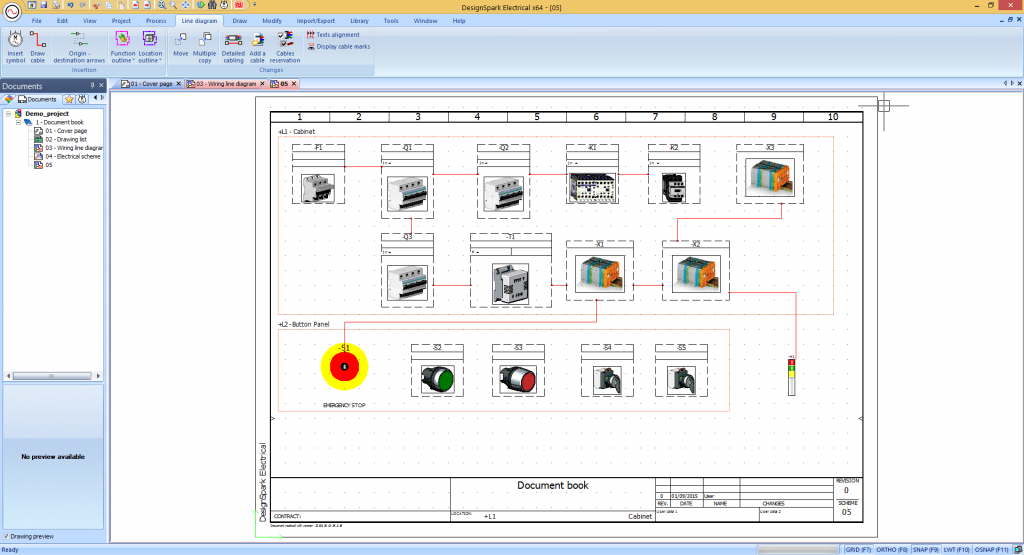 Developed in conjunction with Trace Software International, a leading provider of electrical design and calculation software, DesignSpark Electrical enables engineers to save time, reduce operational costs, enhance productivity, increase design reuse and standardize working methods in electrical and automation projects. DesignSpark Electrical is also the result of the integration of specific product data for the electrical market with specific electrical CAD software with advanced design features.
One of the key features is the seamless integration of the TraceParts electrical component catalogs, containing thousands of components with smart electrical data such as 2D footprints, electrical symbols and electrical pin definitions.
The long-standing relationship with TraceParts started in 2010 with the integration of 3D CAD models in DesignSpark Mechanical, a 3D direct modelling tool for mechanical design projects. This fruitful partnership has now resulted in the integration of specific product data for the electrical market.
At the very beginning of the DesignSpark Electrical project, the RS team knew that providing easy, instant access to a vast library of electrical components would be essential for streamlining the design process for electrical engineers,
explains Mike Brojak, Technical Marketing Programmes Manager at RS.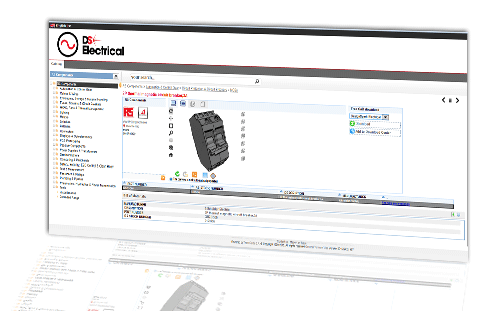 As a result, the integration of the TracePartsOnline.net library into DesignSpark Electrical further increases the exposure of suppliers' components promoting their products on the TraceParts online platform. It also reinforces the current TraceParts network of over 14 million engineers and design professionals with access to TraceParts' technical content.
TraceParts, our long-standing partner for hosting 2D and 3D CAD models, helped us create an interface that now gives users access to over 250,000 electrical components that can be added to customers' designs. This seamless integration of technical data is one of the key features of DesignSpark Electrical as it enables electrical designers to validate both the electrical component geometry and the electrical performance compatibility of a selected component before purchasing it,
added Glenn Jarrett.
More information about DesignSpark Electrical can be found at rs-online.com/designspark/automation/designspark-electrical
For further information about electrical design and calculation software you can contact Trace Software International by email at sales@trace-software.com or visit their website at trace-software.com
Industrial component suppliers who would like more information about publishing their 3D product catalog may contact TraceParts by email at info@traceparts.com or visit its website at traceparts.com
About RS Components
RS Components and Allied Electronics are the trading brands of Electrocomponents plc, the global distributor for engineers. With operations in 32 countries, we offer more than 500,000 products through the internet, catalogues and at trade counters to over one million customers, shipping around 44,000 parcels a day. Our products, sourced from 2,500 leading suppliers, include electronic components, electrical, automation and control, and test and measurement equipment, and engineering tools and consumables.
Electrocomponents is listed on the London Stock Exchange and in the last financial year ended 31 March 2015 had revenues of £1.27bn.
For more information, please visit the website at www.rs-online.com.
About TraceParts
TraceParts is a world-leading digital engineering 3D content company, offering progressive business solutions through powerful web-based products and services.
TraceParts brings targeted and cost-effective market penetration to parts vendors, in all sectors of industry.
The TracePartsOnline.net CAD portal is freely available to millions of CAD users worldwide, with hundreds of supplier catalogs and 100 million CAD models and product datasheets suitable for Design, Purchasing, Manufacturing and Maintenance processes. For more information about TraceParts, please visit www.traceparts.com.
About Trace Software International
Trace software International as electrical software expert since 1987, offers powerful software solutions to calculate and design electrical and automation projects, under the philosophy of an easy-to-use user interface that improve customers' engineering, enhancing productivity in a short period of time. Among the most remarkable industries are using Trace Software solutions we may find machine and panel builders, maintenance engineers or electrical designers.
Trace Software International, specialized in electrical cad and calculation software for all kind of electrical installations (LV, HV, PV, street lighting, …) and automation design software., is present worldwide and markets its product range through its head office in France and its subsidiaries in Spain, in China and in Morocco.
Categorias