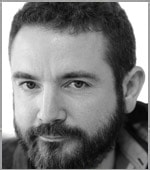 What's your name? What's your position within the company?
My name is Bertrand Cressent and I am the Product Manager for the traceparts.com portal.

How long have you been working for TraceParts for?
I started in November 1998. I was initially responsible for enriching the content of the "TraceParts 3D" and "TraceParts 2D" CAD libraries, which were only available as offline versions at the time. Then I began playing an active role in the different changes to the traceparts.com website, from its creation in 2001 through to the present day. For a few years, I administered the catalog database for TraceParts DVD and traceparts.com.

What is your job about?
I work on developing the traceparts.com website in coordination with the different TraceParts departments (R&D, catalog modeling, sales, marketing, etc.) in the many countries in which our company is active. My aim is to always offer more features and content to our 1.3 million subscribers, so that they have access to all the information needed to produce quality designs fast. As for part manufacturers looking to promote their products to a global audience, our portal gives them a tremendous marketing showcase, while enabling them to bridge the gap with their end users.

What do you want to achieve for TraceParts in the next years?
My ambition is to open TraceParts to a number of new users, both business professionals and private individuals, in new areas of activity around the world on a large number of media. The aim is to ensure that TraceParts continues to maintain its status as the ideal platform for disseminating reliable, high-quality information between component manufacturers and their users.

What do you do after work, during your free time?
Most of my free time is spent working on a barn conversion, which was built in 1893. I enjoy discovering all sorts of things relating to culture and history, and I spend a lot of time watching movies, listening to music, reading up on the world and thumbing through books on history and current affairs. I love cooking, especially desserts, which I sometimes try out on my colleagues – for better or sometimes for worse.

How can the readers contact you and why is this important to you?
You can write to me if you wish to share your views on creating and distributing content via our website.traceparts.com is also present on all the main social networks, which you can use to contact us.