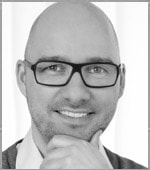 What's your name? What's your position within the company?
My name is Stefan Kolb and I am working as Marketing Manager for our German branch TraceParts GmbH.

How long have you been working for TraceParts for?
I've been working for TraceParts since 2004, but I was also part of the web2CAD team since 1999 before it was acquired by TraceParts.

What is your job about?
Primarily my work covers all activities related to the "Internet" marketing channel. That includes the design and maintenance of our corporate web site in terms of content and graphics, the support of online partners' portals, and the management of online PR activities, search engine optimization (SEO), search engine marketing and more.
Further on I support the advertizing customers of our e-Marketing services to help them select the best online marketing tools for their campaigns, from the date booking until their final launch.

What do you want to achieve for TraceParts in the next years?
The goal is to make TraceParts even more visible and attractive as an online community platform for CAD and product content for CAD users, part manufacturers and advertisers.

What do you do after work, during your free time?
I spend a lot of my time with my family and friends. Riding my mountain bike is my favorite sport when it comes to compensate sitting for hours on a chair in the office. In the winter time I also spend a lot of time refurbishing old Vespa scooters. This makes the winter months pass by much faster!