The expert in lifting and handling accessories breaks into new markets by putting the 3D models of its components online

L'Etoile SA was founded at the end of the 19th century. Operating under the name Sansom, the firm produced agricultural machinery (carts) in Vivier-au-Court, in France's Ardennes region.
The company then began specializing in lifting and handling accessories, such as chains, cables, hoist rings and turnbuckles, as well as screws and bolts. The company diversified by acquiring additional skills and procuring the necessary stamping and machining technologies.
The plant is still based in Vivier-au-Court, but the firm now has a sales office and warehouse in Pantin on the outskirts of Paris.
Recognized as one of the French specialists in its sector, L'Etoile even lent its support to certification authority AFNOR in defining the standard for hoist rings in the second half of the 20th century.
In addition to supplying high-quality products and services, L'Etoile is renowned for offering fast delivery times with a permanent inventory of standard parts, sales of which represent 80% of its activity. Two thirds of all products sold pass through L'Etoile's workshops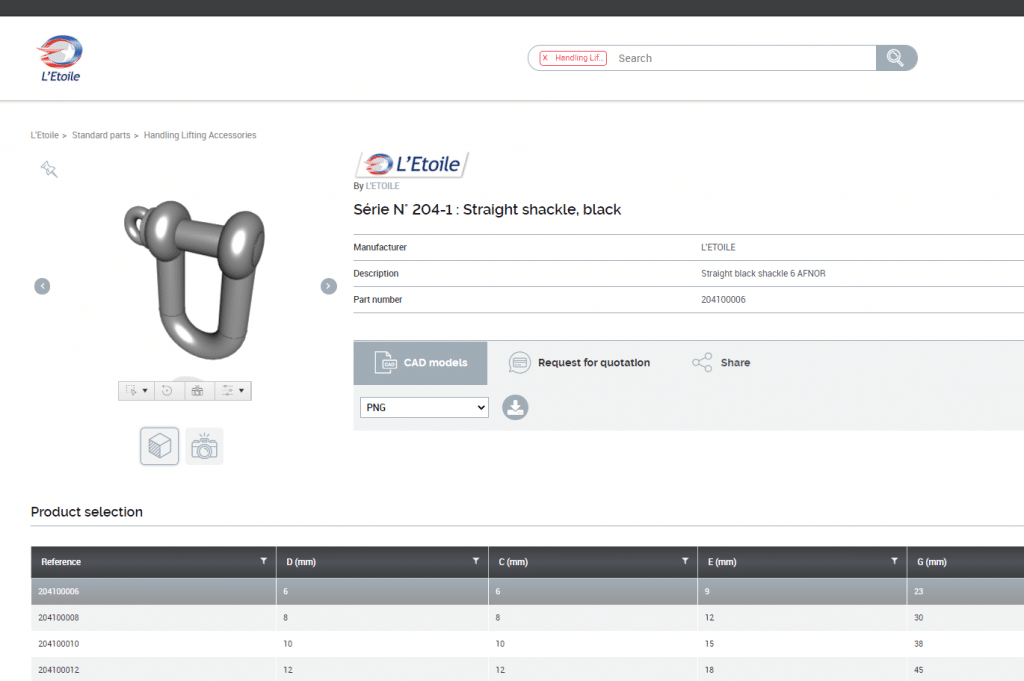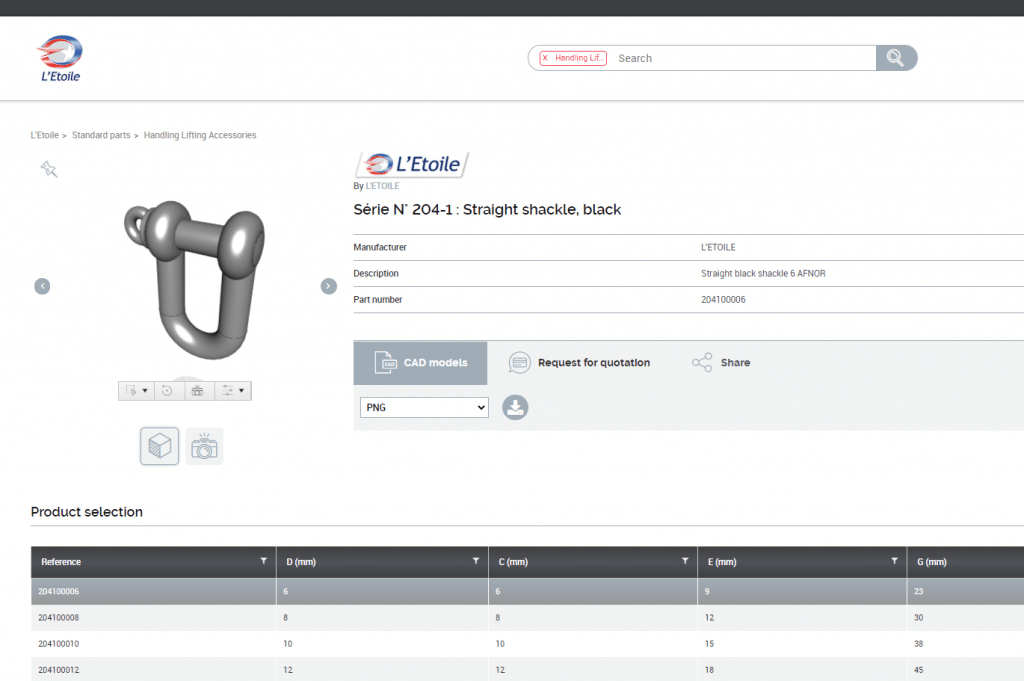 Nearly 8,000 products and just as many customers
Philippe Drumel, Sales Director, freely admits that "L'Etoile's customer base includes everyone from the local automobile repair shop to France's Department of Defense."
In addition to a wide range of customers, the company enjoys an excellent listing with the leading manufacturers in such areas as nuclear energy (AREVA), transport (SNCF, RATP), shipbuilding, construction and agricultural machinery, as well as corporate maintenance services.
In 2006, TraceParts offered L'Etoile the possibility of putting a large part of its catalog online.
Their offer came at just the right moment. More and more of our customers were asking for 3D models in various CAD formats. At the time, we only had hardcopy catalogs and an out-of-date website. As such, we were interested in what they could bring us in terms of both technology and marketing expertise. remembers Philippe Drumel.
Thousands of items were chosen from the 7,500 listed in the catalog, with turnbuckles, lifting accessories (hooks, shackles…), fasteners, wedges, bolts, screws and so on.
Hyper-responsive
One of the things that Philippe Drumel remembers of his initial technical contact with TraceParts is the professionalism:
The team at TraceParts modeled our products from the hardcopy catalogs and technical documentation that we sent them. Considerable ground was covered in just a few months. We received the components for approval as soon as a series was completed.
Not only have the CAD models of L'Etoile's components been incorporated into the www.traceparts.com website, but they are also available at www.letoile.fr in all the CAD formats on the market. The level of integration will be even higher in the next version of L'Etoile's website, which will feature an interactive online catalog.

An extended market
90% of the 10,000 3D models downloaded every year are by companies that go straight to the TraceParts website or have been directed there thanks to the site's high ranking in search engine results. explains Philippe Drumel
Clearly satisfied with the quality of its services, L'Etoile has placed its trust in TraceParts to create a banner highlighting its products on the www.traceparts.com website.
This is another interesting aspect that we have discovered, which we will again leverage since feedback has been highly positive. concludes Philippe Drumel
For further information:
L'Etoile : www.letoile.fr
L'Etoile CAD data on traceparts.com: www.TraceParts.com
Contact us: info@traceparts.com