The Maurin Group, founded in Lyon in 1871, delivers high-end technical products to all manufacturers in the mechanical engineering industry.
Its range features both proprietary products and international brands recognized in their respective specialties for the quality of their products (SKF, Legris, Festo, and so on).
In addition to supplying components, the Maurin Group actively pursues a service policy – consulting, logistics and support – that has firmly strengthened its reputation.
With 25,000 customers in all branches of industry (automotive, transport, machinery, etc.), the group has 25 sites and employs 530 people.
The group offers three product ranges:
Michaud Chailly for drives and toolings
Emile Maurin for standard mechanical components, nuts and bolts, fasteners, and metal products
Béné Inox for stainless steel valves, fittings, and fasteners

The gold standard… for 180,000 products
One could be tempted to describe the group as a "catalog publisher". Finding an engineering firm in France without a copy of a Maurin catalog is clearly a challenge. For over 40 years, its impressive tomes (the seven catalogs for the Emile Maurin brand alone total over 2,000 pages) have been looked upon as reference books by manufacturers in search of quality components. Some even refer to them as bibles…
The Maurin Group, a trailblazer in the supply of e-catalogs, also took a committed approach more than 10 years ago to supply 2D and 3D models.
Delivering an additional service
Didier Maurin, CEO, looks back at the beginnings of its approach:
Manufacturers are always looking to improve design productivity. Redrawing off-the-shelf components does not generate any added value and wastes a lot of time, especially with 3D design.
An exhaustive range: a strategic choice
Maurin's strategy is to offer every industrial component with the fastest possible delivery times (80% of products are held in inventory). This policy has been extended to the 3D model catalogs, as Didier Maurin explains:
A number of manufacturers, whose products we market, offer their own 3D models, but we have adopted the same strategy for CAD parts as for our catalogs, meaning providing manufacturers with our entire offering as 3D files. This gives users a one-stop shop for finding what they are looking for, without needing to check with a dozen manufacturers.
The group's websites (www.michaud-chailly.fr, www.emile-maurin.fr and www.bene-inox.com) currently boast 180,000 products from their catalogs as 3D CAD models.
These model catalogs are also available in full from the TraceParts website.
Because we could not do without TraceParts
Many companies in our market sectors select their components from TraceParts, Europe's number one. This is especially true of our key accounts in the automotive and aerospace industries. It was important to give them access to our catalogs through that particular channel. explains Didier Maurin
Today, a strong team made of 6 people is in charge at Maurin of modeling and configuring. Every model receives the group's item reference number and is associated with a number of data and documents available to the end user.
TraceParts receives impressive parameter files, complete with CAD models in a neutral format. A specific module developed by TraceParts engineers is then responsible for automatically generating the search engine and tools for creating 3D files online.
Just a few minutes after being sent by the Maurin Group, each product can be downloaded from www.traceparts.com in one of the countless CAD formats offered by the site, without any need for manual intervention, thereby ensuring the reliability of the data published.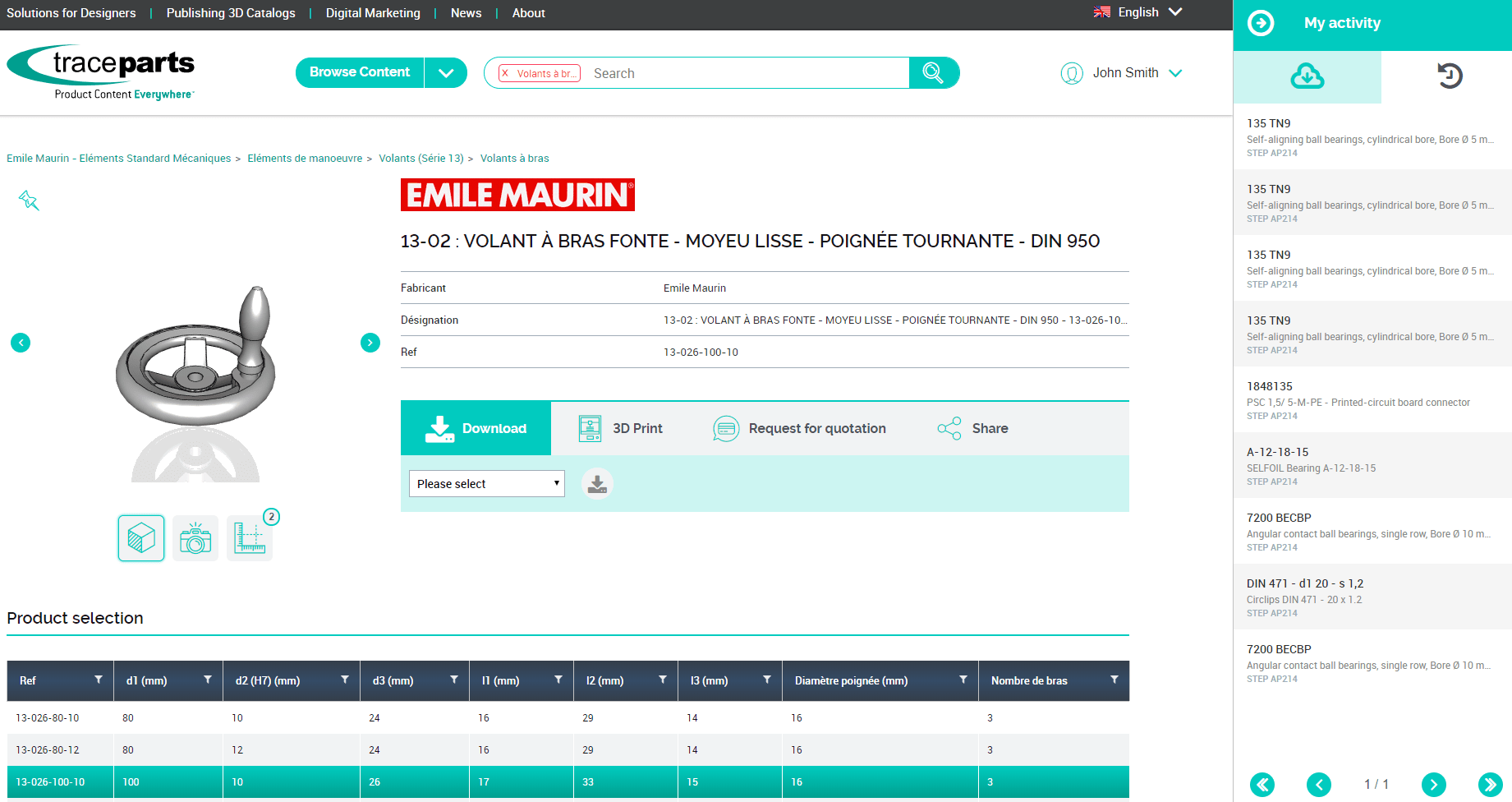 TraceParts is a serious company and its major development is a source of satisfaction for us, since it guarantees our offering added visibility. concludes Didier Maurin
For further information:
Maurin website: www.maurin.fr
Emile Maurin CAD data on traceparts: www.traceparts.com
Contact us: info@traceparts.com