As a technical partner, all the files delivered from our platform can be used with all versions supported by Dassault Systèmes SOLIDWORKS Corporation.
You do not need to specify the version when downloading, simply choosing the "SOLIDWORKS" format is enough.
Sometimes, certain product configurations may only be available for specific software versions. In this case, the appropriate version is specified in list of CAD formats.
Depending on the type of products, we provide either a file in .sldprt format, for part files or a file in .sldasm format, for assembly files, as well as the various files used by the assembly in question. Whatever the format, the BOM (Bills of Material) information is added to the properties of the main file.
For BOM values that are common to the majority of the content, such as the part number, the supplier name or the description, these always have the same identifier to facilitate grouping or linking them with ERP, PDM or content management software.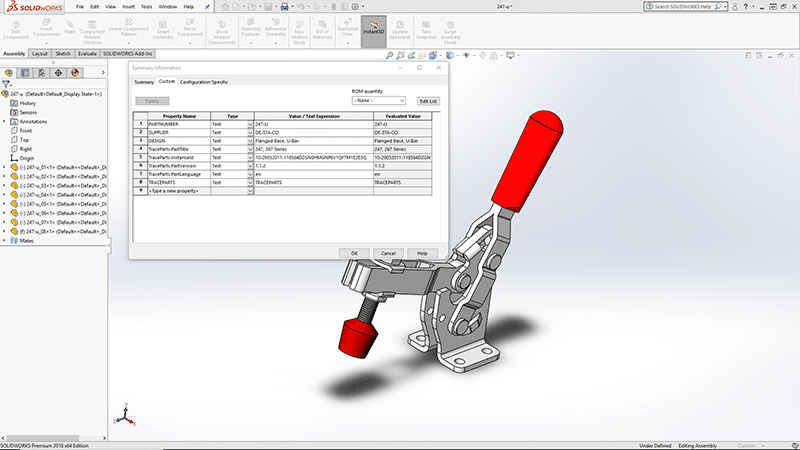 Since the BOM information is attached to the file, SOLIDWORKS models do not present the design tree so as not to change its definition. The dimensions comply with a standard or a part number of a supplier.
If a dimension of a standard part was to be modified once imported inside your CAD software, this would cause inconsistencies and problems when ordering this component. Nevertheless, like a product that can be machined, SOLIDWORKS functions can be used for, for instance, welding, drilling, cutting, etc.

Drilling example
Some models include thread or constraint or mates information, for example on assemblies. It is also possible to later add data to downloaded files for which the supplier does not provide this information.
Example of models with threads
Example of models with kinematic mates
Thanks to TraceParts' exclusive technology, as soon as a part supplier publishes its products, all these configurations are instantly available in SOLIDWORKS format. Consequently, more than 100 million CAD models can be downloaded free of charge for your version of SOLIDWORKS CAD software.