Banners on TraceParts eNewsletters
---
Display Your Banner Ads to the Right Audience on the TraceParts Newsletter
Target a Specific Community of Designers and Engineers With The TraceParts Monthly Newsletter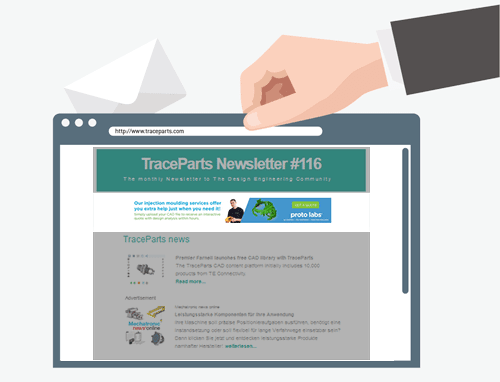 The design community receives monthly updates about the latest CAD models available for download from the TraceParts CAD-content platform. You can place your banner ad on this newsletter and reach out over 540,606 engaged subscribers worldwide.
The TraceParts Newsletter is published every month on www.traceparts.com and sent by email to our CAD user database. You can find all Newsletters sent by TraceParts at: https://info.traceparts.com/blog/category/newsletters/


IVW certified, the first and only CAD catalog portal to be audited by the IVW German independent certification agency.
Size: LeaderBoard: 728×90 pixels
72 dpi, 60 kb max. GIF or JPEG
Planning of next eNewsletters
– n°132 : Jan. 14, 2019
– n°133 : Feb. 11, 2019
– n°134 : Mar. 11, 2019
– n°135 : Apr. 15, 2019
– n°136 : May 13, 2019
– n°137 : Jun. 17, 2019
– n°138 : Jul. 15, 2019
– n°139 : Aug. 12, 2019
– n°140 : Sep. 16, 2019
– n°141 : Oct. 14, 2019
– n°142 : Nov. 18, 2019
– n°143 : Dec. 09, 2019

Get started today! Contact your digital Marketing expert:

Laëtitia Rimbert
+33 2 32 73 54 65
info@traceparts.com