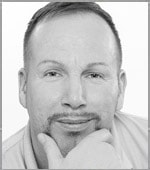 What's your name? What's your position within the company?
My name is Dirk Stolz, and I work in sales for the Online Marketing department at TraceParts Germany.

How long have you been working for TraceParts for?
I started working for TraceParts in August 2011.

What is your job about?
My job involves presenting the diverse area of online marketing at TraceParts to the engineering sector as a whole, thus raising its profile, with the aim of offering our online marketing service to companies that are interested. I also provide as an alternative or supplementary activity the publication of components on TracePartsOnline.net. I contact our customers by telephone or via email. I also attend every engineering and online marketing trade fair in Germany that is relevant to us, with the aim of establishing new contacts and generating interest in us from new customers. Other duties include, of course, keeping in regular touch with existing customers by telephone and email, visiting trade fair stands or, if appropriate, visiting customers on site.

What do you want to achieve for TraceParts in the next years?
I'd like to help TraceParts in the next few years become even better known in the online advertising market, and arouse greater interest in it. This will, in turn, expand our coverage further, which is already extensive.

What do you do after work, during your free time?
I'm a real sports fanatic and spend several hours a week at the gym. I'm also a big football fan, but, unfortunately, I don't play actively any more. But, I try not to miss out on watching the big games on TV or at the actual stadium every now and then. But my family is my main focus, and I'm grateful for every minute that I can spend with my wife and children.

How can the readers contact you and why is this important to you?
I can be contacted via the company telephone number +49 (0) 9621-9173-24 or via email. I'm happy for anyone to get in touch with me as communication from our customers and their opinions are vitally important to me.