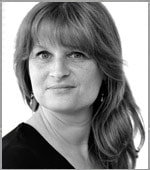 What's your name? What's your position within the company?
My name is Laëtitia Rimbert. I'm an inside sales rep for TraceParts France.

How long have you been working for TraceParts for?
I joined TraceParts in February 2000 as a sales assistant and was involved in selling the 3D CAD library for industry and education. Ever since, my career has developed within the company. I have gone from selling TraceParts DVD licenses and maintenance contracts to commercializing web marketing services for manufacturers.

What is your job about?
I call up and qualify hundreds of component manufacturers and introduce our e-marketing services for generating B2B leads, meaning that I spend long hours on the phone every day explaining how the TraceParts solution can create added value for their business by distributing their parts catalogs in 3D! TraceParts gives them a platform for promoting their products to a highly dynamic user community, currently boasting over six million designers and engineers around the world.

What do you want to achieve for TraceParts in the next years?
I would like to see our technical portal TraceParts become the number one networking site for manufacturers and designers worldwide.

What do you do after work, during your free time?
For several years now, I've been taking dance lessons (modern jazz and afro jazz) twice a week. I've tried to convince my husband several times to attend salsa classes, but I think it was going to take more than my love of salsa to convince him to keep going :-). In the summertime, I love trying to grow new varieties in my vegetable garden. What I love more than anything else is travelling and discovering new things with my family.

How can the readers contact you and why is this important to you?
I can be contacted on +33 (0)2 32 79 44 26. Our aim is to always be in touch with our customers' needs, so all comments and questions are welcome.