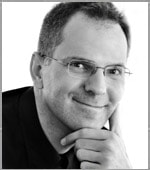 What's your name? What's your position within the company?
Hello, my name is Olivier LEJARDINIER and I am currently in charge of the R&D department at TraceParts S.A. headquarters in Saint-Romain de Colbosc, France.

How long have you been working for TraceParts for?
I did my final year work placement at TraceParts in April 1999 and then I joined the TraceParts family in June 1999

 What is your job about?
Since I joined TraceParts, I have done different jobs. First I was a developer and software architect, in charge of writing our new PartXML format specifications and developing the software building blocks used as foundations for the new TraceParts v2 technology. I am currently in charge of the R&D department where I manage a team of 5 people. My main daily work still involves development and technological surveillance, plus support and technical expertise, project management and monitoring.

What do you want to achieve for TraceParts in the next years?
I would like to continue improving our technology to provide our users and key clients with the best solutions in terms of functional features, flexibility and performance. My goal is to help them solve their daily problem situations in their respective professions. Technological surveillance, curiosity and inventiveness remain my driving forces to meet these objectives.

What do you do after work, during your free time?
I love computers (I've been programming since I was 12 years old) and so I spend a lot of time experimenting and reading anything I can find about this profession. I have gone back to music recently. I am mainly interested in everything to do with CAM, sound research and creation (synthesis, specific music, etc.). Yes, it's just a type of programming! I attempt to cook a little at the weekend, and take care of our daughter and our home. We live close to a forest and make the most of this for family trips. Weather permitting, I try and get out on my bike regularly. I also love anything to do with science, space, cinema (SF and fantasy movies) and travelling abroad.

How can the readers contact you and why is this important to you?
Readers can get in touch by email whenever they wish.