Online Portal Directly Accessible within IronCAD's 2014 Suite of Products.

Saint Romain, France and Atlanta, USA December 10, 2013 – TraceParts, a world-leading digital engineering 3D content company, with IronCAD, a leading provider of design productivity solutions, today launched the portal www.tracepartsonline.net/ws/IRONCAD, a free online design resource, to the fast growing user community of IronCAD software.
Directly available through IronCAD's 2014 suite of products interface, this new online part library features over 100 million part numbers from hundreds of leading component manufacturers and distributors and thousands of ISO, ANSI, DIN, NF, GB, ASME and more standards.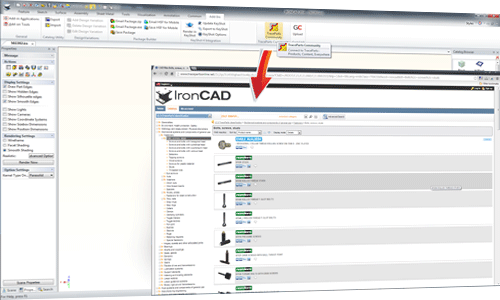 "We're extremely proud to partner with IronCAD to bring best-in-class free 3D part catalogs to their users."says Gabriel Guigue, TraceParts Managing Director.
"Time to market is critical to all manufacturing companies and IronCAD is a highly flexible tool to help them designing their products better and faster. We believe TraceParts catalogs will bring a fantastic added value to all IronCAD users while maximizing the product exposure for the part manufacturers using our services. Thanks to this this new website's additional traffic, the cumulated audience of our TraceParts Publishing Network is now exceeding 8 million CAD engineers worldwide."

"IronCAD has always led the way in dynamic 3D modeling, delivering true productivity, performance, design freedom, and effective collaboration that is ideally suited to creative and innovative design professionals." explains Cary O'Connor, IronCAD's VP of Marketing. "Therefore it was natural to partner with TraceParts to deliver millions of native IronCAD models just a mouse click away in our application extending our user's ability to configure and communicate designs. It will dramatically save time and costs to our users."
About IronCAD
Based in Atlanta, GA, IronCAD is a leading provider of 3D Design Productivity Solutions that deliver the highest levels of customer satisfaction and productivity. Individual components of this solution can be used standalone, complementary within an existing design environment, or can be used together to collaborate effectively throughout the enterprise to extend productivity. Its flagship product IRONCAD has won many industry awards for its innovative technology and leads the industry in its ease of use and design productivity. IronCAD products are being used successfully by thousands of customers worldwide. For more information on IronCAD, call 1-800-339-7304 or visit www.ironcad.com
About TraceParts
TraceParts is an online engineering media company offering progressive business solutions through powerful web based products and services. TraceParts helps customers improve marketing efficiencies by increasing the value of their existing digital product data. The TracePartsOnline.net CAD portal is freely available to millions of CAD users worldwide. For more information about TraceParts, please visit www.traceparts.com