TraceParts speeds up services to customers by 20 per cent and boosts revenues with state-of-the-art IT environment
Business need
TraceParts must offer its customers easy access to more than 100 million 3D computer-aided design (CAD) files online. With visits to its online catalogues increasing by 30 per cent a year, the firm needed a scalable infrastructure.

Solution
It deployed a solution based on Dell Precision workstations, Dell PowerEdge servers, Dell EqualLogic storage and VMware® vSphere® server software, with Dell ProSupport.

Benefits
Customers download files 20 per cent faster thanks to improved performance
Revenues are boosted with optimised, cost-effective IT
Company meets strict service-level agreements for uptime
Increase in user numbers is supported by scalable IT
Research teams complete resource-intensive work on optimised workstations
IT team keeps services up and running with 24/7 expert support
Solutions featured
Desktop Computing
Server
Storage Virtualization
Support Services
The firm's online portal offers its clients a quick and easy way to find and download the files they need.
Gabriel Guigue, General Managing Director, TraceParts, says: « Our customers download the 3D files and product datasheets we list and then they integrate them into their design and manufacturing processes. With 700,000 visits a month, our research and development (R&D) activity is completely focused on our online site. The files are currently available in 25 languages and 30 different formats. »
TraceParts found that its existing IT infrastructure needed to be optimised. Guigue says: « We wanted a robust, powerful and scalable infrastructure that could cope with the 30 per cent increase in traffic we experience each year. Our existing environment didn't give us space to grow at such a fast rate, and we knew that this would start to affect performance. That's when we decided to look at virtualizing our IT and optimising our hardware. »
Business transforms environment with state-of-the-art IT
As a long-standing Dell customer, TraceParts turned to Dell to help it update its infrastructure. Guigue says: « We approached both Dell and HP to outline a solution for us. We wanted to deal with a proactive services provider that had a good understanding of our needs. Dell came out on top by suggesting an infrastructure that matched our requirements. »
TraceParts invited Dell to complete a full audit of its IT environment. Guigue says: « The auditing process was thorough. We tested a few options and we had many questions, but Dell always provided us with the right answers. »
The company decided to replace its existing infrastructure with a virtualized environment based on Dell PowerEdge R710 servers, Dell EqualLogic PS6100X storage arrays, Dell Precision R5500, T3600 and M6500 workstations and VMware® vSphere® 5.0 server software. Guigue says: « Dell took care of the virtualization side of the project quickly and efficiently. The entire deployment was completed in just three days. We expected it to take much longer than that. Now we run everything on our new environment from our web servers and Microsoft SQL Server database to our mission-critical businesses, which helps us manage the component catalogues. »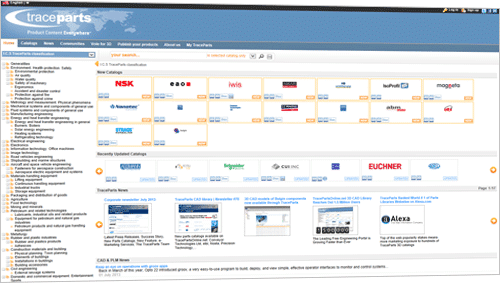 Customers download files 20 per cent faster thanks to improved performance
All CAD users can now access and download 3D models at least 20 per cent faster than before. Guigue says:« We can see that our customers are spending a lot less time waiting for files to download. We estimate that this process is about 20 per cent faster than before thanks to our Dell-based infrastructure. This means customers can get on more quickly with the complex tasks involved in designing new products without having to redesign the 3D models of the product components. »

The TraceParts R&D team attributes these performance improvements to its optimised IT environment. Guigue says: « The overall online experience for users has been dramatically enhanced. Even though it's taking less time to download files, the average visitor is spending much longer than before on our site – today at least 8 minutes compared to 7 minutes previously. We think that this is because it's so much more responsive. That's all down to our high-performing Dell-based infrastructure. The power, scalability and reliability of the Dell technology have made all the difference. »
Revenues increase with optimised, cost-effective infrastructure
The TraceParts business can now provide a reliable service to more customers, faster. As a result, it has seen its revenues grow significantly. Guigue says: « More visitors means more files are downloaded, which results in greater revenues. It's as simple as that. We've seen our revenues increase since implementing the Dell technology. »
« The Dell-based infrastructure isn't just saving us money in terms of hardware procurement and power consumption. It's also helping us generate greater profits from our online portal. Improved monitoring with tools such as Nagios software has also helped us get a better idea of our utilisation levels. This allows us to refine how we maintain and manage our IT environment so we know that we're always getting the best out of it. The overall solution has been very cost-effective for us.»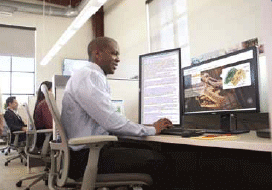 Peaks in traffic and rise in user numbers are supported by scalable IT
TraceParts has more space to grow thanks to its scalable Dell-based storage infrastructure. Guigue says: « We were already experiencing a 30 per cent increase in traffic each year. But we've seen that number rise since the implementation of the new infrastructure. Our previous infrastructure simply wouldn't have been able to deal with the level of growth we're experiencing now. But Dell storage gives us confidence that we can cope with our projected increase in user numbers. »
The IT team also knows that it can handle sudden and dramatic bursts in traffic. Guigue says: « When we send out our monthly newsletter in eight languages to 800,000 subscribers, it generates huge peaks in traffic. Our Dell-based IT environment has already shown that it can cope with those levels of demand without reducing the quality of access for users. »
Company meets strict customer service-level agreements for application uptime
The TraceParts IT team is better placed to retain and win new customers by meeting contractual demands for high availability. Guigue says:
« Some customers have requested 99.5 per cent uptime in our service contracts with them to provide their catalogues of 3D products. We think that more and more of our clients are going to be making the same demands in the future, so it's great that we now have the necessary infrastructure in place to ensure these service levels. »

« We can guarantee high uptime to our existing and prospective customers thanks to the reliability of our Dellbased infrastructure. Offering such a high level of availability really helps in building our customers' confidence both in us and in our services. »
R&D teams complete resource intensive work on optimised workstations
Every team at TraceParts uses Dell Precision T3600 and M6500 workstations to complete their day-today business. Whether it's developing new tools or modelling 3D catalogues, a lot of the work being conducted demands high levels of power and performance.
Guigue says: « We chose the Dell Precision workstations because they're state-of-the-art. They offer the power and flexibility we need, along with capacity to cope with high-quality graphics. We're so pleased with the Dell workstations; we even recommend them to our own customers. »
IT team keeps services up and running with 24/7 expert support
Customers can now expect to receive a reliable round-the-clock service. Guigue says: « We don't like to take risks when it comes to the levels of service we provide. We are an international firm so we need to ensure that our clients can access our services no matter what time of day it is. »

« Thanks to Dell ProSupport with Mission Critical, we have maximum protection and security. Knowing that we're covered in the event of a technology issue means we can offer an uninterrupted service to our customers with confidence. »
Technology at work
Services
Dell Support Services – Dell ProSupport with Mission Critical
Hardware
Dell PowerEdge R710 servers
Dell EqualLogic PS6100X storage arrays
Dell Precision R5500/T3600/M6500 workstations
Software
VMware® vSphere® 5.0 server software