Free TraceParts Engineering Portal Delivered 42 Million CAD Models To A Community of 1.7 Million Registered Users In 2013
Saint Romain, France – January 16, 2014 – TraceParts, the Global provider of 3D Marketing Solutions, today announced another high record year for its Engineering portal TracePartsOnline.net for 2013. The TraceParts online portal delivered 42 Million CAD models to a community of over 1.7 Million registered users during the last 12 months.
Originally designed in 2001 to a relatively small community of CAD users around the globe wanting to download CAD models and other technical information, TracePartsOnline.net has now become a major actor for Engineers to select components they need for their design and download them in the CAD format of their choice. The concept for a free and instant access CAD platform has always be core to TraceParts' business model and has attracted more than 3.9 Million absolute unique visitors in 2013 (source: Google® Analytics).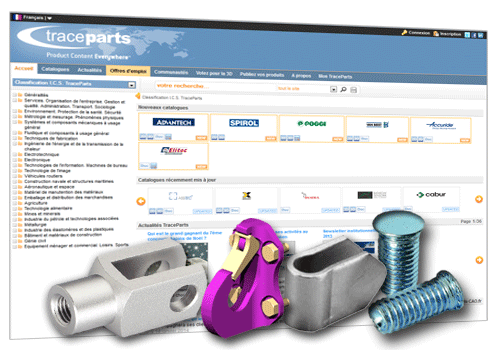 With daily additions of new standard components on its portal, Engineers now have a growing choice of over 100 Million parts numbers to choose from and have downloaded more than 42 Million CAD models in 2013. This high level of activity on TracePartsOnline.net clearly shows that online CAD model delivery is now an integral part of the design process in all regions of the world.
"The number of registered users on TracePartsOnline.net should reach 2 Million people in 2014, confirming our ever growing success for matching the demand for high quality, ready-to-use CAD content from Engineers and the desire for Manufacturers and Distributors to promote their components to Designers" commented Gabriel Guigue, TraceParts Managing Director.
About TraceParts
TraceParts is an online engineering media company offering progressive business solutions through powerful web based products and services. TraceParts helps customers improve marketing efficiencies by increasing the value of their existing digital product data. The TracePartsOnline.net CAD portal is freely available to millions of CAD users worldwide. For more information about TraceParts, please visit www.traceparts.com