Aggregate revenue from TraceParts and Trace Software smashes the 10-million dollar bar
Saint-Romain, France – February 18, 2014 – The Trace Group – featuring TraceParts and Trace Software International, two world leaders in their respective fields – has announced revenue of €7,980K for 2013, in the process establishing a new personal record and breaking the symbolic 10-million dollar bar.
TraceParts is one of the world's premier suppliers of digital engineering 3D content. The company delivers progressive business software solutions through powerful web-based products and services, including CAD parts libraries, e-catalogs and product configurators, thereby helping parts manufacturers raise the marketing efficiency bar by increasing the value of their legacy digital product data. The TracePartsOnline.net portal is available to CAD users around the world and boasts over 1.7 million members.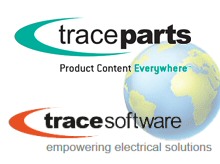 Trace Software International is a top-tier vendor of software solutions in the areas of electrical CAD, electrical installation calculation and automation CAD (elec calc™, solar calc™, etc.). Its elecworks™ CAD software add-in for SOLIDWORKS was chosen by Dassault Systèmes as part of a licensing agreement. The solution has been translated into 14 languages and is currently distributed worldwide through a network of resellers as SOLIDWORKS Electrical.
"The 10-million dollar bar is not only symbolic but important, because it reflects the strong, steady growth in the core businesses of our two companies," explains Etienne Mullie, CEO and founder of the Trace Group."This milestone bears testament to our employees' hard work in masterminding and developing cutting-edge products and services for manufacturers around the world. I would like to pay tribute to their loyalty, expertise and commitment to the company. I would also like to congratulate Gabriel Guigue, Managing Director of TraceParts, and Pedro Puig, Managing Director of Trace Software International, for their insight into the needs of their markets and their strategic outlook."
International presence
The Group employs 110 people and has offices in France, Germany, Brazil, China, Spain, Italy and the United States. The Research & Development divisions are based in France and Barcelona.
The Group's customer portfolio includes such prestigious names as Airbus, Bombardier, Dassault Systèmes, EDF, Legris, Norelem, RS Components, Schneider Electric, GSK and Total.
The Trace Group will celebrate its 25th birthday this year.
The future lies in innovation
"We should double our revenue within the next three years", concludes Etienne Mullie. "To reach that aim, we are going to step up our R&D investments and strengthen our international footprint. In 2014 and 2015, we are going to launch a range of new products that leverage the leading-edge technologies into which we have been plowing investments for several years. We are pursuing our goal of achieving international leadership status for each of our software solutions, both present and future, and spearheading new services, such as the lead generation solution successfully offered by TraceParts."