Millions of engineers and designers have access to the 3D files and technical information published by TraceParts 
Saint-Romain, France – October 28, 2019 – Irizar Forge, a manufacturer specializing in onshore and offshore lifting and mooring solutions, is publishing an initial range of lifting products on the CAD platform TraceParts.
Irizar Forge's hooks, blocks and related products for cranes have a lifting capacity of up to 5000 t and meet the most exacting standards of the crane lifting and mooring industry. The company also design and manufacture customized heavy forgings for Lifting & Mooring Equipment (Crane Hooks, Hook Blocks, Crane Blocks, Swivel Hooks …).
By publishing its products on the site www.traceparts.com, Irizar Forge aims above all to share the CAD models of its crane hooks with engineers and designers so that they can evaluate the competitiveness and security aspects of their products — two important factors for these components, which are used in extreme environments.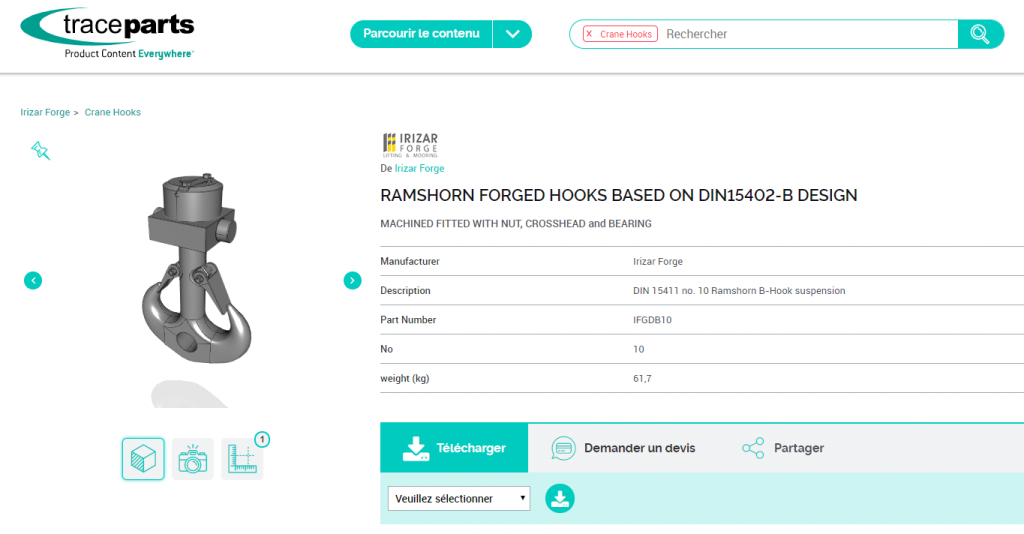 Irizar approached TraceParts on the recommendation of Van Beest, the group that owns Irizar and that has been publishing CAD models of its components since 2012.
We think that TraceParts is an excellent platform and that it can bring a great deal of visibility to our products. This will allow us to meet the requests of our prospects and clients such as CAD, STEP files or price requests. Moreover, other actors on the market have little influence on our products, which allows us to position ourselves as a Key Player, says Maria L. Irizar, Leader of Sales & Business Development at Irizar.
About Irizar Forge
Founded in 1923, Irizar Forge is a specialist forge that offers tailor-made lifting and mooring solutions to onshore and offshore EPC & OEM companies. Irizar Forge's heavy-duty crane hooks, blocks and related products have a lifting capacity of up to 5000 t and comply with the highest standards of the crane lifting and mooring industries as certified by the LRS, DNV-GL, ABS and BV Class Societies. Irizar Forge is based in the Basque Country of Spain and has 50 employees. For more information, please see www.irizarforge.com
About TraceParts
TraceParts is one of the world's leading CAD-content platforms for Engineering, Industrial Equipment and Machine Design, totaling 4.3 million registered members from 1.2 million companies actively sourcing product information and technical data from over 195 different countries.
As part of the Trace Group founded in 1990, TraceParts brings highly targeted marketing exposure to more than 800 customers of all sizes and from all industries, via powerful cloud-based API and SaaS applications such as CAD part libraries, product catalogs and configurators.
TraceParts' comprehensive Digital Marketing Services help part manufacturers and distributors, 3D printing & rapid-prototyping suppliers, CAD/CAM/CAE/ECAD software and computer hardware vendors promote their products and services and generate highly qualified sales leads.
Available free-of-charge to millions of Engineers & Designers worldwide, the TraceParts CAD-content platform provides access to over 1,222 supplier-certified product catalogs and billions of 2D drawings & 3D CAD models and product datasheets that perfectly match the digitalization needs of Design, Purchasing, Manufacturing and Maintenance processes & operations, in virtually any industrial sector.