Responding to the changing shape of the components marketplace, Distrelec has recognised the importance of providing product information in helping their customers' design process.
By introducing enhanced product content, which includes in-depth product data, 3D models and PCB layouts, Distrelec is taking component distribution to a new level.
3D modeling is a key part of modern design. The power of the latest CAD (Computer Aided Design) software systems has placed advanced design functionality into the hands of companies of all sizes. The use of readily-available 3D CAD models saves design engineers time.
In the past, an engineer might spend hours remodeling an existing part for a new design. The ability to download a 3D model in the electronic format of their choice saves on average 2.7 hours, thereby making engineers more responsive and removing inaccuracies associated with incorrect modeling.
Distrelec's Head of Data Kevin Saynor is excited by the opportunity to engage with engineering customers.
By providing 3D CAD models, we can save our customers a huge amount of time and be their partner during the design-in phase.
Distrelec has integrated this enhanced product content into their e-commerce platform, thereby making product choices easier and quicker for customers. The range represented by 3D models covers over 24, 000 products and will continue to grow, and includes products from Distrelec's own brand, RND.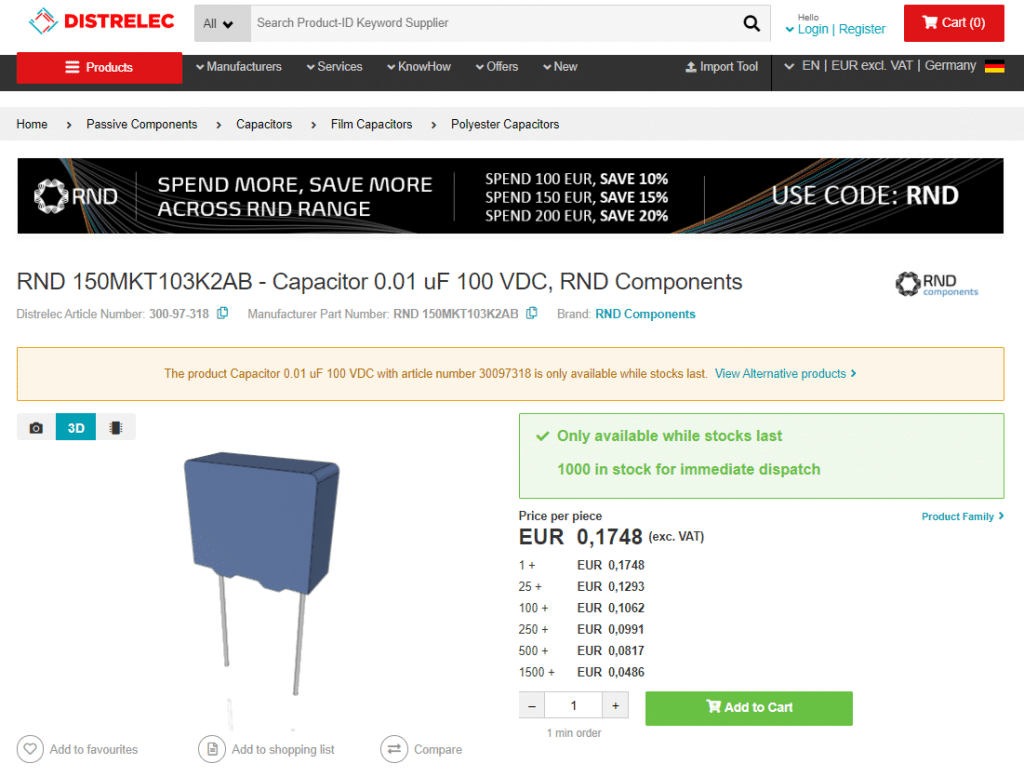 By introducing 3D models onto their website, Distrelec are reinforcing their commitment to providing the customer with the most comprehensive choice, backed up with technical credibility and expertise.
About Distrelec
Distrelec is a leading European distributor of electronics, automation and measurement technology.  With over 40 years developing strong relationships with the industry, Distrelec introduces the latest products and newest innovative technologies from leading and new manufacturers. Responding to customer requirements, a clear service orientation and ongoing optimisation of customer support represents the fundamental pillars of Distrelec.  Distrelec has a local presence in 15 European countries, distribution centres in the Netherlands and Switzerland and a central Enterprise Hub in the UK.
Established in 1973, Distrelec was acquired by the publicly listed Swiss Dätwyler Holding (Est.1958) in 1979 and added to their Technical Components (TeCo) Division. 
For more information see: https://www.distrelec.com
About TraceParts
TraceParts is one of the world's leading CAD-content platforms for Engineering, Industrial Equipment and Machine Design, totaling 4.3 million registered members from 1.2 million companies actively sourcing product information and technical data from over 195 different countries.
As part of the Trace Group founded in 1990, TraceParts brings highly targeted marketing exposure to more than 800 customers of all sizes and from all industries, via powerful cloud-based API and SaaS applications such as CAD part libraries, product catalogs and configurators.
TraceParts' comprehensive Digital Marketing Services help part manufacturers and distributors, 3D printing & rapid-prototyping suppliers, CAD/CAM/CAE/ECAD software and computer hardware vendors promote their products and services and generate highly qualified sales leads.
Available free-of-charge to millions of Engineers & Designers worldwide, the TraceParts CAD-content platform provides access to over 1,222 supplier-certified product catalogs and billions of 2D drawings & 3D CAD models and product datasheets that perfectly match the digitalization needs of Design, Purchasing, Manufacturing and Maintenance processes & operations, in virtually any industrial sector.