CHICAGO, November 26, 2019 – Littelfuse, Inc., a global manufacturer of leading technologies in circuit protection, power control and sensing, has chosen TraceParts to promote a select group of its CAD models to millions of engineer-designers all over the world.
The product groups selected include semiconductor fuses, solar fuses, fuse blocks and holders, protection relays and surge protection devices to protect against overcurrent, arc flash, ground fault, and power surges in industrial focused markets.
The Littelfuse Industrial Business Unit delivers vital products to address customer needs for protection, safe control and distribution of electrical power in industrial applications. Its portfolio includes a comprehensive line of products to minimize electrical safety hazards, limit equipment damage, improve productivity and safeguard personnel from injury due to electrical faults.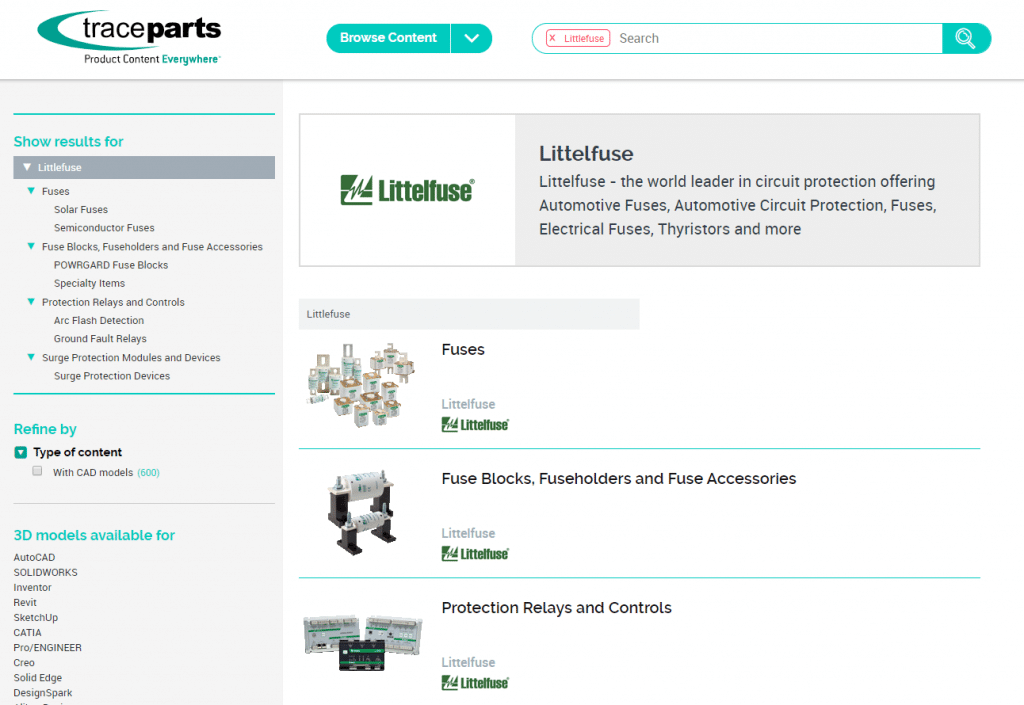 Littelfuse sought out a platform that specializes in CAD content where it could showcase products and reach its target audience: design engineers, panel builders, and people working in MRO (Maintenance Repair and Operations) roles.
Our customers span several markets including renewable energy, onboard and off-board charging for electric vehicles, heating, ventilation, and air conditioning (HVAC), refrigeration, power conversion, mining, oil and gas, commercial construction and system integrators, said Debra Jayson commercial marketing manager at Littelfuse.
Littelfuse has been publishing its 3D and 2D CAD files at Litteluse.com for several years. It decided to publish its CAD files and products on TraceParts due to their large following and exceptional user experience that allows engineers to view or download the 3D files easily from the platform.
Littelfuse is an industry leader and there's a good reason why. It's a mature company that realized the importance of providing CAD models of its products online. We are proud to count Littelfuse in our 800-strong customer pool, concludes Gabriel Guigue, Managing Director of TraceParts
About Littelfuse
Littelfuse (NASDAQ: LFUS) is a global manufacturer of leading technologies in circuit protection, power control and sensing. Sold in over 150 countries, our products are found in automotive and commercial vehicles, industrial applications, data and telecommunications, medical devices, consumer electronics and appliances. Our 12,000 worldwide associates partner with customers to design, manufacture and deliver innovative, high-quality solutions, for a safer, greener and increasingly connected world – everywhere, every day. Learn more at Littelfuse.com.
About TraceParts
TraceParts is one of the world's leading CAD-content platforms for Engineering, Industrial Equipment and Machine Design, totaling 4.8 million registered members from 1.2 million companies actively sourcing product information and technical data from over 195 different countries.
As part of the Trace Group founded in 1990, TraceParts brings highly targeted marketing exposure to more than 800 customers of all sizes and from all industries, via powerful cloud-based API and SaaS applications such as CAD part libraries, product catalogs and configurators.
TraceParts' comprehensive Digital Marketing Services help part manufacturers and distributors, 3D printing & rapid-prototyping suppliers, CAD/CAM/CAE/ECAD software and computer hardware vendors promote their products and services and generate highly qualified sales leads.
Available free-of-charge to millions of Engineers & Designers worldwide, the TraceParts CAD-content platform provides access to over 1,222 supplier-certified product catalogs and billions of 2D drawings & 3D CAD models and product datasheets that perfectly match the digitalization needs of Design, Purchasing, Manufacturing and Maintenance processes & operations, in virtually any industrial sector.