The range of electronic symbols and PCB footprints has risen strongly on the CAD content platform
Saint-Romain, France – October 23, 2019 – TraceParts, a world-leading supplier of 3D digital content for engineering, and SamacSys, a supplier of PCB footprints and electronic symbols, are offering a free, simple and user-friendly solution allowing all engineers and designers working in the electronics industry to obtain electronic symbols, PCB footprints and 3D models for millions of parts.
This fast and easy access to the models of electronic components and PCBs prevents engineers and designers from having to create components from scratch. This reduces the risk of an error and saves time, so that they can focus on their design projects.
The partnership between SamacSys and TraceParts began in 2017. The first stage in the partnership involved exchanging technical content, so that engineers and designers could download high-quality electronic symbols and PCB footprints from the TraceParts platform, which could then be used in all the main PCB design software suites.
TraceParts and SamacSys worked closely together to improve how users of electronic parts accessed models for their designs. Since mid-June 2019, the footprint and symbol are displayed directly in the product slideshow, as is already the case with dimensional drawings.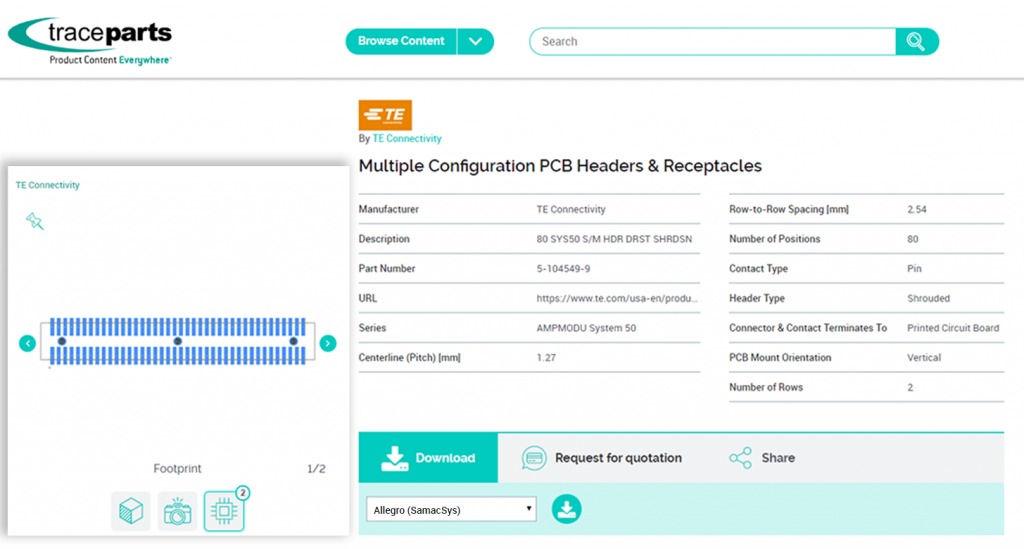 Through this partnership, global electronic component manufacturers such as TE Connectivity are able to provide their customers with this added value.
All users have to do is choose from a list of electronic formats before integrating the part into their design project.
If no ECAD files are available, visitors can request a free PCB model on the SamacSys website by means of a direct link.
Symbols, PCB footprints and 3D models are supported in all major ECAD tools such as Altium Designer, Autodesk EAGLE, Cadence Allegro, DesignSpark PCB, Mentor PADS, Mentor Xpedition, Novarm DipTrace, Pulsonix, TARGET 3001!, Xpedition xDX Designer and Zuken CADSTAR.
. said Alex MacDougall, Managing Director of SamacSys.
explains Bertrand Cressent, Product Manager at TraceParts.
About SamacSys
SamacSys is the leading developer of software tools for creating and managing electronic component ECAD data. Our mission is to provide companies with a suite of software tools and high quality content to select, manage and distribute electronic component information effectively throughout their organizations.
Our customers range from individual engineers to international brands whose revenues run into the billions of dollars. With thousands of customers in over 100 countries around the world, SamacSys is recognized as the global leader in electronic component software solutions. The company is a partner of renowned brands such as RS Components, Allied Electronics, Zuken, Target3001, ON Semiconductors, ST Microelectronics and many more.
About TraceParts
TraceParts is one of the world's leading providers of 3D digital content for engineering. As part of the Trace Group founded in 1990, the company provides powerful web-based solutions, such as CAD part libraries, electronic catalogs and product configurators.
TraceParts offers digital marketing services to help part vendors, 3D printing suppliers, software and computer hardware vendors promote their products and services and generate high-quality B2B sales leads.
The TraceParts portal is available free-of-charge to millions of CAD users worldwide. It provides access to hundreds of supplier catalogs and more than 100 million CAD models and product data-sheets that perfectly meet the specific needs of design, purchasing, manufacturing and maintenance processes and operations.