The year is almost over and instead of just saying "Merry Christmas & Happy New Year" to all the TraceParts users, that made the steady growing download rates possible, we invite you to take part in our exclusive Christmas draw and to win hundreds of credits for our licensed catalogs.
Your challenge:
Design a Christmas tree with the help of millions of available CAD models that are provided for free by the TraceParts CAD library.
Prizes:
The use of "Licensed" catalogs usually requires to buy download credits, so don't wait any longer, take part in the draw and win one of the following credits packages:
> 1st prize 1000 download credits
> 2nd prize 600 download credits
> 3rd prize 200 download credits
Christmas tree specifications:
> the Christmas tree should be designed in 3D, using your favourite 3D CAD software
> the components used must be available in the TraceParts Online CAD library (www.tracepartsonline.net)
Deadline:
Please send a rendered image of your Christmas tree to info@traceparts.com before December 31.
The 2007 contest winners will be contacted on January 7, 2007. The best Christmas trees will then be published on the homepage of our web site.
Have fun designing your Christmas tree!
Your TraceParts Team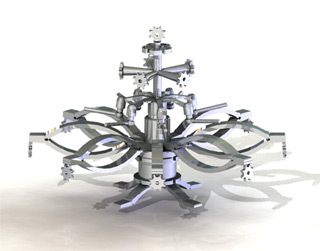 A rough-and-ready designed Christmas tree made out of components available in the TraceParts CAD library.
We are sure you can do it better!