Unlimited CAD compatibility
---
Catalogs powered by TraceParts exclusive technology offer multi-CAD & native models that can be seamlessly integrated into virtually any of the CAD systems used by your customers.
Extensive list of CAD formats live on the TraceParts CAD-content platform
Extensive list of CAD formats live on the TraceParts CAD-content platform
3D XML
3MF
AMF
Acis 6.3
Alibre Design
Allegro (SamacSys)
Altium Designer (SamacSys)
Animated GIF
AutoCAD (DWG) - 2D
AutoCAD (DWG) - 3D
AutoCAD MEP
BMP
BricsCAD (DWG) - 2D
BricsCAD (DWG) - 3D
CADSTAR (SamacSys)
CATIA V4
CATIA V5
COLLADA
Creo
DXF - 2D
DXF - 3D
DesignSpark Mechanical
DesignSpark PCB (SamacSys)
DipTrace (SamacSys)
DraftSight
EAGLE (SamacSys)
EMF
FUSION 360
GIF
GstarCAD
HOOPS
HiCAD (>=2011)
IGES
IRONCAD
Inventor
Inventor LT
JPG
JT
KOMPAS-3D (>=V15)
KeyCreator
KiCAD (SamacSys)
Mechanical Desktop
NX (.x_t)
OBJ
OFF
PADS (SamacSys)
PDF
PDF 3D
PLY
PNG
PRC
Panda3D
Parasolid 11.1
Pro/Engineer Neutral
Pulsonix (SamacSys)
Revit
SOLIDWORKS
STEP AP203
STEP AP214
STEP AP242
STL
SketchUp
Solid Edge
SpaceClaim
TARGET 3001! (SamacSys)
TENADO CAD 3D
TIF
Three.js
TopSolid (< v 7.0)
TopSolid (v 7.8)
TurboCAD
Universal 3D
VDA-FS
VRML
VTK
VX CAD/CAM
WMF
Xpedition (SamacSys)
ZW3D
xDX Designer (SamacSys)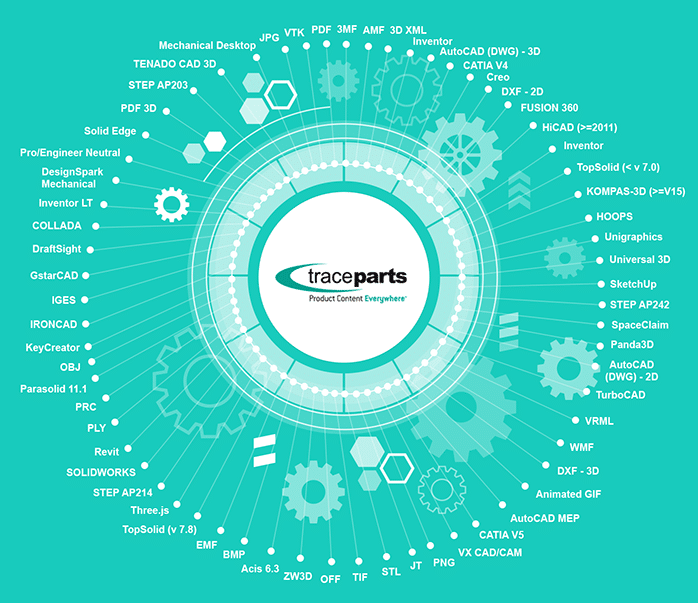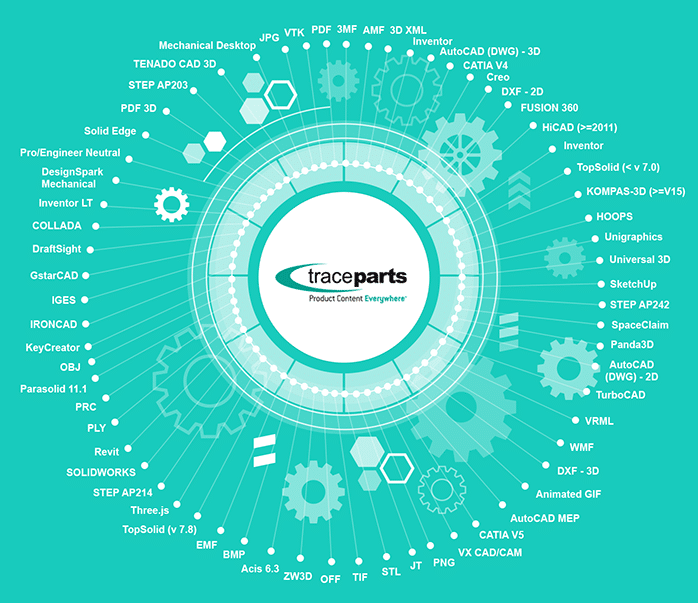 We take the pain out of multiple CAD platform support. Our 25+ years of direct partnership with CAD & PLM vendors is a guarantee for both your existing and your future customers:
State of the art technology to deliver native 3D models of your products for the CAD, CAE, CAM or ECAD software they use.
Quick turn-around on CAD drivers new releases, to make sure your 3D catalog always remain compatible.
High level of integration with their design software, including fully detailed Bill Of Materials (BOM) data to facilitate procurement and purchasing.
Direct support from CAD & PLM vendors' R&D and Marketing teams.
Supporting 60+ different CAD, Imaging, Viewing and 3D Printing formats.
TraceParts has direct and long term partnerships with all the leading CAD & PLM vendors:
More details about TraceParts partnerships with CAD & PLM vendors are available in our Partners' section.