"Saving time while living up to customers' expectations"
---

ALEMA Group was created in 2002 from a conglomerate of structural aircraft specialists based around firm CEMA, with the aim of meeting all supply chain requirements in the aeronautical industry. The group generates over 90% over its revenues from leading aeronautical companies, including EADS (Airbus, Socata, Sogerma), Dassault Aviation, Safran Group (Turbomeca, Airecelle…), Bombardier and Embraer.
ALEMA Industry, ALEMA Concept, ALEMA Technology, ALEMA Automation and ALEMA Production (including ALEMA Slovakia) employ 250 people and deliver audit and design services in their respective areas of expertise, as well as building industrial production facilities – from equipment through to assembly lines – and robotics for processes and nondestructive testing.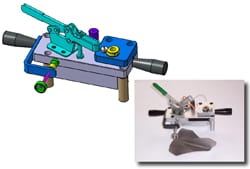 ALTECH, headquartered in Carquefou in France's Loire Atlantique region, joined the group in 2003 to become ALEMA Technology. The company was already an aeronautical specialist and geographically close to the Airbus production sites in Nantes and Saint-Nazaire. Its integration into the group has enabled it to maintain its status as a best-in-class subcontractor for Airbus.
ALEMA Technology employs 13 people. The company specializes in programming 3 to 5-axis CNC machines and designing / creating small-sized machinery, and this is where TraceParts came into the picture in 2003.
Eric Mangeard, Site Manager, explains:  "Before 2003, nearly 15% of the equipment design cycle was spent modeling standard elements or off-the-shelf components. A number of parts may have been available in the media supplied by some of the manufacturers, but searches were time-consuming and the results were not always up to standard or available in the native formats of our CAD software. We chose TraceParts without the slightest hesitation, just like the other companies that later joined ALEMA Group. The rich content of its libraries and the fact that the solution integrates seamlessly into CATIA V5 – our primary design software – convinced us beyond any doubt."
The equipment designs at ALEMA Technology are actually produced using the Dassault Systèmes CAD solution. In today's component libraries market, only TraceParts enjoys Software Partner CATIA CAA V5 status, meaning that its solution seamlessly integrates with the CAD software and offers upward compatibility with later releases.
Eric Mangeard explains the importance of TraceParts' integration into CATIA: "Finding a component that has been modeled in the right format is already a major advantage, but the process of repatriating, spatially placing and arranging parts in the database could slow down productivity and waste time. With TraceParts integrated into CATIA, components are now correctly inserted into our assemblies and intelligently positioned. All our designers need to do is exit the CAD software, even to free up the TraceParts license, thereby providing an extra source of productivity."
TraceParts – the Airbus profile
In 2005, Airbus brought TraceParts into widespread use and asked its partners to use the solution, especially for designing its production facilities. Airbus asked TraceParts to fine-tune its offering to provide specific content covering the supplier catalogs commonly used by its production sites, as well as customize the component-related information and comply with its specific way of organizing CAD and PLM data.
Subcontractors now have a copy of the TraceParts/Airbus library on a physical storage medium and the same client application for adding components to the CAD database according to the manufacturer's current rules. ALEMA Technology has been using this version since 2005.
"This decision from our main customer confirmed that our initial choice was the right one. We were quickly and easily able to comply with the guidelines laid down by Airbus," says a delighted Eric Mangeard."Another area of satisfaction is the success that TraceParts has had with component manufacturers, meaning that libraries are continually enriched."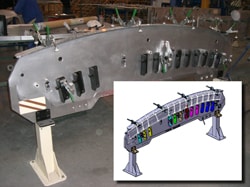 The company receives successive revisions of the specific library from TraceParts on CD-ROMs. Although Alema Technology maintains access to all components, some equipment, manufacturers and suppliers are required by Airbus.
In closing, Eric Mangeard mentions the relations with the sales and technical teams at TraceParts:
"We sometimes call the hotline and technical support, such as if we notice a fault with a particular component after reinstalling libraries following a new CATIA revision. In all cases, the answer is fast and effective. TraceParts' responsiveness and quality are two important aspects for us, since we are also committed to delivering the same values to our own customers."
For further information:
Contact us: info@traceparts.com