TraceParts的解决方案促进西门子提升客户增值服务。
Anyone developing products nowadays using CAD systems also wants to be able to obtain their standard and purchased parts digitally. Reverse engineering is yesterday's news. Siemens has also taken note of this by supplying its product data digitally. These data are not only available on its own platform, but now also on the TraceParts platform.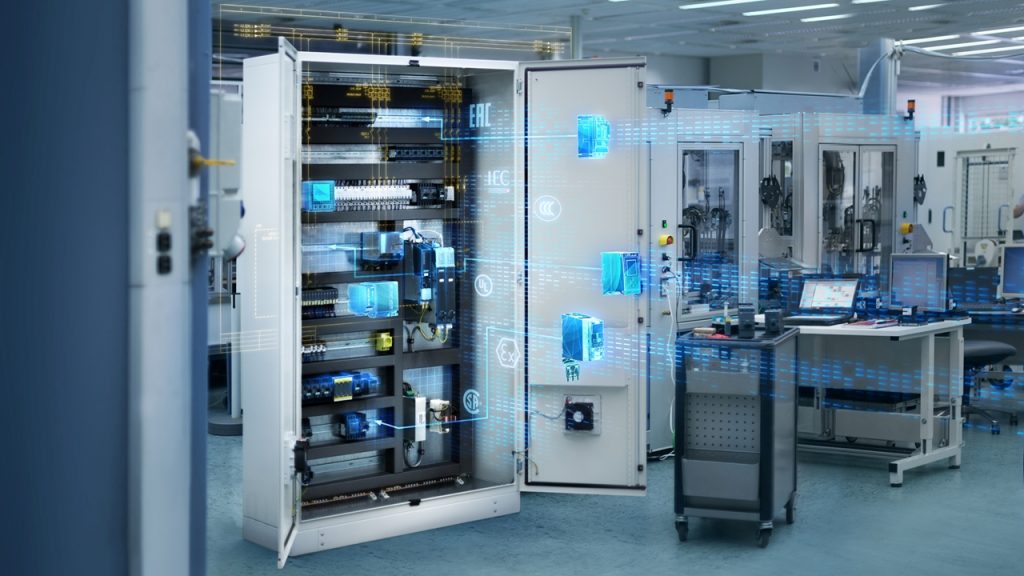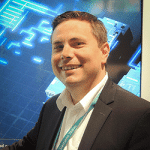 As Marcel Schulz, Business Developer for Digital Engineering at Siemens in Fürth, Germany, describes it, Siemens has established that carrying out reverse engineering on parts from catalogs takes 2.7 hours on average, whereas the task takes just a few minutes by accessing databases such as TraceParts.com. This method also guarantees accuracy.
This is a major benefit for designers as there is hardly any development that does not involve the use of standard or purchased parts.
Siemens AG in particular, which is actively promoting the Digital Factory, is keen to make its products available digitally. This is certainly not the first time: Users have already been downloading for several years the same identical product data available online directly from Siemens via the Industry Mall, for instance.
The situation is that customers need our product data during different process steps, e.g. as a 3D model in layout planning, as an electrical symbol in current flow diagrams, or in the ERP system with the commercial and technical data, continues Schulz.
It is important to Siemens to be able to increasingly supply data in a standardized form, ranging from standardized data formats such as DXF or STEP to standardized exchange formats such as eCl@ss.
The registered association eCI@ss was established by 12 German companies in 2000. The association now has 150 members worldwide.
We're one of those members that adopts an active role in the association, and have done so from day one, remarks Schulz.
Project involving TraceParts
Siemens customers use different design software applications and products from the widest variety of producers. This is the reason why many e-designers are involved in looking for component information from neutral suppliers like TraceParts, which offer comprehensive catalogs certified by manufacturers in the data formats compatible with the software tools deployed in the CAD/design environment.
The aim behind our commitment to TraceParts was for us to increase the availability of our product data and offer every user the chance to receive data in the native format of their CAD system, explains Schulz. In addition: "This provides significant value added for us and our customers."
One important consideration when supplying TraceParts with product data was to provide the most extensive Siemens product portfolio possible in order to offer customers a high degree of consistency, most of all for components that are traditionally used in control cabinets. A project team was put together from different units for this, which carried out all the fine adjustments with TraceParts from mid-2016 to mid-2017, and coordinated the delivery of data.
Siemens basically supplies neutral geometry data in STEP format. This is where the benefit of using TraceParts comes in as TraceParts has the technology to convert these data into numerous native formats compatible with user systems.
Christian Baumgärtner, Managing Director of TraceParts GmbH:
We are, of course, proud that we have met Siemens' requirements in terms of range for distribution, availability and multi-CAD capability of its products. Users are already showing an active demand globally for the native 3D CAD models from the Siemens product catalog available on the TraceParts platform. You can also find Siemens products on TraceParts within the eCl@ss classification presented there.
Incidentally, TraceParts is also an eCI@ss member and has already listed 32 million products from various manufacturers, based on eCI@ss 9.1, on its portal.
Current project status
The actual project is completed "and to Siemens' satisfaction in fact", as confirmed by Schulz. "Significantly high download figures have already been achieved at the moment."
In future, ongoing updates will be installed on the TraceParts portal, aimed at keeping the catalog containing Siemens products regularly up to date. "This means that our customers can always rely on having the latest data," concludes Schulz.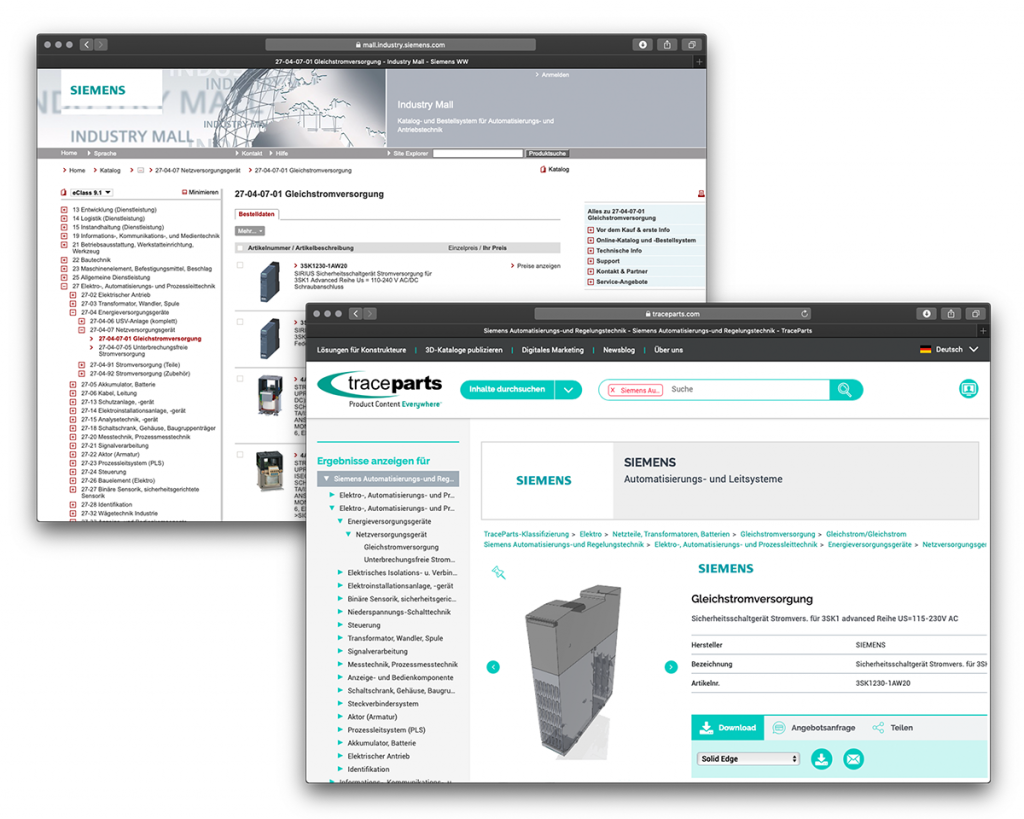 About TraceParts
TraceParts is a leading 3D digital content provider for the engineering sector. As part of the Trace Group founded in 1989, the company supplies powerful web-based solutions, such as CAD component libraries, electronic catalogs, and product configurators.
TraceParts supports its customers in terms of their marketing presence by increasing the value of digital data that already exist.
The CAD portal TraceParts is available to millions of CAD users around the world for free. It gives access to hundreds of supplier catalogs and more than 100 million CAD models and product datasheets for development, purchasing, manufacturing, and maintenance processes.
About Siemens
Siemens AG is a leading international technology group that has been synonymous with technical efficiency, innovation, quality, reliability, and international engagement for 170 years. The company operates across the globe, with its activities focused on the areas of electrification, automation, and digitization.
About eCl@ss
eCl@ss has established itself as the only ISO/IEC-compliant industry standard available internationally. This makes it the global benchmark data standard for classifying and uniquely describing products and services.
Standardized master data are the key to companywide improvements. This is also the prerequisite for enabling users to establish a uniform semantic standard. Only using this standard will make the Internet of Things a reality and enable information-driven production, known as "Industry 4.0".