Michelin chooses TraceParts as their 3D Enterprise Content Management solution to rationalize the global management of the parts used in the design of its machines
---
The TraceParts Enterprise solution enables the world's leading tire manufacturer to optimize its standardization processes using a vast online 3D component library

Almost one in every 6 tires sold in the world is made by Michelin. The iconic bubble-man plies his trade, under a variety of brands, in more than 170 nations, and operates 70 production sites spread over 18 different countries. The historic sites at Clermont-Ferrand in France and in North America are the main ones, but the company is growing fast and expanding geographically, especially in emerging countries (Brazil, China and soon India), in line with its strategy of producing close to its markets. To turn out nearly 200 million tires every year, thousands of machines have to be designed, maintained and operated on every continent at the production sites of Michelin and of its subcontractors. This diverse and massive array of machinery covers everything from the preparation of semi-finished products, to tread assembly, heating presses, and quality control systems.
Michelin's Mechanical Engineering Design Offices employ some 2000 people worldwide. The offices in Clermont-Ferrand and North America handle the pre-design of machines for the other sites, which take care of their deployment, compliance and maintenance. The group's Methods department is tasked with the codification, specification and internal standardization of the parts used in the design of its machines, in order to limit the diversity of parts and suppliers.
Using TraceParts since 1995
Michelin has been using TraceParts libraries since 1995. To avoid designers getting lost in the labyrinth of electronic and printed catalogues offered by manufacturers, the Michelin Parts Library (MPL) was already restricted to components that had been codified by the Methods department. These references were associated with a classification, a bilingual "group" description, and simplified 2D and 3D representations. This customized library was updated by TraceParts every eighteen months by means of digital catalogs that were deployed locally on each workstation.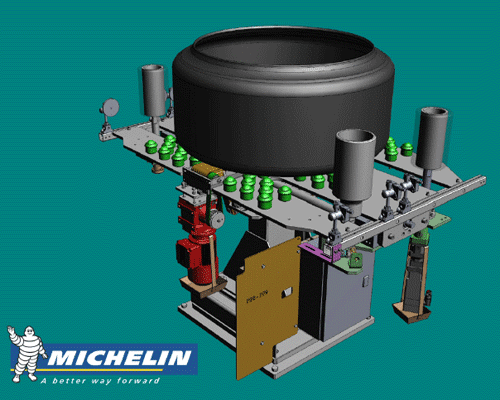 Take a 3D tour of this azimuth alignment tool model designed by Michelin's Mechanical Engineering Design Offices.It positions the "green" tire in accordance with the heating press requirements, depending on the position of a "barcode" on the side of the tread.
This model combines market components with Michelin-specific components from the MPL.
But the BCM solution had its limitations. Standardization was supposed to be done ex ante, i.e. by anticipating the needs of the Design Office. However, if designers couldn't find a standardized part to fit their requirements, they would choose other components from the web or from electronic media (CDs, etc.) provided by vendors, or they would design their own models. The Methods department consequently had to play catch-up, with ex post standardization, or else reject the component, meaning that it had to be redesigned. The rhythm of BCM updates was insufficient to meet the demands of the designers, leading to an explosion in the number of spare parts.)
Michelin Parts Library: "Methods" driving standardization
Manuel Calamote, Mechanical Methods Manager at Michelin, explains why standardization matters:
"It naturally limits the diversity of parts used on our machines around the world, and the potential benefits in terms of costs and productivity are enormous: a purchasing policy centered on suppliers recognized for the quality, reliability and price of their articles, the rationalization of supplies, the optimization of stocks for machine operation and maintenance, etc. Not forgetting, of course, faster and more efficient design processes thanks to a large database of standardized components."
An invitation to tender was launched in 2010 for the new MPL project, setting out a number of objectives that reflect a genuine continuous improvement initiative for the company:

To provide machine designers, both in-house and at subcontractors, with a very large online library of 2D and 3D CAD models in both AutoCAD and SOLIDWORKS formats, integrating seamlessly with the existing SmarTeam TDMS solution;

To update the library in real time as and when standardizations are issued by the Methods department;

To provide the Mechanical Engineering Design Offices with an open selection process, accessible during the CAD phase, but prioritizing parts in accordance with their standardization status (e.g. standardized, restricted use, prohibited, obsolete, etc.) as attributed by Methods;

To automate the generation of requests to Methods if designers have to use a non-standardized part;

To provide an interactive workflow between designers and Methods experts for tracing, justifying and monitoring the processing of requests, and for reporting nonconformities;

To be able to combine parts from different suppliers in the same Michelin item code in order to facilitate interchangeability or the integration of regional constraints, within a tolerance defined by Methods.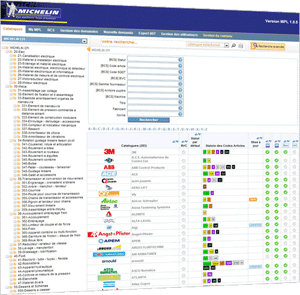 Judith Noyelle, IT Support Manager for the Design Office teams, headed the project, which is now being rolled out: "We want to provide our hundreds of designers, in-house and at our subcontractors, with a modern tool that reminds them of the importance of standardization for the Group while helping them design new machines more quickly and more efficiently. Specific requests from the Design Office for market components should be processed by the Methods department within 7 days. That doesn't mean that the part will be standardized in that time. Methods may propose an alternative from among the listed components or suppliers, or they may decide to incorporate the component into the MPL database. In any case, a process will be initiated to find the best solution, and the request will be followed up."
TraceParts Enterprise
The MPL contract was awarded to TraceParts.
"It's true that our design offices were already accustomed to using TraceParts libraries, but that wasn't the main reason behind the choice", says Judith Noyelle."TraceParts demonstrated their ability to integrate the legacy of the previous BCM library and were able to propose a complete workflow management tool for dealing with user requests, one that integrates seamlessly with our existing selection process and PLM system. We now have available, on-line, a component database that will evolve in real time and will generate powerful synergies between Methods and the Mechanical Engineering Design Offices."
Component vendors involved in MPL
"The Methods department, in synergy with Group Purchasing, will now play a central role, by giving the Design Offices a Group vision, and by reinforcing its specification and support mission for MPL users", adds Manuel Calamote. "Our suppliers are also asked to provide us, and TraceParts, with the CAD models for their products, and with all relevant information that will facilitate their integration into MPL. This will make it easier for us to discover other products in their line-up, which may be added to the database over time, and the component usage history will make it easier for us to manage obsolescence. And it's also an opportunity for other suppliers to convince our teams of the technical quality of their products".

"We are proud that our solution—TraceParts Enterprise—has been selected by Michelin", concludes TraceParts Managing Director Gabriel Guigue. "This achievement recognizes the hard work that our teams put into this project. It also underlines the relevance of an offering that enables organizations to go beyond the mere provision of 3D libraries: TraceParts Enterprise allows industrial firms to integrate their own specific PLM processes while benefiting from the richness and flexibility of use of our 3D catalogues. This success also demonstrates to component vendors that being listed in our libraries showcases their products around the world".
For further information:
Michelin website: www.michelin.com
Read the other testimonial from Michelin: Success thanks to a personalized CAD library that is universal & unique
Contact us: info@traceparts.com