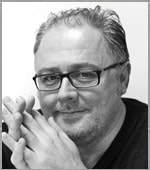 What's your name? What's your position within the company?
My name is Nino Mazza . I am the Managing Director of TraceParts srl in Italia.

How long have you been working for TraceParts?
My first work for the group Trace began in 1997 with the reselling of 2D mechanical software seamlessly integrated with AutoCAD. Then I was successfully leading the distribution of TraceParts DVD in Italy for all 2D and 3D CAD systems.

Please tell us what your job is about
My job consists of finding business opportunities in the Italian part catalog market, increasing the number of Italian 3D catalogs available on traceparts.com. I have accumulated over the years, a good knowledge of 3D CAD systems, listened to the problems of hundreds of design and technical departments, and this is a good helper for the work in TraceParts. As managing director of TraceParts srl, located here in Reggio Emilia, I am responsible for the Italian speaking area in Europe. My activities vary from discussions and negotiations with business partners to managing projects for some of our customers. In order to also stay in contact with the TraceParts user community.

Tell us what you want to achieve for TraceParts in the next years
Being one of the leading international CAD portals it is our goal to strengthen the relationship between parts manufacturers and purchasers. We are coming closer and closer to meet this target due to new technical developments and possibilities.

What do you do after work, during your free time?
I love music and playing volleyball. I like to ride my bike, reading history books and ride a bike with my daughter.

How can the readers contact you and why is this important to you?
You can send me an email with your valuable input at any time. Your feedback is important to me because I am always looking forwad to having open discussions with customers and users any feedback is welcome!