French company Legris is a world leader in industrial technical components for fluid circuits. In 2001, Legris asked TraceParts to implement its CAD parts library for its OEM design offices and end-users.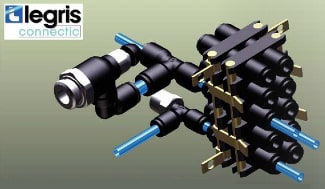 This assembly uses various Legris components for industrial fluids (metric tubing): modular plug-in connector, flow regulator and tees.
The animation illustrates the advantages of the LF3000 instant connect system that enables connections and sealings to be instantly secured.
As soon as we had completed our tests we had no hesitation about going with TraceParts, recalls Patrice SALEM, Marketing Support Manager at Legris.
These were:
Its unique ability to offer two types of modelling: fixed-dimension components taken directly from the Legris CAD design offices (70% of the library) and families of parametric components.
Its partnerships with CAD vendors, guaranteeing model quality in each format.
The high level of service and professionalism of the engineering teams.
The alternative methods for integrating components from the library: via the TraceParts or Legris Web sites, or from the broadly distributed Legris CD-ROM or the TraceParts DVD.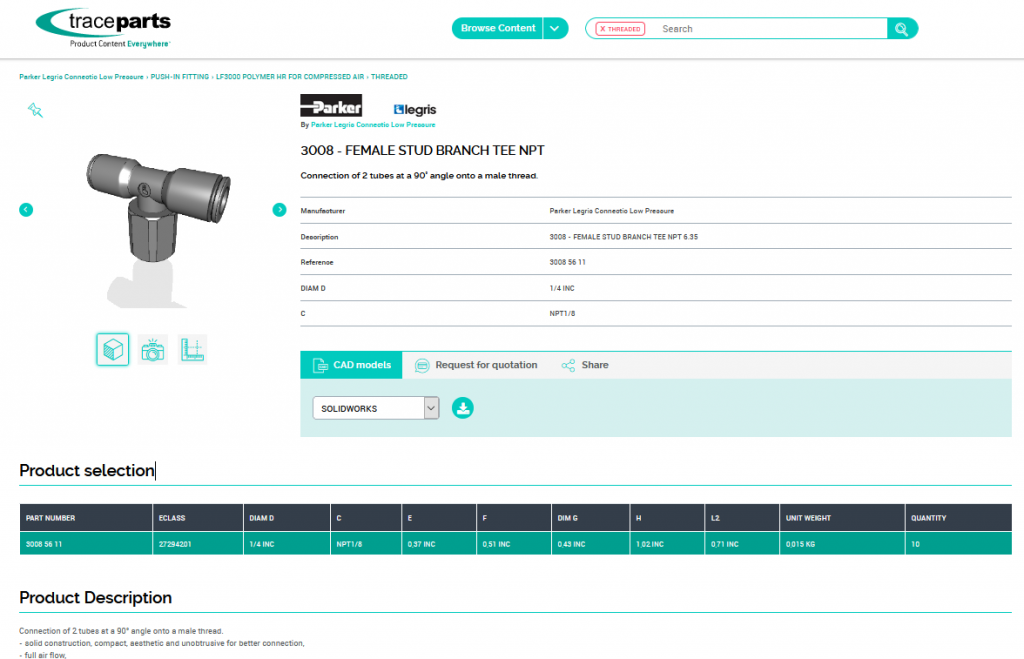 Today, 1,500 "low pressure" components are now available in the library. As from April 2007, another 700 parts will be added to the family, while the "high pressure" category is scheduled for release with a further 3,500 components.
Though Legris is mainly a B2B operation, it sees the on-line publication of its CAD models as a way of offering an additional service to its customers by saving them the tedious task of component modeling and offering them reliable models guaranteeing successful installation.
What we really appreciate about TraceParts is their ability to meet our quality demands and that it is a truly long-term partner. Since we introduced the service, product sales have been growing regularly. This helps us to foster customer loyalty and win new business. said Patrice SALEM
For further information:
Legris website: www.legris.com
CAD drawings seamlessly integrated with Legris online catalog: Legris – TraceParts
Contact us: info@traceparts.com