The leading manufacturer of retaining and snap rings opts for TraceParts.
Seeger-Orbis, headquartered in Königstein/Taunus, Germany, is part of the Barnes Group Inc., Precision Components business segment, located in Bristol, Connecticut, USA, employing around 6,000 workers.
The "Seeger Ring" concept has been synonymous in the industry with quality products for many decades, and has proved still to be the best even today. The company's history began in October 1917 when it was founded by Willi Seeger and has run in parallel with the development of the car.
In 1927 the first "Seeger Ring" was patented by Hugo Heiermann as a bolt-locking device.
By 1941 the industry had standardized Seeger retaining rings for shafts with a diameter of 12 – 300 mm (DIN 471) and bores with a diameter of 12 – 300 mm (DIN 472). The production of Seeger rings has been carried out at the Königstein site, near Frankfurt, since 1944.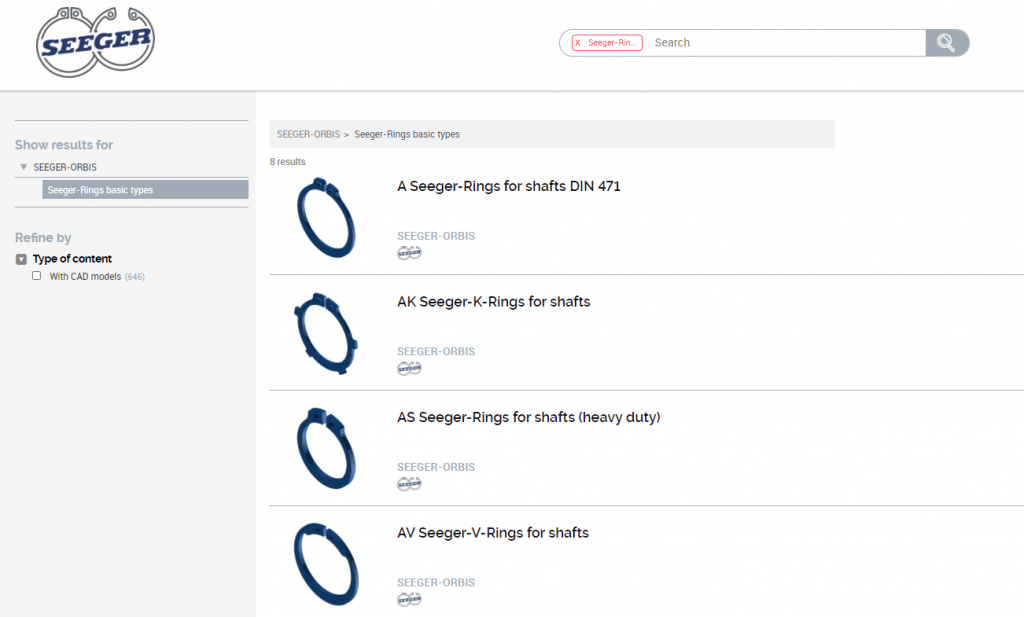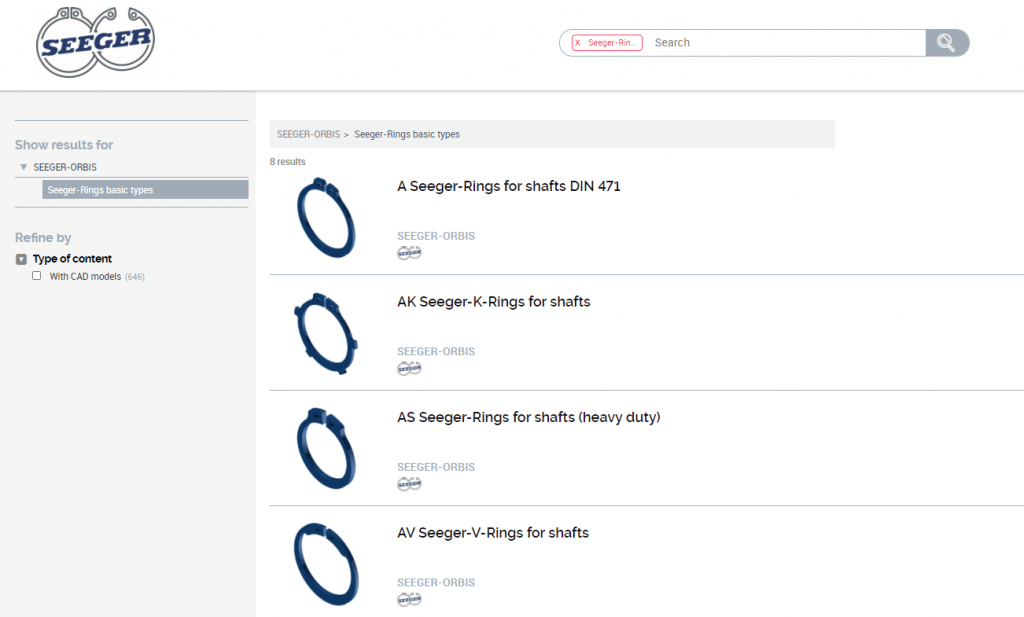 Thanks to its many years of experience and state-of-the-art technical expertise, Seeger-Orbis is nowadays a much sought-after engineering partner worldwide.
Seeger-Orbis develops and manufactures, in close collaboration with its customers, an extensive range of fasteners, retaining rings, snap rings and support and shim washers for a wide variety of applications in the automotive, wind and mechanical engineering industries.
Retaining rings from the TEMPEST™ series have diameters of up to 3 meters, making them one of the largest rings used for the wind industry. They are manufactured exclusively in Germany for this.
With a production capacity in excess of one million rings per day, Seeger has been the leading manufacturer in Europe right from the outset.
With the aim of enabling its customers immediately to integrate quickly and efficiently this host of products into their own CAD design, Seeger came up with the idea of involving an external partner to do this.
As Jörg Eberhard, International Marketing, Key Account & Business Development Manager, explains:
Seeger-Orbis stands for top-class quality and innovation. We want to offer products and services that exceed our customers' expectations. This is why, at the end of a selection process, we decided to opt for TraceParts' service.
My TraceParts: Customized solution for discerning customers
"The flexibility provided by TraceParts' integration offers us various solutions enabling users to handle and search for products.
The fact that a large number of users have used the TraceParts solution right from the start confirms the high level of acceptance by our customers," continues Eberhard.'
First of all, users visiting www.seeger-orbis.de have the option to browse through the exclusive Seeger-Orbis CAD catalog and load the relevant shapes in all the common native and neutral formats.
The homepage also offers the option to use the search facility based on product data, without spending ages browsing. In this case, the user specifies the product type and dimensions.
The CAD geometry can then be accessed directly from the search results based on product data, without having to make the previous selection in the CAD catalog again to do this.
Christian Baumgärtner, TraceParts GmbH Managing Director adds:
We are delighted with Seeger-Orbis' decision to opt for our solution. It enables both Seeger and its customers to benefit from faster data availability.
For further information:
Seeger-Orbis website: www.seeger-orbis.de
Seeger-Orbis CAD data on traceparts.com: www.traceparts.com
Contact us: info@traceparts.com