The company Siam Ringspann is specialized in the manufacturing of safety components used in medium and high-power transmissions.
Its leading products are cam and ramp clutches which cover 90% of the market needs for engineering and machine tools, agriculture, energy, plastics technology, and, more generally, everything in the field of material handling.
Its « safety » product catalog also ranges from torque limiters to couplings and connectors and to control cables. It also sells solid mandrels and plain washers.
The family-owned Siam company, created in Paris in 1932, filed many patents in the domain of one-way clutches.
Siam was integrated into the German company Ringspann in 1980 which accelerated the group's growth and it then rapidly became a leader in France and next in Europe.
Like Siam, Ringspann played a pioneer role in its main field of activity. For example, they are the originators of the famous spring washer which bears its name.

The main production site for the group in Germany is equipped with a thermal processing unit. Other units exist in Great Britain, Switzerland and Spain and the French site is based in Lyon.
The components are mainly manufactured in Europe even if penetration into the market by the Chinese and Americans pushed the group to open two manufacturing sites in Beijing and in Chicago. Today, the group has 300 staff members in Europe.
We can notice that Siam received the Oscar for Industrial Design at the European Mecanelem show in 2005 for a safety system for handling vertical loads (e.g., stops crane loads from descending too brutally).
An online library since 1999
Since the end of the 90's, Siam Ringspann has had a website and offered its range of braking systems in the form of 2D drawings.
But this service, while representing an important cost for the company, only partially satisfied its client base within which the movement toward 3D CAD had already begun.
Françoise Pfister, CEO of Siam Ringspann France, remembers:
What we had wanted as a plus for our clients might have backfired against us and possibly cause a negative effect on Siam by displaying a negative image. Our meeting at a show with Trace Software, destined to result in the new TraceParts, opened new perspectives for us.

Their project was actually to install a platform online in which the CAD component models could be accessible to all, in 2D as well as in 3D, in the main market formats and in several languages.

It was a true opportunity for Siam because, speaking only of technical objectives, their specifications corresponded exactly to our needs.
Beyond technical expectations
As in the origin of all long-term partnerships, there were other criteria besides technical relevance. "The warm contact we had with the TraceParts team handled the rest", confided Mrs. Pfister, who brought up some internal hesitance:
In fact, our head office had been approached by a service provider based in Germany and was interested in using their services, due to geographical proximity.

That company was called web2CAD. TraceParts bought it in 2004 and that put an end to the discussion, while providing more exposure and making the online catalog content larger and richer.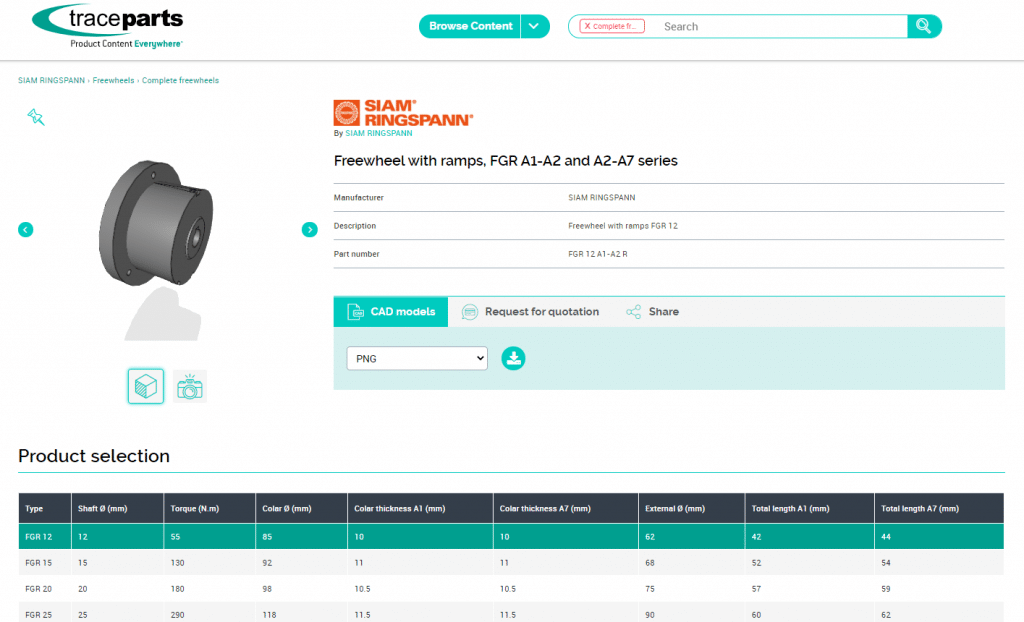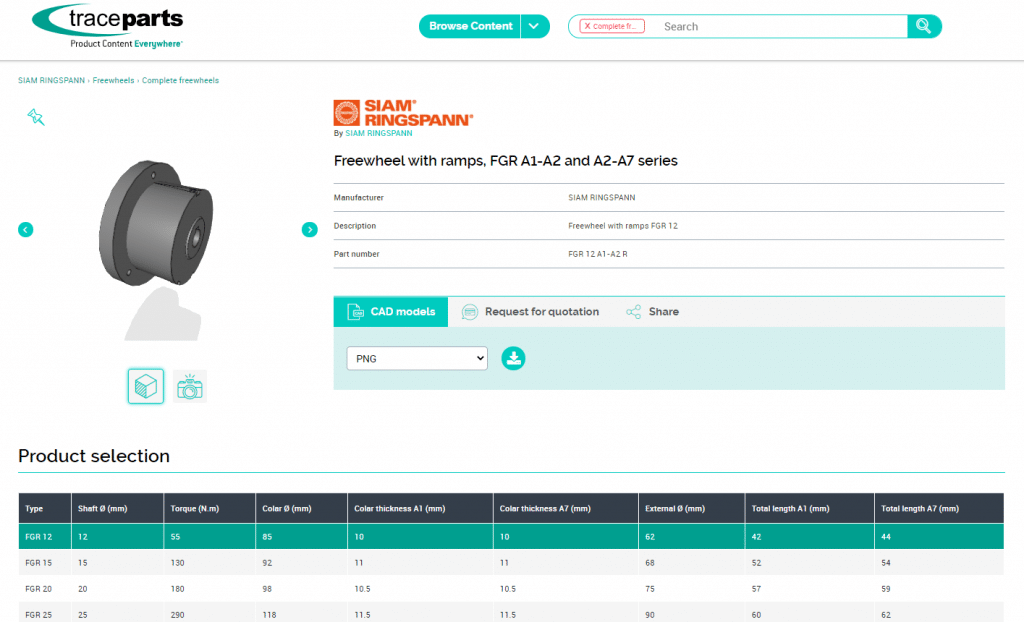 Three advantages are highlighted by Siam Ringspann in its partnership with TraceParts:
From a technical point of view, the manufacturer is happy about how quickly the first catalogs are put online and the high level of responsiveness of TraceParts for the integration of new products, always carried out with attention to quality and reliability.
Concerning visibility, Siam appreciates TraceParts' worldwide exposure: the website www.traceparts.com generates twice as many drawings downloaded as compared to the manufacturer's websites (www.siam-ringspann.com).
Concerning sales, Siam observed that more than 20% of the downloads have turned into a finalized purchase order.
Françoise Pfister voluntarily added two points that she feels to be just as important that were not clearly foreseeable when the partnership commenced:
The tools for monitoring the downloads were an innovation that we appreciated and use often.

Moreover, we regularly use TraceParts press releases that they use to announce new products to their client base. In the beginning we had a technical request and the solution showed itself to be a true tool for sales and marketing.

Like Siam, TraceParts knows how to innovate and we share the same values concerning service provided to the client, the same enthusiasm in our respective specialties. These are a good basis for a long-term partnership.
For further information:
SIAM – Ringspann website: www.siam-ringspann.fr
SIAM CAD data on traceparts.com: www.traceparts.com
Contact us: info@traceparts.com