The French company Kinetic Systems is a manufacturer of motion and servo controls: linear modules and automation tables, electric jacks as well as motion control parts and transmission parts.
Their research department and production factory are located in Mornant, France (69), in the hills of the Lyons area.
Its systems are part of automating the manufacturing process, especially for motion control parts or toolings.
They are often used in automobile industry factory lines where Kinetic Systems earns half of its revenue (for example, for loading/unloading of machining equipment).
Other process industries (nuclear, glass) complete the Kinetic Systems customer base, which has a global network to distribute its products for export.
When we think about "mechanical components for CAD", we often imagine small parts included in the construction of special machines. The linear modules and automation tables are sometimes as long as 7m (approx. 23 feet). Just that alone could qualify them to be called special machines!
In as much as some of this equipment may be customized, the main lines are offered "by catalog", and each part is available in several versions (number of axes, size, stroke) to cover the widest-ranging needs and to optimize costs.

Kinetic Systems has its own means of production which allows it to reduce supply delays and to guarantee quality and the accuracy level of its equipment.
The traditional Kinetic Systems paper catalog includes 120 pages representing approximately 150 items.
Anticipating customer needs
At the end of 2005, the company decided to offer its customers a CAD library with its line of equipment. Jean-Paul Coron, CEO of Kinetic Systems explains the motivation behind this decision:
The art of selling is to know how to put ourselves in the shoes of our customers. We can therefore anticipate their needs. The operators are important elements in a production process; in addition, these are rather complex systems, fast-moving and implementing a certain number of parameters.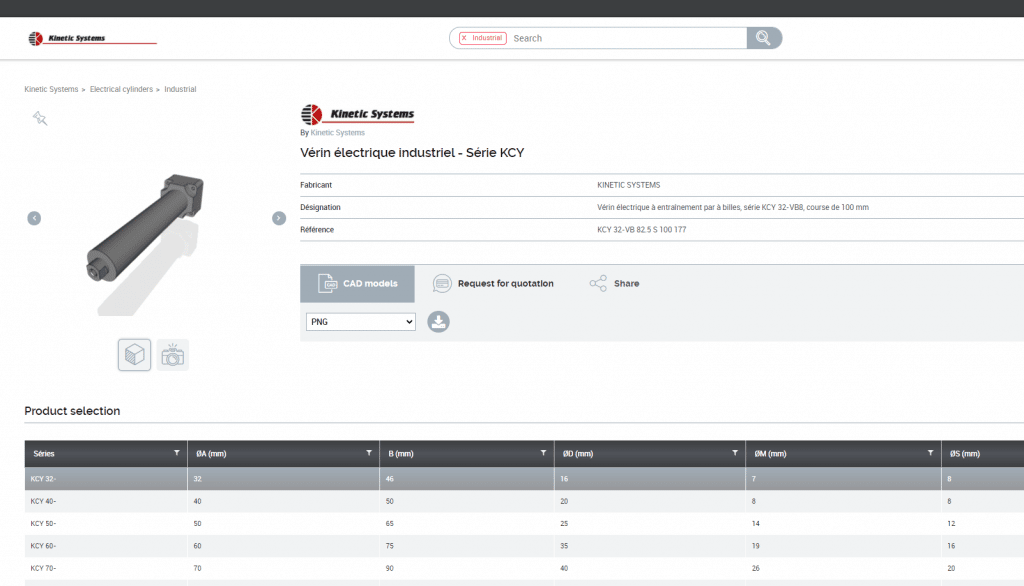 CAD data has been perfectly integrated into the TraceParts.com website
The choice of TraceParts as partner for creating, integrating and distributing these libraries was guided by the same care taken by Kinetic Systems when it imagines itself in the client's shoes:
The users desire both easy access and having the choice and quality of modeling in the native format of their CAD system. Therefore, we visited a few model downloading sites, taking the point of view of the user, specifies Jean-Paul Coron.
Kinetic Systems itself uses a 3D CAD system to design its equipment but, for the online models, it was necessary to streamline the geometric representation and imagine and program a process with rapid choice in a small number of steps and propose downloads in all of the 2D and 3D CAD formats proposed by TraceParts (CATIA, SOLIDWORKS, Pro/ENGINEER, AutoCAD, Inventor, Solid Edge, TopSolid, etc.).
It was also necessary to associate these assemblies with parameters that allow the user to place equipment in the desired configuration. For example, to indicate the position of the carriage of a linear table.
The implementation time was exactly the same as what had been previously announced. We had set priorities for the initial parts, in this case about thirty products offered in 5 sizes. Beyond mastering the deadlines, we appreciated the great reliability of the models that were generated. explained Jean-Paul Coron
"A team that knows their profession well"
The implementation of a library is always a process in which confidence and the quality of human and technical exchanges are important. Industrials perfectly master their profession. The TraceParts team must capture the history of their products, not just the expertise, understanding their characteristics and formalizing families of parts.
Jean-Paul Coron appreciated the different aspects in the work of TraceParts:
These are people who have mastered their profession from the technical point of view implemented (CAD, programming,…) but also who know mechanics and industrial needs. Even though we naturally had to invest ourselves in this approach, it could be said that the service provided is very close to a "turnkey solution".
Still left to be evaluated are the economic results of placing the Kinetic Systems products online. Jean-Paul Coron concluded:
We are benefiting from a much larger visibility for our products, and, from this point of view, we have attained our goals. Today, we reach out to new businesses and have also improved the service offered to our older clients.
Today, 80% of the Kinetic Systems equipment line is accessible on www.TraceParts.com, the site of the owner, presenting all of the products.
For further information:
Kinetic Systems website: kinetic-systems.fr
Kinetic Systems CAD data on TraceParts.com: TraceParts.com
Contact us: info@traceparts.com