TraceParts supported Purdue University for their Mechanical Components Benchmark (MCB) research
---
08-01-2021
Krunoslav Rašić
Researchers at Purdue University's School of Mechanical Engineering have used TraceParts API to have unlimited access to more than 120 million CAD models.
Saint-Romain, France, 8th January 2021 – A talented team of mechanical engineers from Purdue University in the United States has created the first comprehensive open-source annotated database of more than 58,000 3D mechanical parts, designed to help researchers apply machine learning to those parts in actual machines.
We are in the deep learning era, using computers to search for things visually. But no one is focusing on the parts that go into machines: pipes, bearings, motors, washers, nuts and bolts, and many more. Those are the things that are important to us as engineers and manufacturers. We want to be able to point a camera at a real-world part, and have the computer tell us everything about that part or design.

said Karthik Ramani, Purdue's Donald W. Feddersen Distinguished Professor of Mechanical Engineering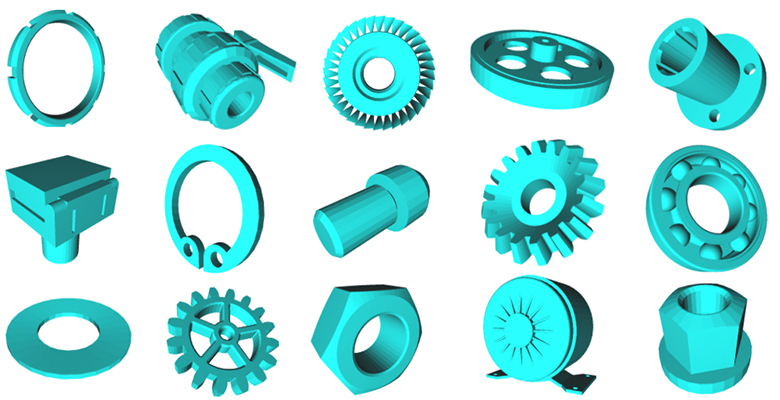 Ramani's team experimented with visual search for parts in the early 2000s, but computing power and machine learning techniques were not yet sufficiently advanced. In the years since, researchers have learned that building a solid dataset is all about both quality and quantity.
Deep learning is data hungry. It needs a lot of examples for the computer to learn what humans mean and how things relate to each other. That means we needed a lot of 3D models of parts which also required an underlying engineering classification.

Ramani said
The team started by partnering with TraceParts, one of the world's leading providers of 3D digital content for engineering, in order to get unlimited access via TraceParts API to a extremely comprehensive data vault containing more than 120 millions of 3D CAD models from industrial parts. The team collaborated with the University of Texas, Austin assistant professor Qixing Huang to scour other databases for similar 3D models. They ended up compiling a database of 58,696 mechanical components.
Ramani's team organized the parts by establishing a hierarchical taxonomy of 68 classes, based on the International Classification for Standards (ICS), a system of technical standards created and maintained by the International Organization for Standardization (ISO).
Now when a computer sees a picture of a seal component, it will know that it fits in the category of dynamic seals and then, more specifically, under composite seals.

Ramani said
The researchers have just recently published their open-source database, inviting computer vision and machine learning researchers to access it and create their own experiments. They showcased their work at the 16th European Conference on Computer Vision in August.
We are very pleased to partner with TraceParts. As we needed tens of thousands of 3D CAD models for our research, access to the TraceParts database was a fantastic help because it is vast and sufficiently diversified.

added Karthik Ramani
About Purdue University
Purdue University is a top public research institution developing practical solutions to today's toughest challenges. Ranked the No. 5 Most Innovative University in the United States by U.S. News & World Report, Purdue delivers world-changing research and out-of-this-world discovery. Committed to hands-on and online, real-world learning, Purdue offers a transformative education to all. Committed to affordability and accessibility, Purdue has frozen tuition and most fees at 2012-13 levels, enabling more students than ever to graduate debt-free. See how Purdue never stops in the persistent pursuit of the next giant leap at https://purdue.edu/.
About TraceParts
TraceParts is one of the world's leading providers of 3D digital content for engineering. As part of the Trace Group founded in 1990, the company provides powerful web-based solutions, such as CAD part libraries, electronic catalogs and product configurators.
TraceParts offers digital marketing services to help part vendors, 3D printing suppliers, software and computer hardware vendors promote their products and services and generate high-quality B2B sales leads.
The
TraceParts
portal is available free-of-charge to millions of CAD users worldwide. It provides access to hundreds of supplier catalogs and more than 100 million CAD models and product data-sheets that perfectly meet the specific needs of design, purchasing, manufacturing and maintenance processes and operations.
Categories