Valworx Product Catalog now available on TraceParts CAD-Content Platform
---
11-03-2021
Krunoslav Rašić
CINCINNATI, OHIO and CORNELIUS, NORTH CAROLINA USA (March 11th, 2021) – Valworx, Inc., a leading supplier of actuated valves and controls, has partnered with TraceParts to publish its 3D product catalog.
Established in 1991, Valworx is an expert in the field of valve actuation and control. They offer hundreds of standardized automated valve assemblies for industrial, food & beverage, HVAC, oil & gas and pharmaceutical applications. Valworx is able to build, test, and ship most orders the same day.
By partnering with TraceParts to publish the Valworx 3D content catalog, we've increased our brand awareness, and now our customers save time by inserting our product data as native 3D models directly into their designs.

said Caroline Crowe, Strategic Accounts Manager at Valworx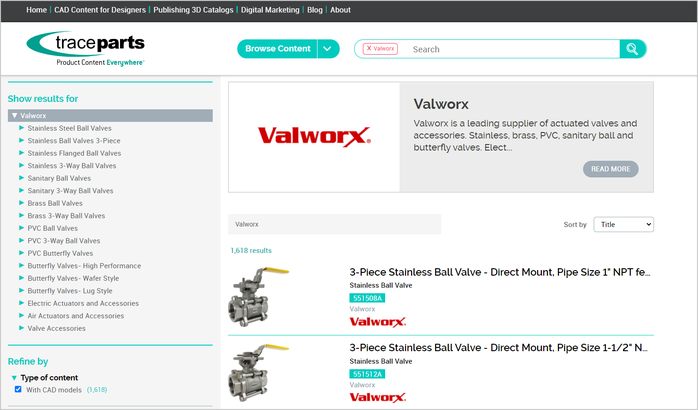 The complete range of Valworx products are now available on the TraceParts CAD-content platform. Once configured, designers and engineers all over the world can immediately preview and download Valworx product data in more than sixty (60) different CAD and graphic formats and validate their designs in their engineering design systems.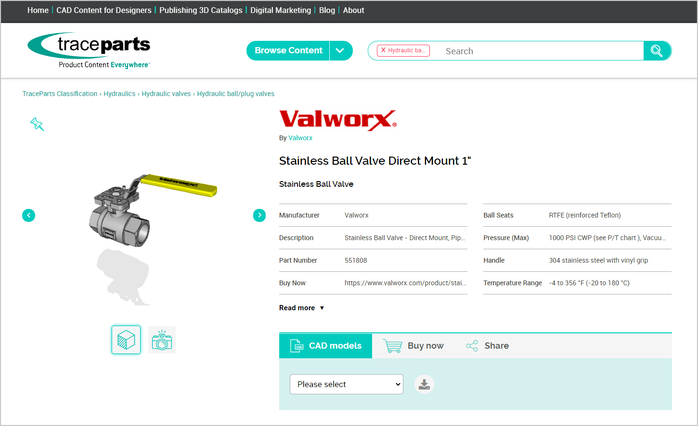 TraceParts is thrilled to work with Valworx to create a seamless digital experience for their customers. The Valworx product catalog, now available at TraceParts.com, allows millions of designers and engineers to access high quality 3D Valworx product data.

said Rob Zesch, President of TraceParts America
About Valworx
Established in 1991, Valworx is a leading supplier of actuated valves and controls in stainless, brass, PVC, and sanitary ball and butterfly valves. They offer free shipping on orders over $99, free lifetime technical support, extensive online documentation and a generous return policy. All products are backed by a comprehensive one-year warranty.
Valworx-brand products are known, trusted and preferred by tens of thousands of users worldwide, meeting their customers' expectations for price, delivery, and performance.
For more info, visit www.valworx.com
About TraceParts
TraceParts is one of the world's leading CAD-content platforms for Engineering, Industrial Equipment and Machine Design, totaling 4.2 million registered members from 1.2 million companies actively sourcing product information and technical data from over 195 different countries.
As part of the Trace Group founded in 1990, TraceParts brings highly targeted marketing exposure to more than 800 customers of all sizes and from all industries, via powerful cloud-based API and SaaS applications such as CAD part libraries, product catalogs and configurators.
TraceParts' comprehensive Digital Marketing Services help part manufacturers and distributors, 3D printing & rapid-prototyping suppliers, CAD/CAM/CAE/ECAD software and computer hardware vendors promote their products and services and generate highly qualified sales leads.
Available free-of-charge to millions of Engineers & Designers worldwide, the TraceParts CAD-content platform provides access to over 1,100 supplier-certified product catalogs and billions of 2D drawings & 3D CAD models and product datasheets that perfectly match the digitalization needs of Design, Purchasing, Manufacturing and Maintenance processes & operations, in virtually any industrial sector.
Categories