Standard, fixture and machine elements available worldwide in 3D

It is becoming increasingly important for standard part manufacturers to have their products available worldwide via suitable portals. Otto Ganter GmbH & Co. KG, based in Furtwangen, Germany, has been cooperating with companies since already many years, including TraceParts.
Thanks to secured processes, end customers are offered a large variety of valid parts in their native CAD format.
It is an honor for me to hereby present to you my price list for miscellaneous machine parts and to request you politely to give it your serious attention and be kind enough to do me the honor of placing an order.
This is how the preface of the very first Ganter catalog started, published by the company's founder, Otto Ganter, in 1912. This showed that he was ahead of his time as, just 5 years later, the first DIN standards appeared.
Otto Ganter founded his company in 1896 initially as a mechanical workshop. But he soon came up with the idea of manufacturing standard machine components, such as handles or cranks in larger volumes, and selling them from his warehouse. This had the twofold benefit of reducing unit prices and delivery times.
This basic concept has been maintained right up to the present day. Ganter GmbH & Co. KG in Furtwangen, in the Black Forest area, is still in the hands of the founding family for the 4th generation, with Stefan Ganter nowadays at its head.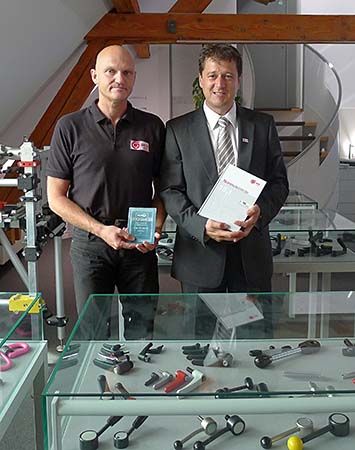 Martin Baüerle and Axel Weber with the first Otto Ganter catalog and the current catalog who counting 1300 pages.
However, the variety of the parts offered has changed considerably. While Otto Ganter's first catalog had 12 pages, the current catalog has 1,312 pages, featuring around 50,000 parts,
explains the company's marketing manager, Axel Weber. It is impossible to describe here every product in great detail.
There are two main groups:
Standard elements for operating and clamping
Fixture and machine elements.
The pictures accompanying this article also certainly speak volumes. In statistical terms, indexing plungers account for a share of more than 20% of the range.
Part of the range of Ganter which includes around 50 000 parts.
This medium-sized company with 280 workers now sees itself as a leading global player in this field due to its broad product range.
A significant contribution to the diversity of our range is made by the use of a variety of materials. The range extends from steel, stainless steel, gray iron, investment casting and zinc die-cast to a variety of plastics. continues Weber
Ganter supplements its portfolio with products from partner companies, in addition to its own products. Overall, Ganter offers its products in more than 60 countries worldwide, directly, via its own offices or sales partners.
This means that customers can buy their standard elements locally, while ensuring that the high level of quality from the Black Forest is available everywhere. stresses Weber
Ganter also offers extensive services in addition to its products. These include:
rapid delivery (orders made by 4.30 pm one day can, in most cases, already be delivered to the customer the following day)
the chance to manufacture customized parts as well. Around 30% of production is manufactured individually to order
own online store for standard elements where products can be bought in the same way as from Amazon, etc
In recent years, there has been a sharp rise in the activities carried out on and via the Internet. According to Weber, this has "increased fivefold in the last 5 years".
It comes as no surprise that parts specialists are taking maximum advantage of the opportunities offered by parts portals such as TraceParts.com. This means that, apart from using catalogs, the opportunities offered by TraceParts for e-marketing services are also being utilized.
A very effective tool for specifically positioning and promoting our catalog and products. states Weber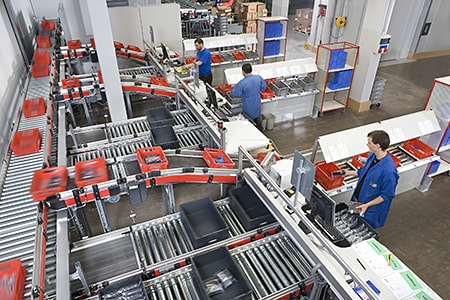 The quick shipping for customers is very important,
that why Ganter is equipped in a sophisticated logistic
Long-term partnership looking to the future
The cooperation with TraceParts already goes back about 15 years.
"We started out at that time with 2D representations of our parts and have been dealing with 3D versions online since early 2000", explains Ganter's development manager, Martin Bäuerle.
At the outset, the parts were presented in a very simple, monochrome form, without any motion, and they could only be downloaded via STEP and IGES. In the meantime, things have changed enormously. As Martin Bäuerle explains: We are now using original geometries, but these have been converted by us for release in a "product geometry".
The process cycle up to publishing parts on TraceParts.com is arranged so that after the actual design process at Ganter (in SOLIDWORKS), the parts are converted into a "quotation representation". This involves removing the surface icons and tolerances, as well as simplifying internal geometries, if they are of no concern to the user.
All part dimensions are then converted into STEP and passed on to TraceParts. TraceParts continues with further reworking. This involves all the parts being able to be downloaded in all the current native CAD formats.
If this data is generated, we receive a control version in our CAD format, SOLIDWORKS. If everything is right, we approve the parts for publication on TraceParts.com. says Martin Bäuerle, explaining the process
What is the next step for users?
Downloading a particular part also generates a specific order number. This goes on to the parts list and, if relevant, the order list for purchase. In the end, customers get exactly the part that the designer has chosen. The following statement basically applies: Every part integrated by the designer also means a sold part, even if they may be wide variation to a certain degree.
Are people at Ganter pleased with the downloads?
, says Martin Bäuerle. We are delighted and are pleased about the upward trend. The development manager is just as pleased with the service provided by TraceParts: