Facom is one of the very few companies that work mainly with professionals, while benefitting from a solid reputation with the public. Revenue comes from the automobile and aeronautical sectors as well as mechanical and maintenance industries.
FACOM : Franco Américaine de Construction d'Outillages Mécaniques, celebrates its 90th birthday this year; 90 years of innovating products for professionals.
Designer – Manufacturer, Facom means 250 engineers and technicians in Research and Development and 11 production sites in Europe.
Like the signature says, "Pro for life", Facom also stands for demand for quality to serve professionals.
Our tools have to meet three criteria: improved productivity, ensured safety and user-friendliness. We base our policy on useful innovation and attentiveness to our customers. Although we readily call ourselves craftsmen of productivity, we have to be on the cutting edge of technology. clarifies Hervé GOMAS, Manager for Marketing and R&D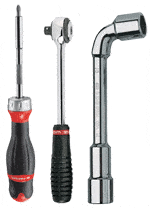 Virtual tools
Facom is attentive to users and, in response to user needs, has developed a new service for industries. Using Digital Factory technologies that are already in place by important clients for their virtual mock-ups, the company decided to complete the virtual factory offer with CAD models of its main tool ranges.
Whether for mounting, disassembling or maintenance, how to work on parts that are difficult to access as well as tool handling are essential constraints that require consideration as early as possible during the designing process.
From time to time, customers themselves have specific requirements, as confirms Jocelyn Vecchio, Manager for R&D at Facom:
Sometimes Engineering and Methods Departments for aeronautic and automobile industries or manufacturers for agricultural machinery, like Massey Ferguson, call on us.
TraceParts
Facom's technical, sales and marketing managements agreed on a provider to put the library online.
TraceParts is the only one that is capable of offering that type of service. stated Hervé GOMAS
Today, traceparts.com is one of the largest parts libraries in the world with over 100 million free 2D CAD drawings & 3D models in 20 languages. It is used by more than 650,000 subscribers and the website counts over 320,000 visits per month.
TraceParts is also very reactive to our requests. For example, the English version of the website was delivered in two weeks. Jocelyn Vecchio is happy to say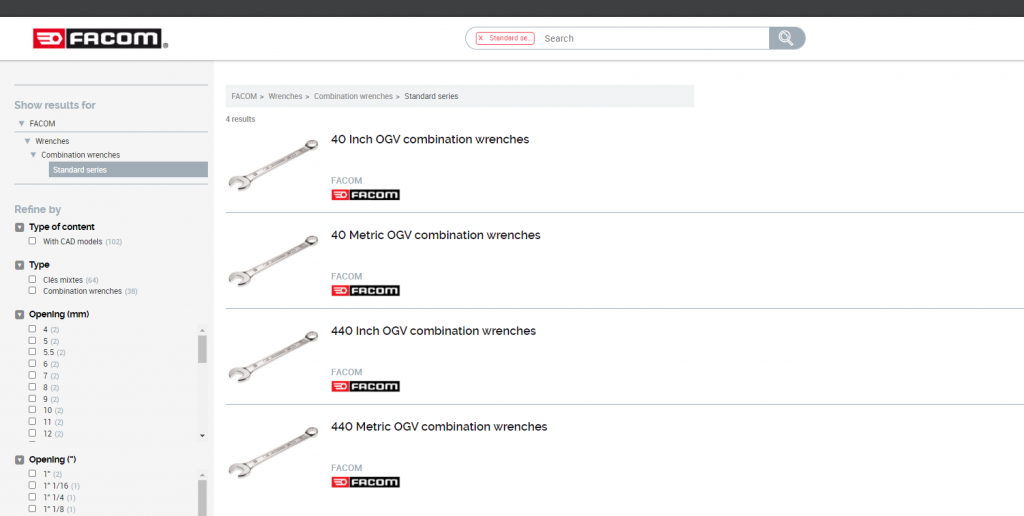 Indirect effects and new applications
Emmanuel JOUAN, Sales Manager for Corporate Accounts at Facom, points out that only one year after the library went online, sales opportunities have increased.
Tier-1 suppliers provide their customers with methods for maintaining their equipment using adapted tools. Our customers who use the database for their own needs become key influences for using our material. We have noticed that after validating use of our tools, they recommend our brand by providing a detailed list of references to their customers or sub-contractors.
An industrialist's opinion
The Snecma Company (from the Safran Group) is specialized in aeronautic and space engines. Romain ANDRIEU ensures software support analysis for the company's Maintainability Department that also uses Delmia digital factory software (Dassault Systems).
He uses Facom's tool models to ensure that maintenance is easy to carry out.
We had already used CAD to sketch some tools before Facom put the TraceParts library online. It will save time for modeling and enable us to provide a list of references to our customers. We recently simulated maintenance operations for a dual-engine 100-seat airplane. The engines contained many parts within a very confined area. We were able to supply our customer with a "Toolbox" that includes a list of recommended tools, including several specific tools. Our customer was impressed by this service!
By "reaching out" to customers with an easy-to-use library, Facom tightens relationships with its own partners, greatly increasing sales opportunities in the process.
Facom's offer
Facom's catalog contains several thousand items. The first library offered on the www.traceparts.com website includes a selection of the most frequently needed items: wrenches, ratchets, sockets, torque wrenches and screwdrivers. New products and ranges will steadily be added to the catalog; soon we will add pliers and specific tools for the aeronautic sector.
After such a successful beginning, Facom will continue to develop its partnership with TraceParts in the future.
For further information:
Facom website: www.facom.com
Facom CAD data on traceparts.com: www.traceparts.com
Contact us: info@traceparts.com