TraceParts has a long association with DS SolidWorks being their main content supplier for their portal 3D ContentCentral.
Since 2007, DS SolidWorks has been a regular user of TraceParts' e-marketing services. SOLIDWORKS keeps the international CAD community informed about its new products through TraceParts banner advertising, in the e-newsletter, and especially with e-mail campaigns to the user base.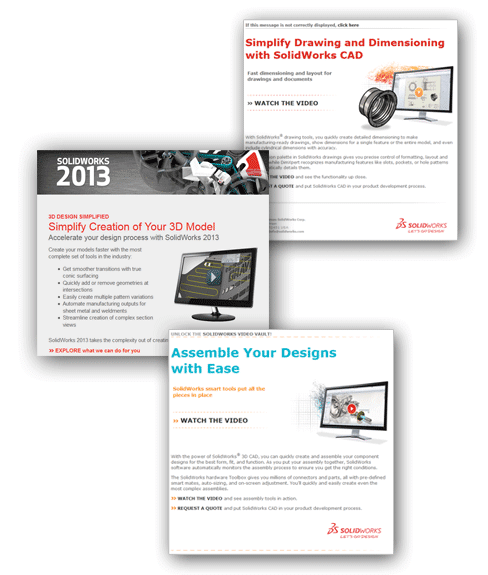 "E-marketing is a key component of our communication strategy," said Antony Hervo, Channel Marketing Director – EMEA (Europe, Middle East, Africa) at Dassault Systèmes SolidWorks. "With TraceParts, we can address an international CAD user base that is both active and constantly updated. More than 1.7 million designers world-wide use their 3D component catalogs and are therefore potentially interested in DS SolidWorks. If they are already SOLIDWORKS users, they may be interested in our supplementary products: SOLIDWORKS Enterprise PDM, 3DVIA Composer, SOLIDWORKS Electrical, etc."
Often the e-blasts are sent out to tens of thousands of French, Belgian, Spanish and Dutch designers and engineers, all in their native language. "From the results of the campaigns we and my American counterparts at DS SolidWorks run with TraceParts, we know that TraceParts users are a dynamic community on the lookout for innovation," said Antony Hervo.
To find out more about TraceParts' e-marketing services, click here