The French manufacturer of guide rails and linear translation stages gives its industrial customers access to all the 3D models in its catalog.

HALM, founded in 1856, changed its name to Chambrelan in 1956 to coincide with plans to completely overhaul the company. HALM's business was renting tarpaulins to the Le Havre port authority. In 1966, Chambrelan gave up this activity entirely and instead began focusing on the design, manufacture and supply of telescopic ball bearing slides and linear guide rails for industry.
Thanks to its ability to innovate, Chambrelan is currently the only French manufacturer in this particular field. Capable of responding to the needs of industrial firms with translation guidance problems – in small and medium production runs – the company has supplied millions of slides and rails every year since its inception to machine tool manufacturers, transport manufacturers (trucks, ambulances, rail, air and sea), and so on. Some slides are capable of withstanding drawers weighing in at one ton!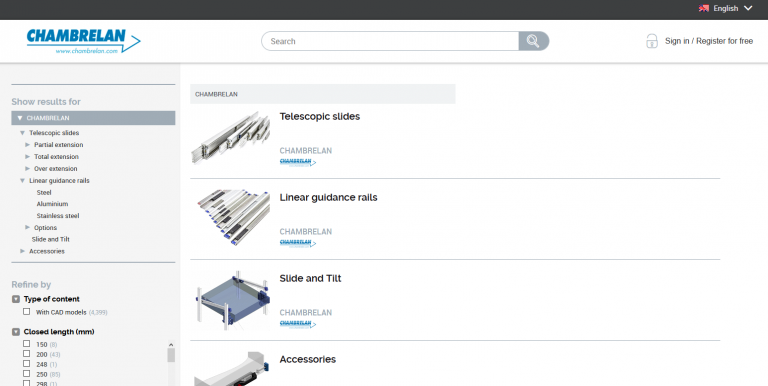 Since 1984, Chambrelan has been operating from the old wireworks in the Port of Le Havre, with premises of 11,000 m².
The company's success can be attributed to its expertise in design and the entire production cycle, including the manufacture of profiled sections. Chambrelan has built the reputation of its rails and slides upon their long lifespan, which comes from the cold drawing technique that "packs" the material (cold working) into specific areas – such as on slide bearing rails.
Chambrelan has three subsidiaries (Germany, the Netherlands and England) and an extensive network of distributors across Europe, the United States and Asia. The company generates half of its revenues in the international market.
A catalog and custom-made parts

For several years now, Chambrelan's engineering department has been equipped with 3D CAD software, enabling the firm to deliver guidance and linear translation solutions that have been specially designed to meet specific requirements, while maintaining a high level of innovation. The company also has a catalog of standard parts.
Chambrelan chose TraceParts in 2003 to offer its customers an additional service.
Frédéric COUPPEY CEO of Chambrelan, explains:
The people using our products are demanding manufacturers. Offering 3D models of our products was a definite advantage for their design offices, which now incorporate our rails and slides into their projects.

Chambrelan entrusted TraceParts with all its 3D models, so that its technical teams could tweak and incorporate them into their component libraries. The 3D models are available on the www.traceparts.com, website and can also be downloaded from the www.chambrelan.com website in all the CAD formats on the market.
A key characteristic of Chambrelan's business is projects involving long decision-making cycles. Chambrelan's presence on the TraceParts website gives the company's products a higher profile, but the direct relationship between its sales / technical teams and manufacturers is still important and clearly goes beyond the model download service.
We are always looking to be in tune with what the market wants, whether that implies new products in our catalog or responding to specific projects. We also wanted to combine our models with a large amount of technical data to help our customers and prospects, without needing to lock down the information. adds Frédéric COUPPEY
« Out of respect for our customers, we simply have to call on partners like TraceParts, who share the same sense of service and innovation. They are true professionals » concludes Frédéric Couppey.
For further information:
Chambrelan : www.chambrelan.com
Chambrelan CAD data on traceparts.com: www.traceparts.com
Contact us: info@traceparts.com