Hilman Product Catalog Available on TraceParts CAD Content Platform
---
21-01-2021
Krunoslav Rašić
CINCINNATI, OHIO USA (January 21st, 2021) – Hilman Inc., a manufacturer of high capacity rollers, powered heavy moving systems, and custom load moving solutions, has partnered with TraceParts to publish its 3D product catalog.
Hilman's 3D content catalog, containing their chain action rollers and dollies, is now available on the TraceParts website and the TraceParts Publishing Network with access to more than 10,000 CAD files for 170 of Hilman's most popular products.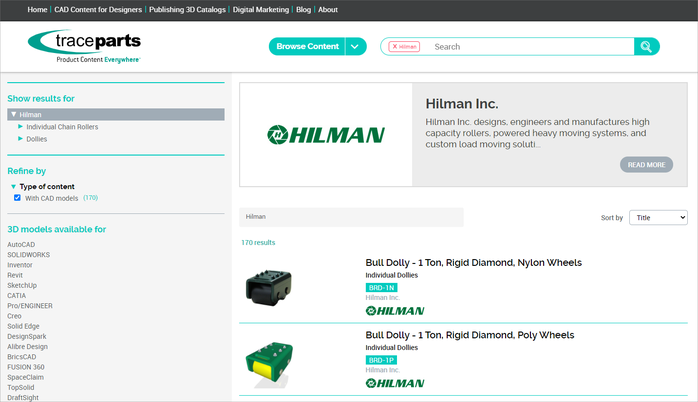 The TraceParts platform is an excellent way to introduce our products and enhance their reach and visibility to a wider audience.

It is a powerful marketing solution that will help Hilman grow as a company and to help us deliver an unmatched digital customer experience to our customers.

said Samantha Reidy, Director of Marketing at Hilman
With more than 65 years of innovation and experience, Hilman has earned and maintained a reputation for offering its customers the highest standards of quality, consistency, and value, making them a world leader when it comes to heavy load moving solutions.
We are proud to welcome Hilman to the TraceParts Publishing Network which includes 1,000+ catalogs and we are excited to be working with Hilman on digitizing and delivering their products as 3D product data to millions of engineers and designers worldwide.

said Rob Zesch, President of TraceParts America
About Hilman
Hilman products have been designed, engineered, and manufactured in their New Jersey plant since 1953. Their products include high capacity rollers, powered heavy moving systems, and custom load moving solutions (for heavy moving problems that require special attention).
Hilman provides easy, safe and cost-effective heavy load moving solutions to a wide range of industries (including manufacturing, offshore drilling, construction, and more).
Hilman's high capacity rollers are known throughout the world for their dependability, flexible design, and durability. They have been the benchmark by which all other machinery rollers and load moving systems are measured.
For more info, visit www.hilmanrollers.com.
About TraceParts
TraceParts is one of the world's leading CAD-content platforms for Engineering, Industrial Equipment and Machine Design, totaling 4.2 million registered members from 1.2 million companies actively sourcing product information and technical data from over 195 different countries.
As part of the Trace Group founded in 1990, TraceParts brings highly targeted marketing exposure to more than 800 customers of all sizes and from all industries, via powerful cloud-based API and SaaS applications such as CAD part libraries, product catalogs and configurators.
TraceParts' comprehensive Digital Marketing Services help part manufacturers and distributors, 3D printing & rapid-prototyping suppliers, CAD/CAM/CAE/ECAD software and computer hardware vendors promote their products and services and generate highly qualified sales leads.
Available free-of-charge to millions of Engineers & Designers worldwide, the TraceParts CAD-content platform provides access to over 1,100 supplier-certified product catalogs and billions of 2D drawings & 3D CAD models and product datasheets that perfectly match the digitalization needs of Design, Purchasing, Manufacturing and Maintenance processes & operations, in virtually any industrial sector.
Categories