Easy Access to Extensive Library of Drawings and Models From Suppliers Throughout Europe Now Available Within Pro/ENGINEER Wildfire
"MiCAD," Paris, April 1, 2003 – PTC® (Nasdaq: PMTC), the product development companyTM, and TraceParts S.A., one of Europe's leading parts model providers, today announced the availability of TraceParts' TraceOnline parts catalog within Pro/ENGINEER Wildfire.
Released in February, Pro/ENGINEER Wildfire is the latest version of PTC's industry-leading product design and development software, and a key component of the company's breakthrough integral product development system.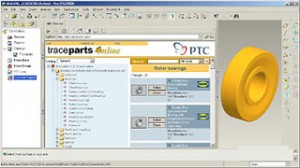 TraceParts has licensed and integrated PTC's Granite™ interoperability kernel into the tracepartsonline.net catalog portal, providing easy and instant access to millions of native CAD models for Pro/ENGINEER Wildfire users. Engineers and product design professionals can gain productivity and speed up the overall product development process through new access to components and 3D Pro/ENGINEER CAD models from Europe's leading suppliers in multiple languages and in multiple formats.
tracepartsonline.net is a parts catalog portal that provides product design professionals with the ability to quickly and easily locate the components they need, utilizing a powerful search engine and an expansive parts library that encompasses suppliers and international standards (NF, ISO, BS, DIN, UNI, ANSI) throughout Europe and beyond. TraceParts' supplier list includes: Asco Joucomatic Numatics, Bosch, Boutet, Festo, Fibro, Hasco, HP Systems, INA, Legris, Nadella, Norelem, NSK, Parker, Paulstra, Rabourdin, Siam-Ringspann, SKF, SMC, and SNR. Available in many languages, including English, German, French, Italian, Spanish and Dutch, the TraceParts portal is accessible to product designers throughout the world.
"Through this new Pro/ENGINEER Wildfire portal, PTC is enabling engineers to accelerate their overall development process by providing access to both standard and custom parts from manufacturers and 3D content partners all over the world," said Jim Heppelmann, executive vice president and chief product officer at PTC. "The Pro/ENGINEER Wildfire portal provides designers with unparalleled access and a direct linking to one of Europe's largest sources of manufacturers' models."

"By partnering with PTC, we now enable our manufacturers and suppliers to link their components to the more than 250,000 Pro/ENGINEER users across Europe and around the world," said Gabriel Guigue, managing director, TraceParts S.A. "Our expertise in 3D catalog content management, combined with PTC's leadership in the product development space benefits both product design professionals and parts manufacturers by opening the door to world-class parts designs in one of the world's leading CAD environments."
The component portal can be found through Pro/ENGINEER Wildfire.
About PTC
PTC (Nasdaq: PMTC) develops, markets, and supports software solutions that help manufacturers win with superior products. PTC is the world's largest software company with a total commitment to product development. The company services more than 35,000 customers worldwide.
Further information on PTC is available at www.ptc.com/go/pr or call 1-888-782-3776, ext. 901
Except for the historical information contained herein, matters discussed in this news release may constitute forward-looking statements that involve risks and uncertainties that could cause actual results to differ materially from those projected.
These risks and uncertainties include : the Internet's continued development into a viable collaboration medium and commercial marketplace; PTC's successful development and integration of the technology necessary to offer software solutions and related services that adequately address product development challenges; the success of our integrated solutions strategy initiatives including our efforts to differentiate our MCAD offerings by targeting synergies with Windchill; and PTC's effective coordination and management of joint activities (including sales, marketing, development, and support) with business partners such as content hosting service providers in order to deliver products and services that meet those requirements, together with such other risks and uncertainties as are detailed from time to time in reports filed by PTC with the Securities and Exchange Commission, including PTC's most recent reports on Form 10-K and 10-Q.
PTC and its logo, Product First, The Product Development Company, Simple Powerful Connected, Pro/ENGINEER, Wildfire, Windchill, Windchill PartsLink, and all PTC product names and logos are trademarks or registered trademarks of Parametric Technology Corporation or its subsidiaries in the United States and in other countries.
About TraceParts
TraceParts is the ideal link between parts manufacturers and drawing offices. It offers a unique software solution for the distribution of CAD models and component information.
TraceParts CD is a very extensive parts library seamlessly integrated within all the main CAD software on the market: SOLIDWORKS, Solid Edge, Inventor, Mechanical Desktop, thinkdesign, TopSolid, CATIA V5 and Pro/Engineer.
tracepartsonline.net is a powerful online internet portal that delivers CAD models coming from the same parts database as TraceParts CD.
TraceParts is a new and fantastic means of communication for all manufacturers, which brings major productivity benefits to drawing offices, whether they are specialised in the mechanical, electro-mechanical, tooling, aerospace or automotive industries.
More information about TraceParts is available at www.traceparts.com.
For more details :
Gabriel Guigue
TraceParts S.A.
Tel +33 2 32 79 44 38
www.traceparts.com