All CAD users are invited to design in 3D the Christmas tree of their dreams.

St Romain, France, December 1, 2010 – TraceParts, a market-leading digital engineering 3D content company, today announced the launch of its fourth Christmas Tree Model Contest, taking place until December 20, 2010. The winners will selected among the best Christmas tree renderings received.
Contestants must build a Christmas tree using components downloaded from the tracepartsonline.net CAD library. Three winners will be selected and best rendered images will be published on www.traceparts.com web site.
The prizes are
one Logitech Squeezebox webradio for the first place,
one LED Lenser P7 flashlight for the second place
and one USB stick with 4GB storage for the third.
The Christmas trees should be designed in 3D, using any CAD or picture editing software, and using as many different components available in the tracepartsonline.net CAD library as possible.
Contestants must send rendered info@traceparts.com. The file size of the image should not exceed 1MB if possible.
Have fun designing your Christmas tree!
Your TraceParts Team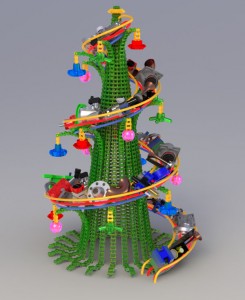 The winning Xmas tree of the 2009 contest.
We are sure you can do it better!
Visit the gallery of the Xmas tree design contestants 2009. 
About TraceParts
TraceParts is a leading digital engineering 3D content company, offering customers progressive business solutions through powerful web based products and services. TraceParts brings targeted and cost-effective market penetration to parts vendors, in all sectors of the industry. As part of the Trace Software Group founded in 1989, TraceParts develops and markets software solutions for CAD parts libraries, electronic catalogs and product configurators specially designed to meet the requirements of the mechanical industry. TraceParts helps customers improve marketing efficiencies by increasing the value of their existing digital product data. The tracepartsonline.net CAD portal is freely available to millions of CAD users worldwide, with more than 200 manufacturers' catalogs and 100 million CAD drawings and related technical data suitable for the design, purchasing, manufacturing or maintenance processes.
For more information, please visit www.traceparts.com