The 3D models delivered by the parts manufacturers are convenient and time saving.

Feb. 3rd 2009 – TurboCAD is offering free and unlimited access to its own online version of the TraceParts 3D library. A corresponding link to this download portal was added to the web site www.turbocad.de.
This version includes more than 100 million 3D CAD models and 2D drawings from leading parts manufacturers.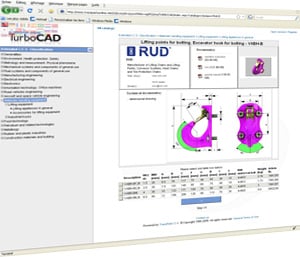 The graphic interface was specifically adapted to TurboCAD's own website and a native CAD driver was developed for the free download and convenient insertion of the TraceParts manufacturer components. In addition, it is possible to launch the library directly from TurboCAD in an offline version provided by TraceParts.
The availability and usage of 3D models of off-the-shelf parts makes it possible for the designers and engineers who use TurboCAD to increase their productivity by concentrating more on their actual design work.
"We are proud that we are gaining a reputable partner for TurboCAD with TraceParts and their tracepartsonline.net portal, which will make it possible for us to provide one of the largest CAD parts libraries worldwide free of charge for our customers," explains Gerd Körnig, Managing Partner at GK-Planungssoftware GmbH."The interface that has been programmed specifically for TurboCAD and the user friendliness of the online portal brings a fantastic added value for our customers," Körnig continued.

"In addition to our portal, this collaboration with an international software developer offers our customers and their 3D catalogs direct exposure through the designers' daily use of their CAD system. In connection with the gained design productivity, it results in a win-win situation for everyone involved. We are especially pleased about the quick implementation of the partnership", said Christian Baumgärtner, Managing Director of TraceParts GmbH.
About TurboCAD
TurboCAD Pro is the premium design software solution that's delivered exceptional value to both 2D and 3D users for over 20 years. TurboCAD Pro's robust set of 2D drafting and 3D modeling tools enable users to create innovative designs for a wide range of industries and disciplines.
About GK-Planungssoftware GmbH
GK-Planungssoftware GmbH with its headquarters in Bruckmühl (Germany) is a provider of leading CAD and precision design software. The products, which have received awards worldwide, include professional applications such as TurboCAD, CADsymbols and TurboFloorPlan.
About TraceParts
TraceParts is a leading digital engineering 3D content company, offering customers progressive business solutions through powerful web based products and services. As part of the Trace Software Group founded in 1989, TraceParts develops and markets software solutions for CAD parts libraries, electronic catalogs and product configurators specially designed to meet the requirements of the mechanical industry. TraceParts helps customers improve marketing efficiencies by increasing the value of their existing digital product data.
Combining the content of the TraceParts and web2CAD libraries, the tracepartsonline.net CAD portal is freely available to millions of CAD users worldwide, with more than 200 manufacturers' catalogs and 100 million CAD drawings and related technical data suitable for the design, purchasing, manufacturing or maintenance processes.