April 3, 2006 – Missler Software has just launched a free and unlimited access to a customized version of the online TraceParts library via its web site www.topsolid.com for all TopSolid customers.
This new specially adapted version contains all 190 catalogs available on the generic library version but with a completely new graphic interface which permits easier navigation and search options.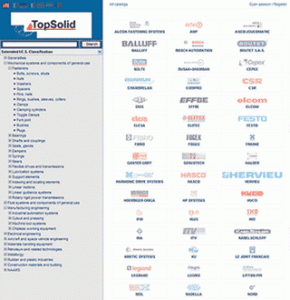 According to Christian Arber, Managing Director of Missler Software "We are very happy to reinforce the already strong relationship that exists between Missler Software and TraceParts. Easy access to components is critical for our customers.
The new tracepartsonline.net library now available on www.topsolid.com offers a well adapted solution for our clients around the world to help them increase their productivity."
Missler Software and TraceParts signed the initial strategic partnership between the 2 companies in January 2001. At this stage the 2 editors developed a CD version of the TraceParts components library which was fully integrated with the TopSolid line of products.
This CD version of the library has been distributed all over the world over the past 5 years by TopSolid resellers and distributors.
According to Gabriel Guigue, Managing Director of TraceParts "Working with an international CAD/CAM editor such as Missler Software is essential to increase the distribution of our components library in engineering departments in the mechanical, tooling, machinery, aerospace and automotive industries as well as all CAD domains."
About TraceParts S.A.
TraceParts is a consulting-oriented software developer specialized in CAD and the mechanical industry. As part of the French Trace Software Group founded in 1989, the company develops and markets software solutions for parts libraries, electronic catalogs and product configurations specially designed to meet the requirements of the mechanical construction industry.
Thanks to the open and high-performance technology inherent in TraceParts for all the main CAD software, more than 600,000 users have already placed their trust in its parts catalogs throughout their design and manufacturing processes.
More details about TraceParts and their solutions are available on the Web site www.traceparts.com  The online library, which is available exclusively for TopSolid customers, offers the possibility to download 3D native models from all the major catalogs such as Asco Joucomatic Numatics, Bosch Rexroth, Boutet, Busak+Shamban, Cepex, Chambrelan, CSR, Elitec, ENOMAX, FAG, Festo, GANTER, Genustech, Hervieu, HP Systems, Ifm, Igus, INA, Item, Kinetic Systems, KV Automation, Legris, L'Etoile, Mädler, Misumi, Norelem, Nozag, Quiri, Rabourdin, Roemheld, Rud, Sapelem, Schmersal, Siam-Ringspann, SNR, Socafluid, Somex, Sumer, Telemecanique, Zimm.
About Missler Software:
Missler Software is one of the leading global suppliers of CAD, CAM and ERP solutions. The company's product lines include TopSolid, TopManufacturing and GOelan. The company offers a uniquely integrated solution for the mechanical engineering industry (general mechanical design, special machinery, tooling, boilerwork …) and for sheet metal and wood industries.
Thanks to its advanced technology and its fully integrated solution, Missler Software is experiencing rapid growth in the global CAD/CAM market.
For further information contact info@topsolid.com or visit www.topsolid.com.